Hi!




So, I went thrifting for the first time the other day and I must say, I am actually better at this than I thought.

OK, it wasn't my first time. I have bought many a halloween costume at thrift stores, when I was hardcore in to classic movies and retro clothes (still am with the former), I frequented overpriced vintage stores, and when I was in high school I was all about the grandpa sweaters and tiny, faded tees.

Anyhoo, on Saturday we headed to my parents house for a scrumptious BBQ Salmon dinner and on the way I stopped at the local thrift store. Not a Value Village which rips you off hard (least in Vancouver it does) but a local support your charity doo-dad where they have a few under-priced gems.

At first it didn't seem like much was there and this is where the old me would have given up, but I kept an open-mind and really got into it. I managed to walk away with a whole load of loot (and it was sale day too). Funny thing was, I wasn't really buying them all for myself (more on that...one day) but I ended up putting on this Ruby Rox dress when I got home, and then never took it off.

On the hanger it looked cheap and satiny (which I don't like) and I knew cap sleeves were the devil for large-armed women but nevertheless, somehow it worked! It paired beautifully with my thrifted belt which in turn paired beautifully with my new Matt Bernson sandals.

To me, this was definitely "an American girl vacationing in St. Tropez, circa 1961." No?

When I am not so lucky with thrifting, I get my silver dangle earrings at Birks.com.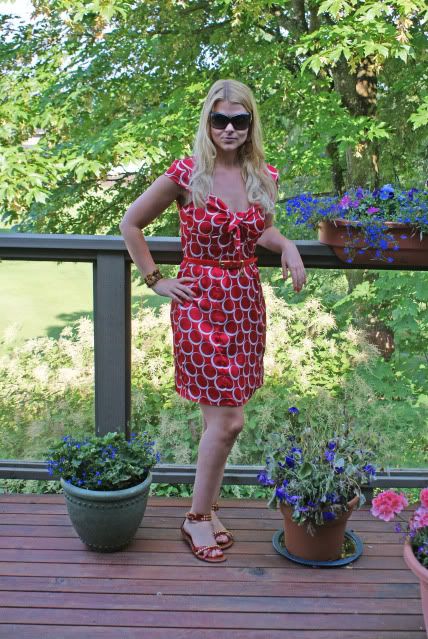 Dress: Thrifted (Ruby Rox); Sandals: Matt Bernson; Earrings: F21; Belt: Thrifted (Laurel)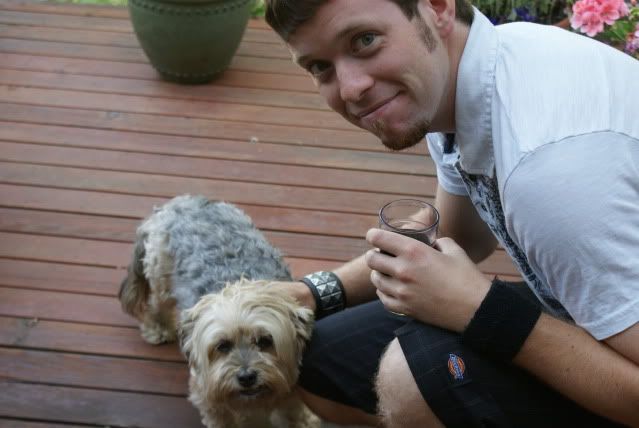 Awwww their newly rescued dog Muffin :)



My mom is a volunteer for the 2010 Winter Olympics, here in Vancouver



Mmmmm Chilean salmon BBQ...sooooo good



Us and my rents...can you believe me dad turns 70 next year and my mom turns 64 this year?

Speaking of new sandals, later that night we attended a small bday party where badminton was the name of the game. I love badminton, it's easy and fun and I can play well thanks to my years of tennis lessons. I get pretty aggro though, and was really going for it, even though the dress didn't allow too much movement and my shoes were killing me. Even today, the backs of my heels are still bloody and wounded...why I can't do things the normal way? le sigh.