So I met up fellow blogger and friend Eyeliah last night to see The Veronicas in concert. She bought the tickets awhile back, knowing it was a small club and they would be a inexpensive and fun band to see. Not to mention that the opening band was Little J's (Taylor Momsen, aka Jenny Humphrey of Gossip Girl) The Pretty Reckless.

Now, at times, I have a low opinion of Gossip Girl and also of actors who also think they are singers. For every Juliette Lewis, there is a Scarlett Johansson out there (Tom Waits...srsly?). But T Mom completely blew me away. I mean, I went in there expecting crap and she actually had a pretty rad band, a wicked smokey voice and cool stage presence. Let's not forget...THE GIRL IS ONLY 15 YEARS OLD! Holy crap, that puts things in perspective.

Anyway, let's go back a bit. This is us before the show...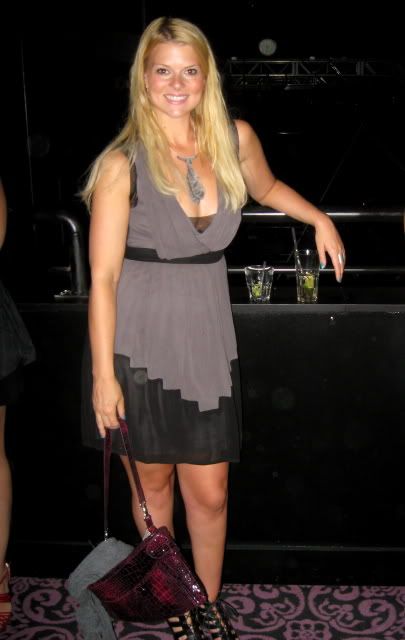 ME: Dress: ASOS; Tie lithograph necklace: Paraphanelia; Cage heels: Helmut Lang - Eyeliah: Thrifted bright ensemble with her go-to concert boots

So here's Little J doing her thang on stage with The Pretty Reckless...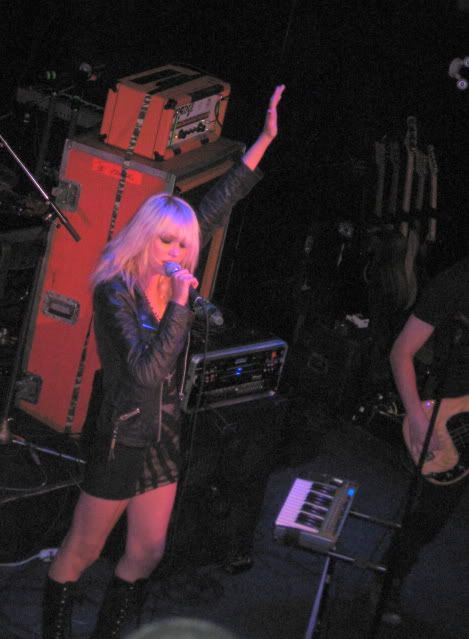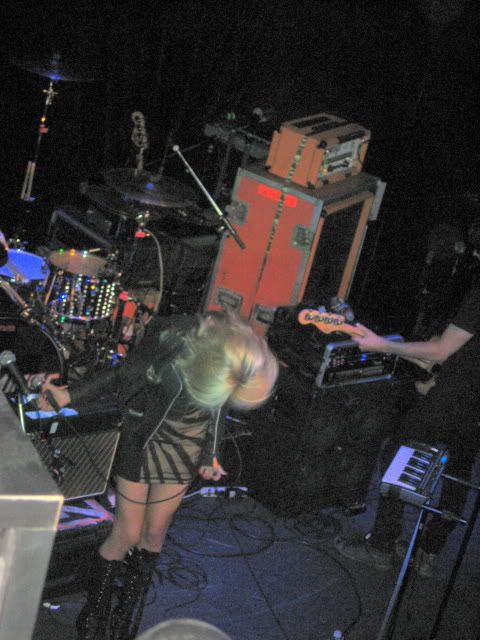 I'm not sure what Miss Momsen was wearing but her leather jacket was uber cool, as was her body-con-ish dress which looked like it could be by BCBG Max Azria*** and since she has been seen wearing a lot of his clothes, I wouldn't be surprised if that were true.

After TPR, The Veronica's came on. WOW. Can I just say total girl crush on them, especially the dark-haired twin (Lisa Origliasso). Is she a lesbian? Who cares, I'd do her lol.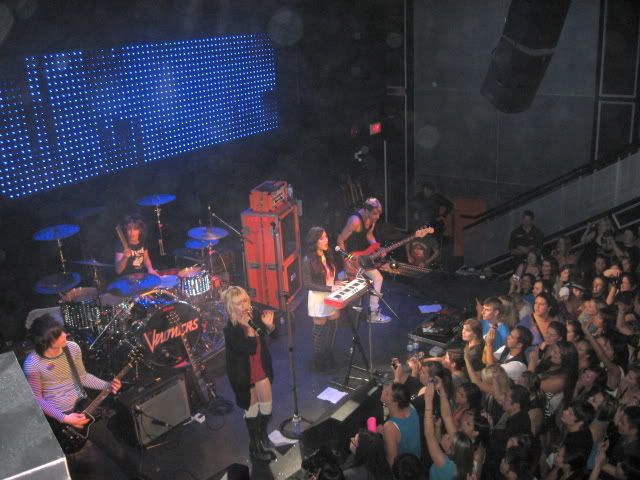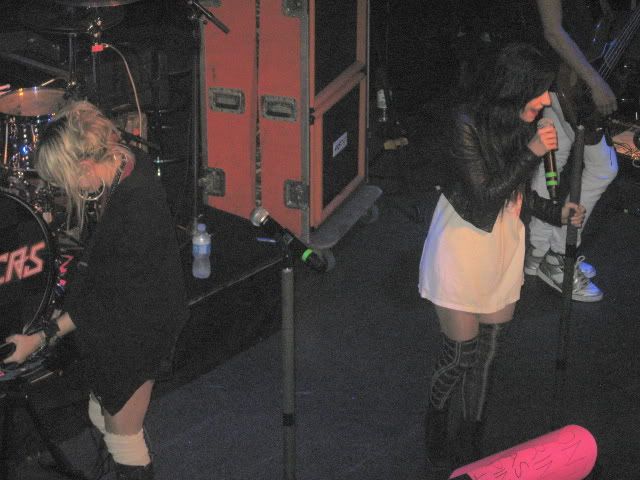 The girls had great energy, a fantabulous showboating bass player that resembled Borat, opened up with the uber-catchy "Untouched" and did one awesome cover of "Mother Mother." Frick, they can scream! I sadly didn't tape that part but I did tape them doing "Take Me on the Floor":



Anyway, after the show I ended up buying a Pretty Reckless tee...normally I am not a fan of concert tees but I thought this one was pretty simple and since the name is not known very well, it could just mean that I AM pretty reckless - which is true, you know especially with my credit card.




Then I got Taylor to sign it. She was actually really cool. I know she gets made fun of a lot on Go Fug Yourself, for reasons I understand. But in real life she looked awesome, she was really pretty and quite tall. I'm not sure why this doesn't translate so well in photos as she looks grumpy and glum but the girl herself is super friendly, chipper, gracious and smiley.

She said she really liked my necklace and when I told her she reminded me of a female Robert Plant, the compliment just bowled her over. Anyway, she was just such a sweetie and I got out of there before I was mobbed by a crowd of over-excited Gossip Girl fans.

All in all, a good night. Girl power all the way.

XOXO Gossip Girl...

***addendum: as Marietta pointed out, she was indeed wearing a D&G dress