You know when there's a sign that you are really meant to have an item? Well, it happened at the clothing swap the other week.
I had this gorgeous dress from ASOS that I just never wore - I'm not sure why, the colour is awesome (and my man loves me in red) but it just never made an appearance (I shouldn't sound suprised, I have tons of clothes I haven't worn yet :S).
So at the swap I thought, meh, why not, and chucked it in the pile. Maybe someone else could use it, after all it was lovely.
Well, I watched as literally everyone tried the dress on - all looked stunning in it - but for some reason, no one would take it.
Anyway, at the end of the day I realized how much I do actually like the dress and was suddenly glad that there were no takers. I promptly placed it back into my wardrobe, and then later that evening, wore it out for some drinks, accessorizing with gold (gold and red is my favourite look...well, one of them).
It wasn't smooth sailing though...as the dress is basically backless, I had to tape it to my upper body so the arm wouldn't slide off and I'd expose my boob to the world.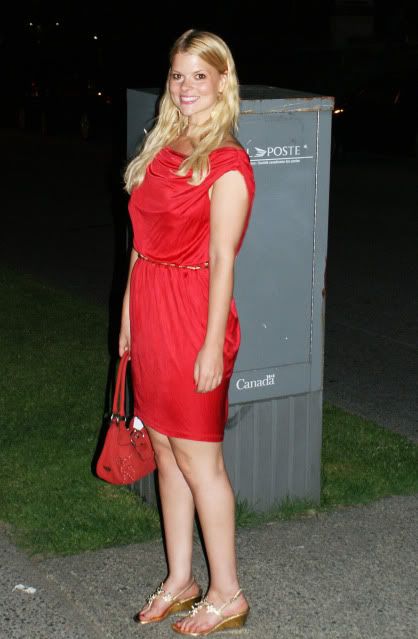 Dress: ASOS; Starfish sandals: Gojane; Tassel chain belt: Forever 21; bag: Prada
That red bag is the Prada bag that was sent to me by mistake. I've emailed the woman twice now about it and no reply...she even has a seersucker Theory blazer that I bought and hasn't sent it my way yet. So until she gets back to me, I'm holding the Prada bag hostage!
Right, before I forget, the 1st winner of the prize is:
Bella - of Vintage Lollipops
Bella, CONGRATS! Please email me your shipping address along with your choice of dress!
I will announce the remaining two winners over the next two days, so please check back to see if you have won! It was SO much easier to use the random generator than to write out everyone's names on the back of my business cards lol and pick from a pile! Also, looks less suspicious at work :P