Huzzah! The time has come for my 500th post.

Wow - I can't believe that this is my 500th time I have polluted the webwaves with my inane dribble. I'm suprised some of you people are still around!

So, to reward your bravery (perhaps naivete?) I am giving away THREE dresses this time.

Here is how the giveaway will work:

1. Leave a "relevant" comment below (or in tomorrow's post - I'll tell you when to stop ;P)

2. If you link to this giveaway I will enter you TWICE - leave me a comment letting me know that you are linking me though, because although I do visit all of your blogs, I would hate to miss someone

3. I will pick three winners over three days. Rather, using a random generator, I will pick three winners but only announce it slowly. For example, Wednesday I will announce the first winner, and so on....

4. The first winner will get to CHOOSE their prize, the second winner will choose between the remaining two and the third, you get the idea.

5. Yes, I am giving you three choices- The choices are:



This NWT Forever 21 chiffon layer dress in size small (really small, I can't fit in it and I have a 34 in chest, prob fit a 32")



This NWOT Love Yaya dres (retail $176! At Shopbop! WOW) - same as above, except mine has light horizontal white stripes across the skirt part. This dress is roomy up top and super stretchy on the bottom so, though it is a size 2 (small) it could fit a medium, easily.



This gently used (no signs of wear) Sprouts Tunic dress from Forever 21 in a size small. This dress could totally fit a medium though because its empire waist is very stretchy. Lovely dress, so soft!

Speaking of soft dresses, my Splendid dress reminds me of a cold, tall glass of Tequila Sunrise.

I have a habit of trying to match a lot of the colours I wear and luckily for me, I own a lot of coral. I even had coral Pour La Victoire sandals that went perfectly with this outfit, but I didn't want to be TOO matchy matchy.

Though I love coral with my skintone and hair, I have other favourite colours I wear a lot of in summer: Royal Blue, White, Yellow and Green are my main staples.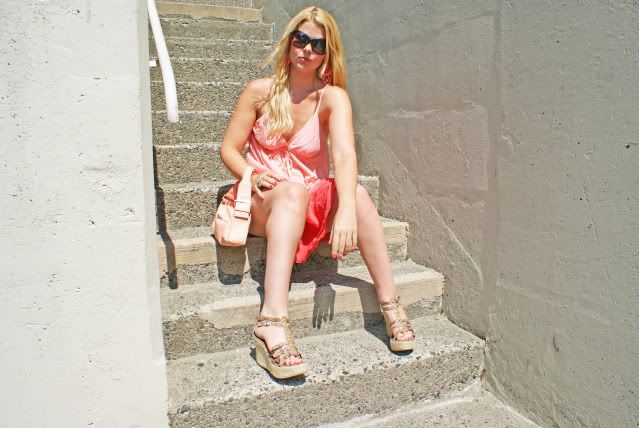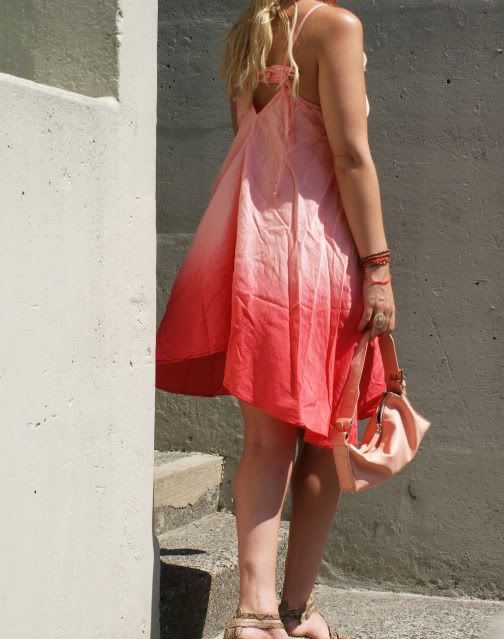 Dip-dye Dress: Splendid; Wedges: Go Jane; Bag: Mango MNG; Ring: ASOS; Bracelets and earrings: F21; Bathing suit: Victorias Secret

What colours do you wear most once the warmer temps hit? Do you switch it up or stick to the same colours year round?

Lemme know below and you'll be entering the contest:)

GOOD LUCK!
PS - this contest is open to EVERYONE EVERYWHERE (except: Russia - crazy shipping problems with that country. Sorry!)