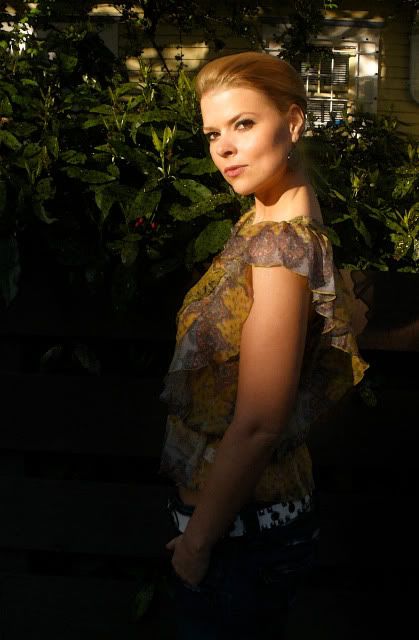 Shirt and Earrings: Forever 21; Bangle: French Connection; Jeans: Hudson
The other day I read the umpteenth article about how drinking (booze) more than one drink a day is bad for you – but that abstaining from drinking is also bad for you (teetolers apparently get sick more than drinkers).
It just got me thinking, not that everything is bad for you
(because apparently it is)
but that today's society has become downright obsessed with being the best and healthiest that they can be. Which is kind of funny, since there seems to be nothing but unhealthy overweight slobs out there.
Everywhere you turn you hear that goji berries are the newest superfood, quickly replaced by the acai berry, and that if you consume huge amounts of these foods you can live forever (or that's what they want you to believe).
Then it's the sun…oooh skin cancer everywhere, don't you dare step outside without spf 100 slathered on you every 5 minutes, even if you are just walking to your car. I understand the ozone is thinner now but have we forgotten that people NEED sun and that we are indoors now more than ever
(remember the days when we worked in the fields, sans sunscreen for thousands of years).
Yes, burning is bad, some people really should avoid the sun at all costs and no you shouldn't use a tanning bed ever, but frankly I am tired of all these scare tactics.
Same tactics are applied to drinking…more than 5 drinks in a week makes you an alcoholic apparently. Well my family is sadly full of alcoholics, I know what real ones look like this broad term on "binge drinking" isn't helping anyone. Hello, Jesus freakin' drank wine…no he didn't drink a bottle to himself, but I'm sure he had more than ONE glass at the Last Supper
(Oh noes, so bad for him, it'll kill him!).
So we are told to avoid this, don't drink that (coffee is bad for you, oh wait coffee burns fat, but oh wait it's bad for your heart but oh wait it has antioxidants), get 8 hours of sleep OR MORE a night (don't get me started on that one…I mean I personally DO need 8 hours but I don't think it applies to everyone), and we are bombarded with organic food and superfoods and supersupplements and everything in order to become the healthiest people we can be.
Then we are obsessed with fitness and finding the newest class (pilates boxing? Arm spinning?), doing the newest moves and when we can't do that, we opt out for dermabrasion, laser therapy, tummy tucks, boob jobs, boob lifts, butt implants, jaw shaving, leg lengthening, cheek implants, lip injections, hair and eyelash extensions, botox, juvaderm, eyebrow toupees (oh I'm sure they exist), etc.
Why now? Why is this whole planet suddenly obsessed with becoming the fittest, healthiest, most perfect people? I mean, this has always existed to an extent but right now you are bombarded with the best ways to have the best everything and then some. It's crazy, it's everywhere and I have to ask WHY?
I said that out loud the other day to my bf, musing that it's happening at a time when the planet is going downhill and
if people spent as much time fixing themselves as they do on fixing the planet, we wouldn't be in such a mess
. I am not a huge eco freak….I recycle, I turn off lights and try not to waste water and that's about it…but it did have me wonder. My boyfriend then said,
"It's like people have realized they can't save the planet, so they might as well save themselves."
I don't know if that's true or not but you have to admit it's an interesting connection.
Speaking of perfection, let's swing the pendulum from "deep thoughts" to "fluff." The following women are my favourite models…I know they aren't really huge on the runways (I'm not a fan of a lot of fashion models out there) and I know they are very commercial (ahem, Victorias Secret) but I happen to think each one if amazingly gorgeous (and with healthy, enviable bodies to boot)...these are the classic ones I still appreciate to this day:
Laetitia Casta


Yamila Diaz



Kristy Hume


Josie Maran


Estella Warren


Chandra North


Bridget Hall

The photo of Yamila has inspired me to go look through my old Glamour magazines from 1998 :) And these lovely ladies are my new favourites...


Bar Raefeli


Miranda Kerr


Karolina Kurkova


Carmen Kass


Doutzen Kroes

By the way, I received the most gorgeous agate necklace from Cupcake and Cashmere's Etsy shop the other day - can't wait to show it to you all in tomorrow's post :D