I'm sure the hockey headline alone would have caused most of you to click "next blog" right away, but bear with me here(because there is a fab ASOS dress I am giving away in this post!)
Last night Mike and I went to see our beloved underdog hockey team, The Vancouver Canucks, in Round 1, Game 2 of the Stanley Cup Playoffs. As any Vancouverite will tell you, the Canucks are a special team helmed by the world's best goalie (well, the best along with Martin Brodeur of the New Jersey Devils), Roberto Luongo. They also possess outstanding players such as Alex Burrows, Ryan Kessler and I'm boring you now.
Anyway, I'll shut up - I'll admit I don't know THAT much about hockey but I can tell you that you won't find anymore loyally devoted fans than Canuck fans. We stick with them through thick and thin, depsite the fact we have never won the Stanley Cup (though we almost did and famously lost in the finals to NY Rangers in 1994 and then had an angry riot in Vancouver which involved cop cars on fire).
So we went to the game last night and being Jersey-less, I wore the Canuck colors - my Rachel Pally skirt was a perfect match (Navy and Green) along with a blue F21 top I've had forever but never worn and my new La Rok white moto jacket (I'll have to do more pics about this jacket later because it is awesome).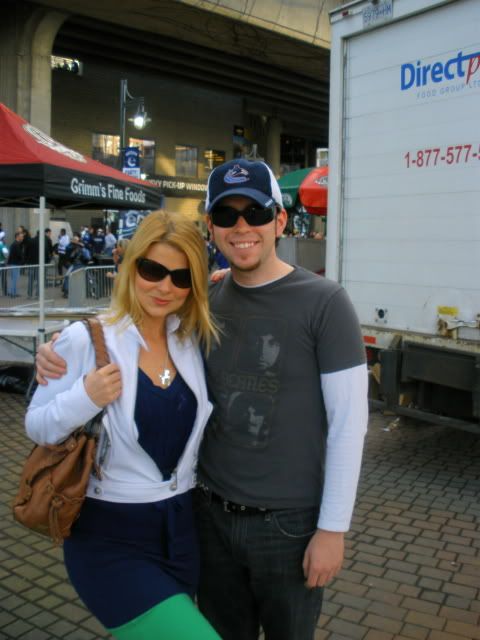 We ended up winning against St. Louis, a shutout no less!!! Luongo has only let in two goals in the last five games and hopefully we can keep this momentum going when we go to St. Louis to beat the Blues again (we are leading the series 2-0). Of course, we had to end the game with a huge brawl ;P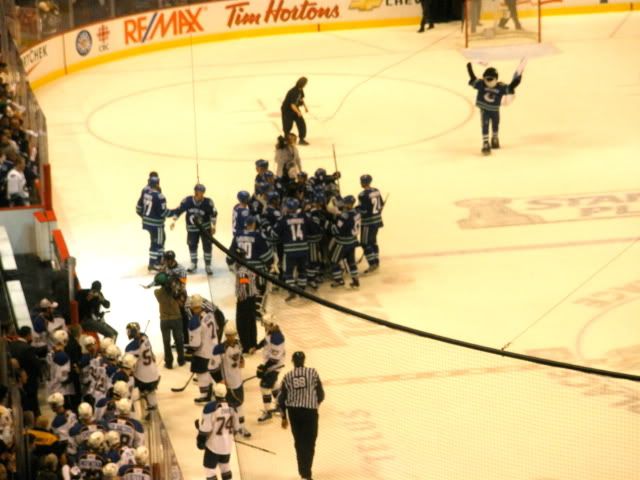 The atmosphere in GM Place was amazing, cathartic - punctuated by furiously waved white towels!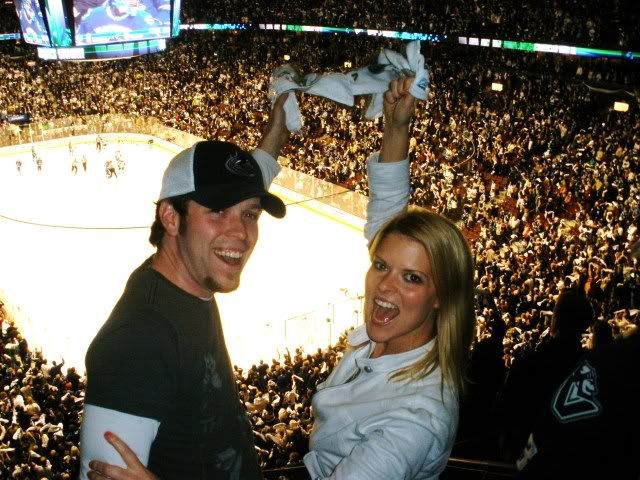 The streets of downtown were rampant with crazed/drunk canuck fans, people were cheering and hugging and yelling and honking their horns for hours! You would think we had won the cup, not just game 2 of round 1, but that's the underdog spirit for you!
ANYWAY - On to the DRESS GIVEAWAY!
Over the last few months I have had my "Inspired By" music outfits and I plan to continue them for the next while as I have a lot of music to share, and will probably branch out into movies as well (oh I have some GREAT outfits up my sleeve!)
Take a look at the outfits below, vote for your favourite in the comments and you will be entered in a random draw to win the dress I wore in the Coldplay shoot!
It's by ASOS, size UK 10 but can fit a small or medium (might not be as tight on the waist as you would want if you are size small), pure gorgeous silk with a button-through front and lace trim - also, it's new, worn only for the photoshoot and retailed for like $60 or something. I will do the draw on Tuesday so remember to get your votes in before then!
The Beatles
Dire Straights
Radiohead
Led Zepplin
The Who
Coldplay
~~~~~~~~~~~~~~~~~~~~~~~This is the dress you will be winning~~~~~~~~~~~~~~~~
The Eagles
Simon and Garfunkel
Muse
Nine Inch Nails
Remember to vote for your fav and I will select a name at random on Tuesday to win the fabulous dress!
~Have a great weekend!~
PS My 10K race is tomorrow - eek!!