This post is going publish post-humously or something to that effect because as we speak (or as I write...no wait, as YOU read) I will be wearing that floofy yellow dress to the wedding this weekend, though I am still unsure what accents to pair it with. First things first, get the vomit stains out of it (thanks Robyn for reminding me :)
Anyhoo, the other night we went out for my boyfriend's birthday to the wonderful Boathouse restaurant and I thought it would be the perfect occasion to wear my new/old M by Missoni dress. You had seen a glimpse of it on another post (though I was really trying to shoe off those wedges of mine) but now here it is in all its full glory.
I really adore this dress and considering I got it at a hefty hefty discount makes it that much more fabulous (I'm gonna guess it was $800 new). Yes there is a small hole in it already and lots of pulls but it's barely noticeable, given the sheer, holey texture of the dress. The only thing that's annoying is that it's very clingy (as you can see from the pic above) and wearing a nude slip underneath is a must to combat the sheerness. The neckline is also a bit funny too on me, but I paired it with a vintage unpolished turqouise nugget necklace which did the trick.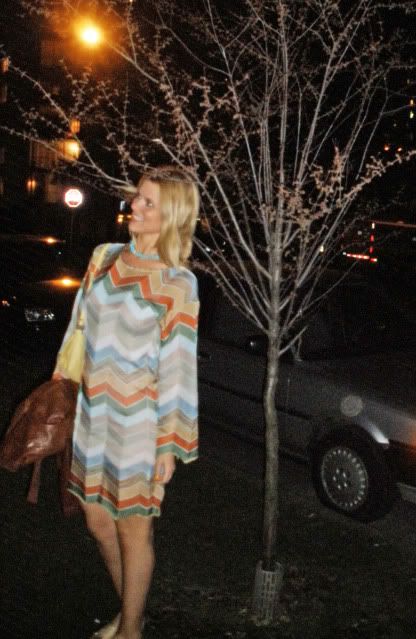 Putting it on gave me a very 70's vibe, so I made a center part in my hair (normally a big no-no), piled on the bronzer, took my vintage leather jacket and new 70's esque wedges. This was also the first time this year my scars have debuted in public. Sounds silly, but it's still a huge deal to me to have them exposed. Luckily I only had to walk a few blocks to the restaurant. Yeah, I noticed the stares but I don't really have much choice than to ignore them and try and feel good about myself anyway.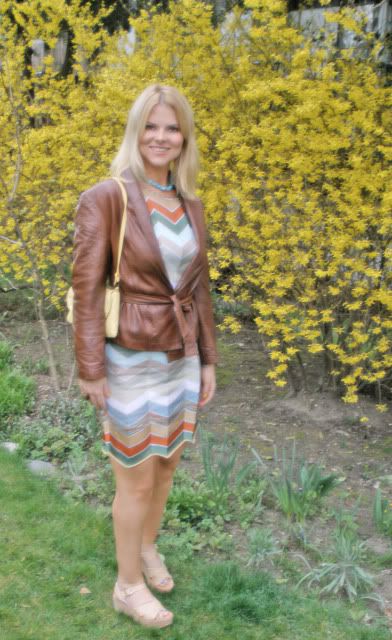 Dinner was fabulous, by the way. His awesome parents took us and his sister and her bf and paid for everything. The Boathouse had shrimp specials galore. I got the Sambucca prawns, while Le Birthday Boy got steak and lobster, and of course, the yummy mud cake...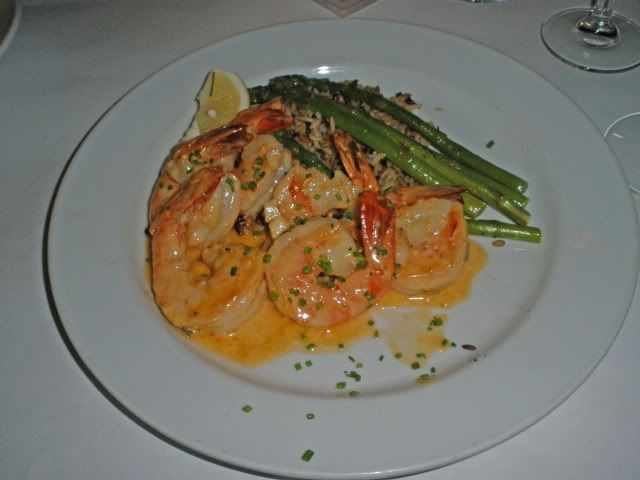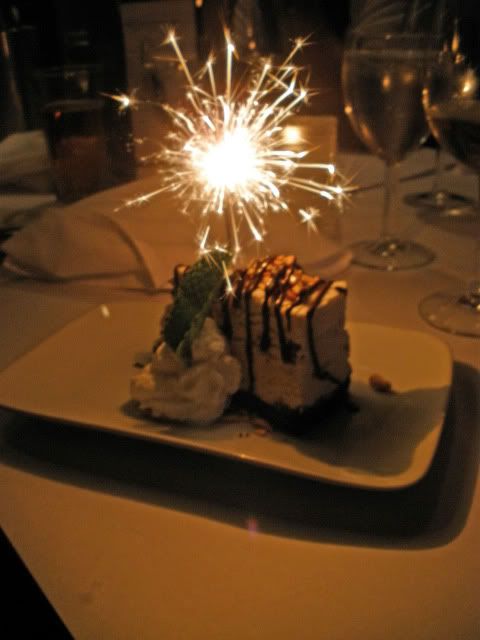 OH and before I forget, thanks to the lovely Luphia for giving me an award on
her blog
:)
Hope your weekends are all filled with fun and frivolity. Next week I'll have some amazing pics - PLUS I get to go to Game Two of the Stanley Cup Playoffs to see MY team,
The Vancouver Canucks
do what they do best. Hell, our goalie Roberto Luongo even got a shout-out on The Simpsons on last Sunday's episode- now you know he's made it! Hmmmm...what to wear to a hockey game without resorting to a jersey?