Anywhere but Here
is proud to present you with an interview
(and giveaway!)
with Sarah Korsiak Cellier, the hard-working owner of one of the coolest vintage shops around:
Rice and Bean Vintage
.
This unique online botique caught my eye a few months ago after I started lusting after a pair of Ferragamo shoes....then started lusting after a vintage Gucci bag...and then a Chanel one...it just goes on! So I was thrilled to have a little tete-a-tete with Sarah herself.
What did you do before you started Rice and Beans Vintage?
I became a vintage & designer clothing dealer while I was in graduate school studying Traditional Chinese Medicine! I decided that while I loved Acupuncture and Chinese medicine, I actually like getting it more than giving it and so the choice was easy.
What lead you on the path to opening up your own store?
I opened Rice and Beans Vintage as it is today after the birth of my son. I wanted to continue working with my love of fashion, have a creative outlet, and be able to spend as much time with him as possible. And so Rice and Beans Vintage was born!
Vintage clothes used to be associated with not having enough money to afford new clothes, but that couldn't be further from the truth these days. Why do you think vintage clothing has become more popular over the years?
Wearing Vintage and Vintage designer clothing, not only sets you apart from the run of the mill big store fashions, but really allows you to get creative. Personally I love to mix vintage with modern clothing to achieve my perfect look. I also really appreciate the history of each vintage piece. I think people are also thinking more about the enviornment and their bugets now as well and buying Vintage and pre-loved designer clothing is a great way to care for both.
Which is your favourite time period for vintage finds?
The 60's and 70's. I love the Luxe rock star look.
You have an impressive selection of vintage shoes on your site - what should people know about vintage shoes, especially if they are buying online and can't try them on? Like clothes, I know the sizing is a little different.
Thank you! I have huge love for shoes of all styles and time periods. Yes, that is a really good point. For the most part, vintage shoes (here I mean shoes prior to 1980) tend to run a bit smaller than modern day shoes. Generally around a half size smaller. It is really important to pay attention to the measurements that each store should offer. Take these measurements and compare them to one of your current pairs of shoes to make sure the fit is right.
What was the fastest selling item on your website?
Anything Chanel, hands down!
Without spilling all of your secrets, what are some of the best places to score some fabulous vintage finds?
Ohh....let's just say I have many different places I source my vintage and designer clothing from and I am very fortunate.
What is the best way to keep vintage clothes from looking too "costumey?"
I suggest trying to avoid dressing head to toe in vintage, unless you can pull it off.
Do you have any advice for potential vintage or online clothing store owners (like me!)
Do it because you love it!
Since vintage clothes provide uniqueness in a cookie-cutter world, how do you manage to keep Rice and Beans Vintage different from other similar stores?
I think Rice and Beans Vintage has the advantage of being a small company (very small, I am the only employee), the attention to detail is not lost. I handpick each and every piece that comes to be at Rice and Beans Vintage and that is very important to me. I also take great pride in our customer service.
What items always sell out? Anything "on -trend?" Chanel bags?
Yes, Chanel especially Chanel bags do not last long at Rice and Beans Vintage! I do pay close attention to the current trends and buy appropriately. I spend many nights pouring over the latest fashion magazines so these vintage & designer pieces usually run out the door as well.
Have you ever loved an item so much, you ended up keeping it for yourself? What was it?
Yes, oh this is that hard part of my job, letting things go! I have a Vintage 60's white leather Gucci bag with bamboo handle and gold wings on the front. This piece never made it on & never will!
THE CONTEST
To show her appreciation, Sarah is doing a giveaway through my blog for a $50 gift certificate to her store. This contest will run from now until Friday, August 7th where a winner will be chosen via the randomizer. This contest is open to anyone.
To enter, all you have to do is visit
her store:
Rice and Beans Vintage
and take a look around - if you find something you'd want to spend your $50 gift card on, come back here and leave a comment below.
Tell me what it is! Either link to it or just say "I would die for that Pucci dress" I wanna know what my readers are craving these days :)
I'm not eligible for entry, but these are some of the stuff that I would pick out:
Gorgeous 60's coat - check out that colour and the piping!

YSL Fringe Sandals - YUM!
These Etienne Aigner boots and leather jacket

So what are you waiting for - tell me what YOU want to buy and you could win $50 towards it!!
PS sneakpeek at Wanderlusting Style's Shoe Sale coming up on Sunday - everything's under $25: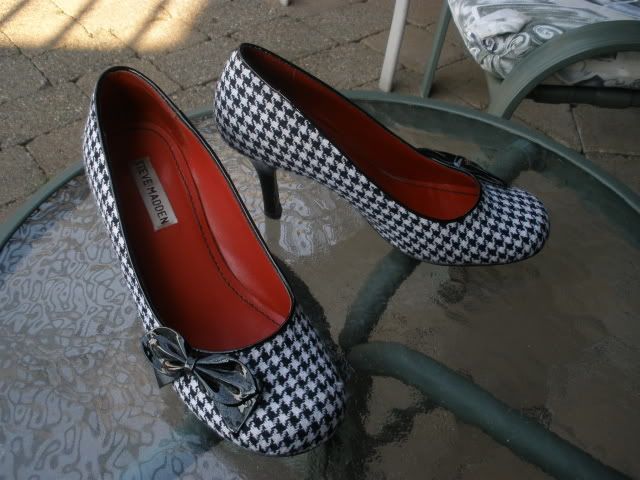 Steve Madden Houndstooth round-toe pumps, size 37 $20
Did you know that on Wednesday Vancouver had its hottest day ever on record? EVER!? And that these last few days it's been hotter than most places in Texas, even Florida?? CRAZY!
And so I am glad to be going to a cool and refreshing island - Salt Spring, of course - for this long weekend. So excited to hit up the market too, really wanting to get some local, unique art. It's SO much more refreshing to buy art from real artists as opposed to wannabe, try too hard to be "weird and arty" hipsters fresh out of art schools like Emily Carr. I prefer art with an honest message and the market has tons of great finds :)
I probably won't be able to check your blogs as usual but I will have scheduled posting. Hope you all have a good weekend!