Oh, Hai!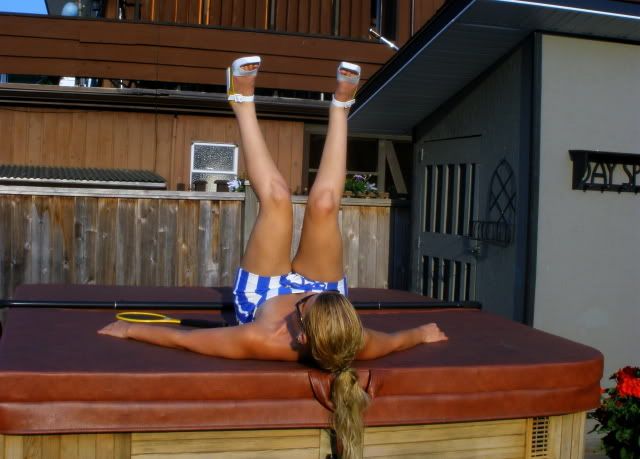 So....
I bought a pair of rompers. Yep. Rompers. The trend that I think is RIDICULOUS. But I saw these and they were oh so cute and I thought, well maybe...maybe if I lost a few and maybe if they were long enough in the crotch and maybe....you get the idea.
Then I saw the belt. Sweet, sweet yellow belt with grape detail on the clasp. The belt was worth the cost alone. Then I saw the "Apre Ski" dress from the same seller (see previous post) and I thought "HEY. Why not? Maybe, just maybe, I could pull it off! And combined shipping..."
And the package came in the mail and it was a big NO. I mean, it's not bad, per se. I've seen worse on me. And thankfully it is long enough to accomodate my long torso and huge ass and the shorts aren't riding up said ass.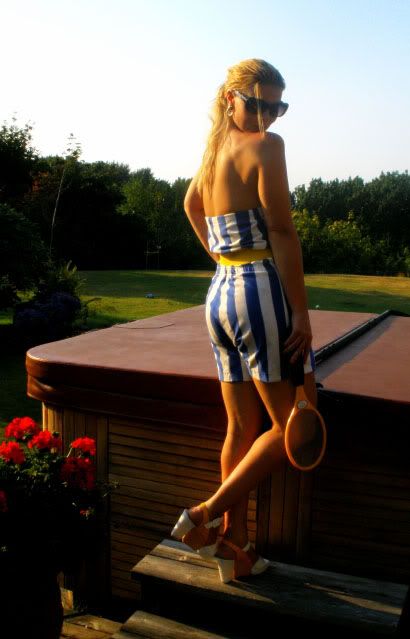 Romper:

Vintage

; Belt:

Vintage;

Shoes:

Robert Clergerie;

Clip-on earrings:

ASOS


But as much fun as it was to put the babies on for this shoot, I realized it's just not me. I have the attitude but I don't have the BODY to pull this off. Even with my new "Lego Clonkers" aka Robert Clergerie wedges which I love dearly (especially since his shoes average above $600 and I got them for about 80% off!)

And there ya have it folks....I am now offering these rompers for sale (sans belt). They fit a size medium and have an elastic waist so they would fit a large too. The only thing that isn't stretchy is the bust....it looks adjustable but it aint. So I advise a chest of 34 or higher otherwise the thing will fall off.

Vintage striped romper: $20. Shipping anywhere world wide: $10. I accept Paypal! Drop me an email (my address is written discretly on the sidebar) and let me know if you want it!

So speaking of not having the body, I have to ask...how has your body influenced your fashion choices?

See...in the blogging/fashion world, I feel like I just don't stack up. After all, most popular bloggers are tall and skinny (try and dispute me but just look around and you know it's true) and I am very much not tall and not skinny. So when I wear stuff, it doesn't look as good as it would on other people and also I can't even wear a lot of stuff because of it. I mean, they can wear a garbage bag and BELT it and make it look good...I can't do that and I think it is a considerable disadvantage. I dream about the stuff I COULD wear IF I had the right skinny body. If your average skinny blogger wore this romper outfit it would be awesome, right out of a magazine. But with ME? It's bordering on a joke.

And I am treating it as such.

(Though the fact that I am selling the rompers is not a joke - please buy :P)
I'm not saying nothing looks good - indeed I do know what suits my body. But I don't think "skinny" girls realize that "we" (not skinny) have to work a little harder to make things look almost as good as they do. I don't think it's a matter of confidence either - though that certainly comes into effect - but just the way some people look better in short shorts than others do.
So, as I asked before...has your body type determined what clothes you can and can not wear?


PS - Lots of good stuff coming up this weekend....a giveaway from Rice and Beans Vintage as well as MY END OF SUMMER SHOE SALE with rad discounts!!