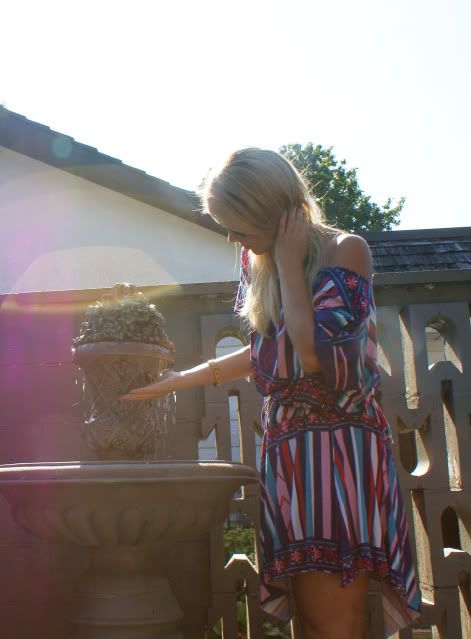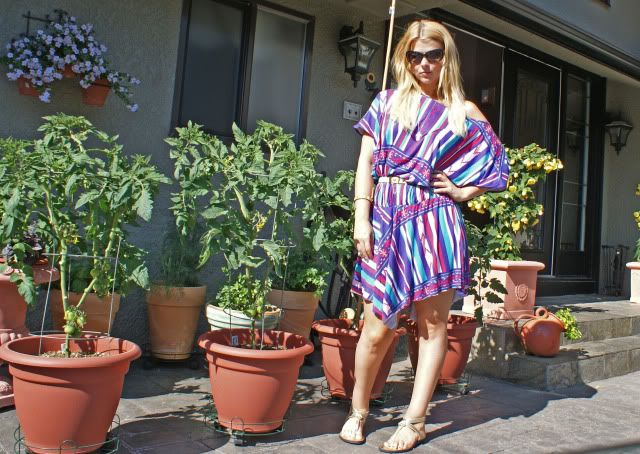 Theda Dress: Rachel Pally; Thongs: Diba; Jewelry: Gorjana; Belt: ASOS


Do you ever buy something only to not be so-impressed with it later? But then you change your mind once everyone else says how good you look in it? Usually this happens when shopping online, but I've had it happen when I've hastily grabbed something off the rack and then really examined it at home. Anyway, I got this Rachel Pally dress from Revolve Clothing and ordered a medium. I'm normally a dress size of small but for some reason I ordered the medium...not sure why.

Anyway, I tried it on and was really unenthusiastic about it. It was too big, it was almost mumu-esque...etc. No matter, I would sell it on Ebay or something.

Then on one very hot day, I thought this might be the perfect drapey and airy dress to wear. I kept the tags on, thinking that I could still sell it as new with tags but worn once, so as long as I didn't sweat in it or something. I paired it with these gold sandals I hadn't worn yet and a belt to give some structure and off I went.

The compliments came from left and right, from my bf's parents and from strangers. They all really liked the dress, loved the shoes. Then I posted a pic of me in the dress on Facebook and I got even more comments about it. Suddenly I went from being unimpressed to being very much so. It's funny how you see yourself when it becomes apparent you've got something people want and like!

So now, I've decided NOT to sell the dress. That would just be crazy :)

PS - I apologize if I am not visiting everyone's blogs as often as I normally does. Crazy, crazy times...on Saturday we moved more of our stuff out of the apartment and drove it - two full car loads - to our new/old/temporary town of Tsawwassen. Today we got up at nine (quell hungover from el vino at the jazz festival - more on that later this week!) and packed and cleaned non-stop until 130PM. We entered super panic mode when my tenants phoned and said they would be 2 hours early. ACK! Luckily we stalled them while we raped the shit out of my place and somehow we managed to leave them a bright and happy new apartment.
It was almost sad, as we were leaving and high-fiving each other on a job well done...but I was so tired and exhausted that I really didn't have time to be sentimental. I'll miss living downtown, and I will miss my apartment too, but like I said last post, I still own it! It will always be mine, just in case:) At any rate, I'll be adjusting to my new life here - which ain't too shabby - and that will probably trump any sad feelings.
Of course, I am sad right now....but that's because I still have this endless unpacking to do. My bf unpacked in an hour...I've got 83 pairs of shoes...can you imagine how many CLOTHES I have??? It's gonna take days. Sick, I am SICK!
Hope you had a great weekend everyone :)