Those were my thoughts, two years ago today. Today is my sweetie and I's two-year anniversary. Though I have been known to be a "long-term" dater, two-years is a record for me (and for him) and we both know it's just the beginning.
It's also Canada's Birthday! HAPPY BIRTHDAY CANADA! You crazy, weird, incredibly large country, you!
Anyway, last night he took me out for dinner (we would spend our actual anniversary - today - packing) to my favourite restaurant Cobre. It was insanely delicious as always. The nuevo latino cuisine doesn't dissapoint and we were spoiled.
Spiced jerk scallops with black bean and pinapple, served sweet potato chips
Mmmm, Pisco Sours are the best!
Baja Rockfish soft taco with plantains
Maple-chipotle glazed pork belly with Mexican pork rind topping - soooo rich
To top it all off - Dulce le Leche with caramel, whipped cream, berries, flambed pinapple and topped with churros. OMG
Of course, I had to look extra special tonight, perfect chance to wear my new Catherine Malandrino silk fish print dress. LOVE! ;)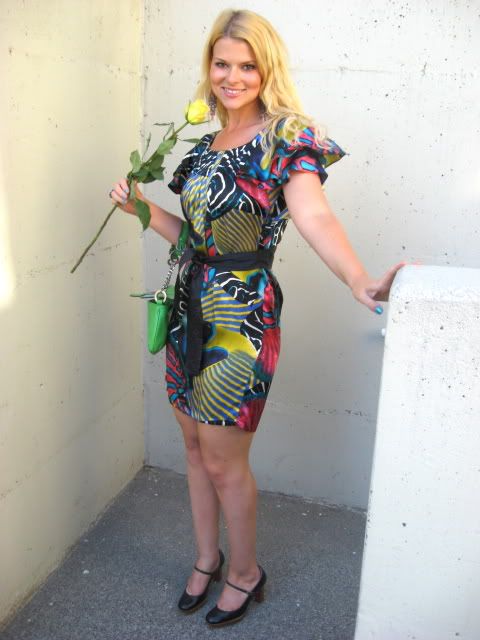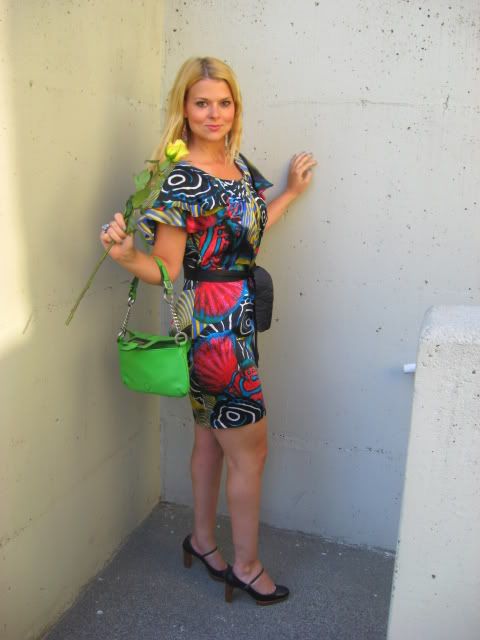 Dress: Catherine Malandrino; Shoes from Hell: Christian Louboutin; Bag: Adrienne Vittadini; Earrings and ring: store from Spain
Sometimes it's hard to imagine my life before him. I mean, I remember it very well but when I am with him, it feels like he has been with me my whole life. It's hard to describe. This is the first - and final - relationship in which I don't have to work. It sounds bad but in all honesty we just get along so well. It's not always peaches and cream but even the bad parts are incredibly easy to get over. It's just easy and fun and full of love and I wouldn't change a single thing. I mean it.
Anyway, I looked up last year's post on the topic and noticed I did a month by month breakdown of our time together. I figured that would be fun to do again, complete with pictures this time, and add an extra year to it. I've cut and paste from July 2007-July 2008 and then added the new stuff below it:
July 2007: Started relationship with my Rockstar - Had lots of fun parties - Dealt with stupid muffin problems at work - Went to Silverchair concert
August 2007: Went to Whistler for a night for our one-month anniversary - Got Fired from my job - Went to Italy for two weeks as an English-teacher volunteer
September 2007: Flew my best friend out from Montreal to visit, the first I'd seen her in two years - Went on EI - Told my bf that I loved him
October 2007: Boyfriend moves out of parents house, cutting the commute from 1 hour down to 15 minutes - I go to my first hockey game (yes, bad Canadian, I know)
November 2007: I am interviewed by Inside Edition and make my TV debut - Go to Whistler with all my boyfriend's friend's girlfriends (and his lovely sister) - Start on my weight loss and exercise hardcore plan - Get accepted to film school for January - Am the test model for my friend's makeup classes - Go to Seattle with my BF
December 2007: It's my 26th birthday arrrrrg - Lose 10 pounds - Join parents in Palm Springs for 10 days
January 2008: Get ill on NYE - Go to Disneyland with my BF for 5 days (bliss!) - My mother is hit by a car and my dog Ellie dies (so sad) - My step-grandpa dies (same day as dog) - Start intense school
February 2008: School, school, school - Go to Maui for a week with the BF and his parents (bliss, again!). Decide to move in together at some point.
March 2008: ummmmm gain back 10 pounds?
April 2008: Cut my hair short (eek) - My Bf's bday - Dealing with freaky spring snow - Graduate from film school - Contacted by my fvaourite magazine who asks if they can include me in their magazine (hello, YES!) - Foo Fighters awesome show
May 2008: More freaky late snow - Go to Bellingham with the bf for a shopping spree - Start 28-day CLEANSE FROM HELL - Kiwi and Frenchie come to visit for a week - Start my hellish job - Quit my hellish job
June 2008: Look for jobs - Angst over jobs - Deal with jobless angst by going to the beach when everyone's at work. Went to a friend's wedding. Go to Mark Knophler in concert (of Dire Straights fame), was amazed.
July 2008: Continue to look for jobs. Angst over the lack of jobs. Go on so many interviews and "almost" get so many jobs. Go to Penticton for the anniversary and commit crimes while on Absinthe.
August 2008: Go camping, get way too drunk. Go to SunPeaks with my parents (mountain town), got a job in post-production in film and was researching stock footage for a documentary. See RADIOHEAD, Jack Johnson and Stone Temple Pilots all within one week!
September 2008: Go to a friend's wedding on Vancouver Island where Mike was the best man. Quit my job, get accepted to do an internship with a local production company.
October 2008: Find out the government sponsorship for the production development job fell through. End up finding my current job through a stroke of luck. Mike moves into my apartment "temporarily" until we can buy a new place.
November 2008: Take my blog into more of a fashion direction.
December 2008: Mike takes me to Whistler for my Birthday. Had a 90's themed birthday party. Christmas! Huge snow storm brings Vancouver to a halt. Start jogging for the first time ever.
January 2009: DISNEYLAND WITH MIKE!
February 2009: Romantic getaway for Valentines Day. Get a second mortgage and pay of all of my unsecured debt. Decide to sign up for the 10K Sun Run.
March 2009: Decide to rent out my apartment on July 1st because it won't sell on the market, and decide to move in with Mike's parents until the fall when his father gives us money to purchase a house.
April 2009: Do the Sun Run and survive! See the Canucks play in the Stanley Cup Playoffs. Go to The Killers. Go to Karisa's wedding in Penticton, road trip woot!
May 2009: Go on a road trip to Oregon :) Secure tenants for my apartment. Go to another wedding. Get hair extensions.
June 2009: See the Veronicas in concert, with The Pretty Reckless (and meet Taylor Momsen), go to Salt Spring Island for the first time in two years.
July 2009: New tennants move in, we move out. Putting Secret Plan X into action. Go to Toronto....well, those are things I know I will be doing this month. Don't wanna get too ahead of myself though!
Ahhhh, well that was a fun trip down memory lane. It's been an unbelievable two years and we are looking forward to a lifetime more.
Love you goofus!