Best fucking sandwich ever (don't mind my paper cup for the champagne)

So... where was I?
Right, Faith No More just ended their (possibly) last show ever with a stirring rendition of "The Real Thing." Ironic, for me, considering it was the first song I ever heard them played live.
Svetlana and I made our way up past the stage and to the area where the trailers and dressing rooms were kept. I was just glowing, positively glowing, from having watched the whole epic performance from the sidestage.
We waited around, S's bag of goodies at her feet. Their dressing room was just around the corner. I heard someone yell (Patton, obviously) and then someone exclaim "let's get 'er!"
Tim walks past us, gives us the squidgey eye, "You guys are trouble. Double trouble."
"Us?" I exclaim, "We are just innocent ladies."
Anyway, two seconds later Bill comes running out around the corner and says, "All right, present time!"
We pick up the bag and make our way around the corner to the dressing room.
Bill goes to open the door. S, from past experiences, knew that it might be good to check if everyone is decent.
He opens the door, quickly closes it. Maybe not. Someone inside yells, "No, it's fine, come in."
So we go inside and it's
not
fine. I mean, everyone is dressed except for Patton who is in the middle of pulling on his pants/underwear, I don't even know because my first instinct was to quickly avert my eyes. I know, I didn't think I would be that prudish in that sort of opportunity but there ya go. I looked away, my brain barely got a chance to process what I saw. What an intro!
Anyway, awkwardness aside, we go in and everyone is super excited about S's presents. She plunks the bag in the middle of the floor.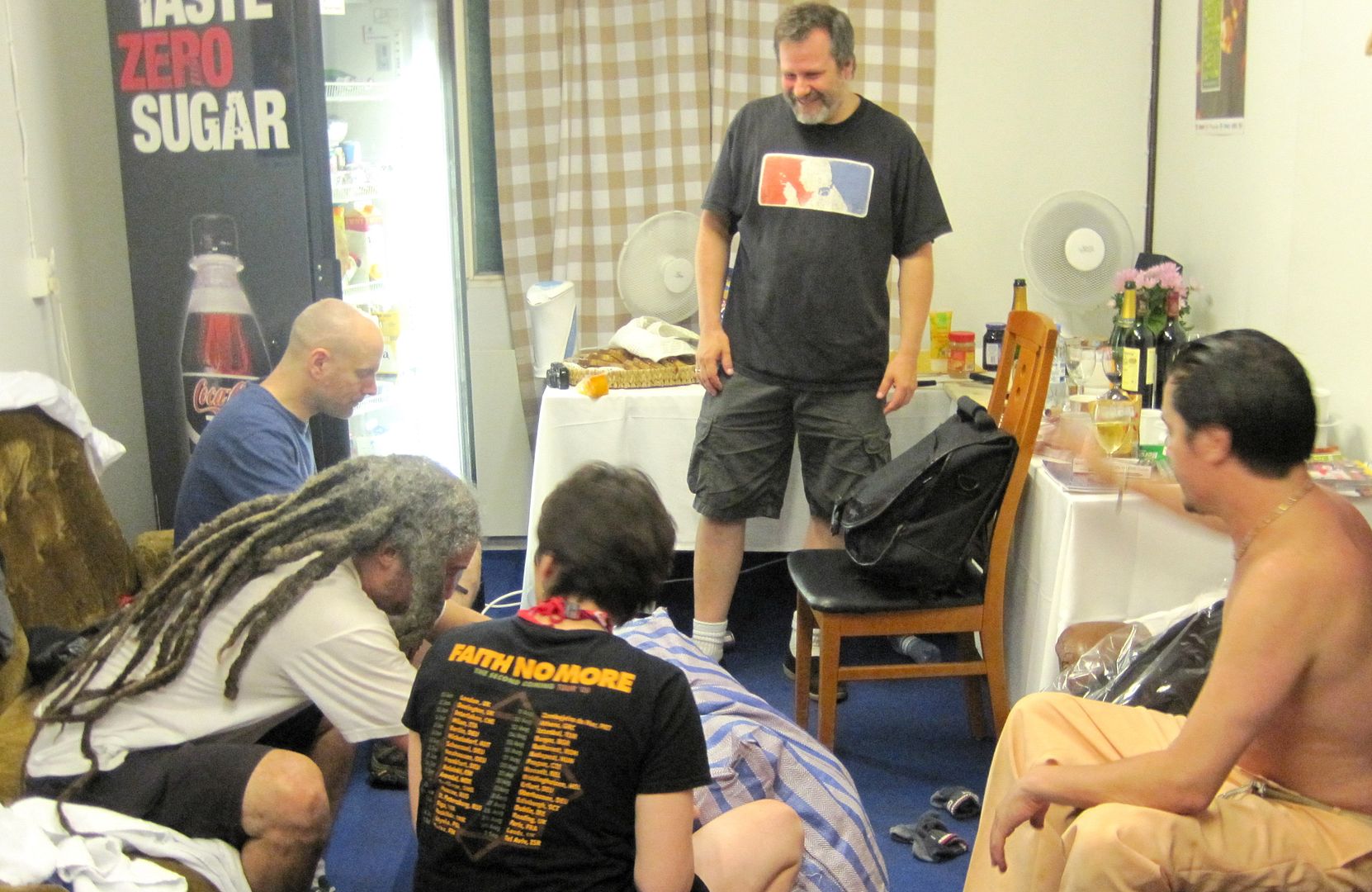 I slowly follow, in slow motion it feels like, just from how surreal it all is. I gingerly sit on the corner of the couch beside Puffy and Roddy and watch S start to dish out the presents. I was pinching myself earlier when I was watching the show but now I wanted to do it again, just make sure it was in fact The Real Thing, that I was here, in their dressing room... you know, just hanging out. Like... wtf?
My inner workings of my disbelieving mind aside, I got ready in photo mode as S presented her gifts to the gang (btw, I did run this and the photos by Bill to make sure it was OK and I have permission, so no need to worry, if Bill says it's cool, it's the coolest of cool :).

For Tim:



A stuffed version of The Real Thing Vodka. Also doubles as a weapon to hit Mike when he's misbehaving.

For Roddy: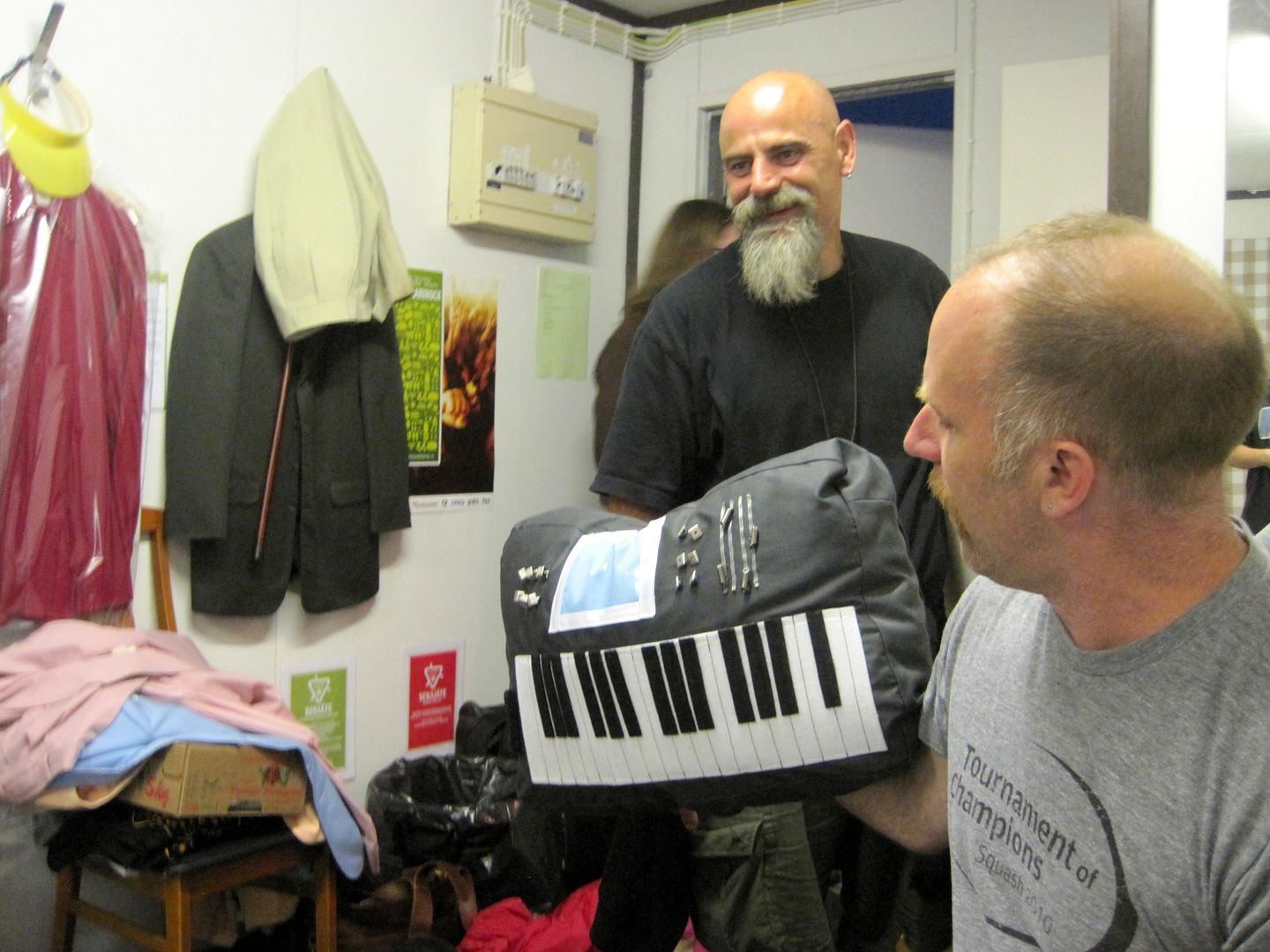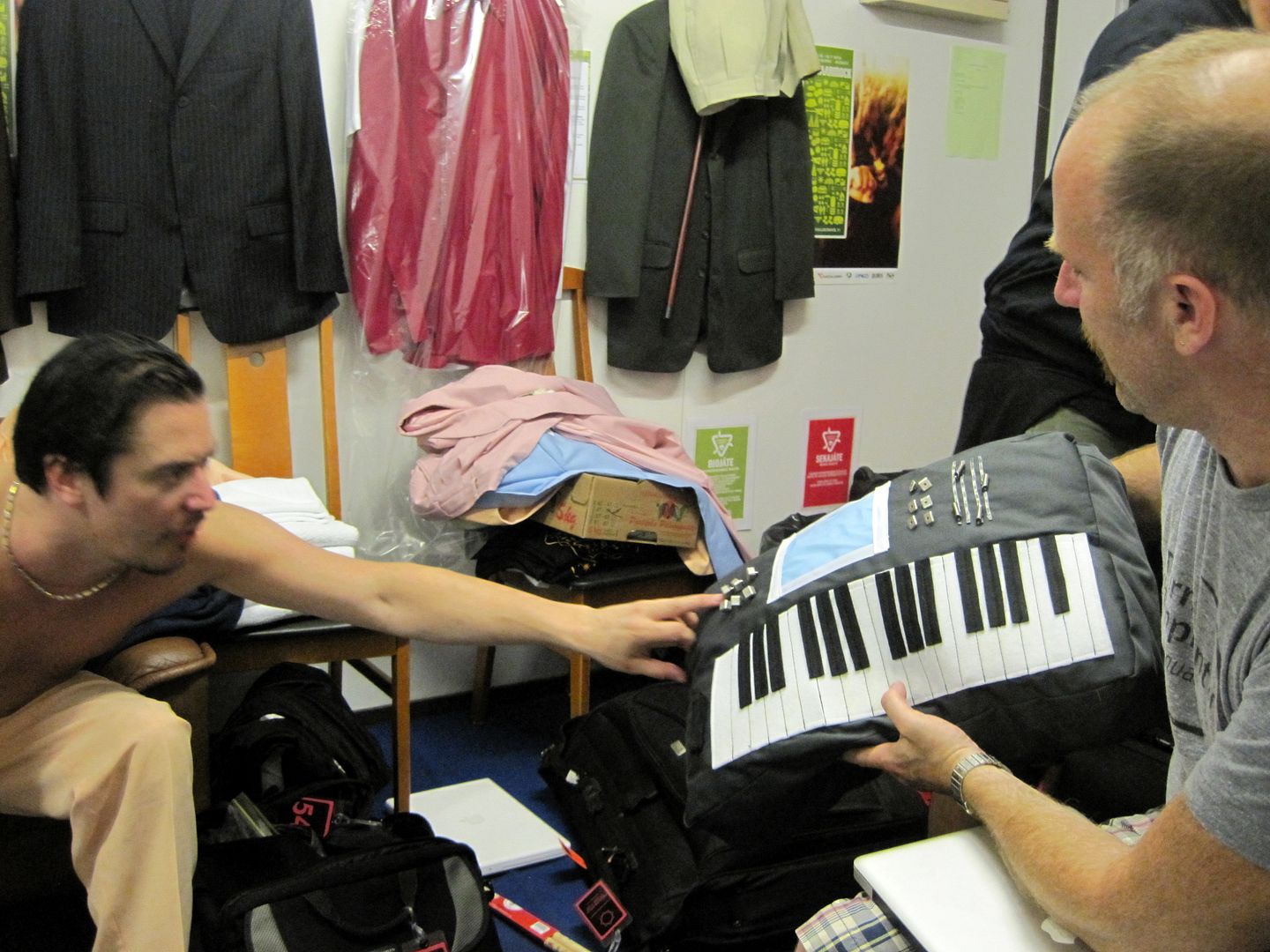 A keyboard. Fucking rad.

For Jon: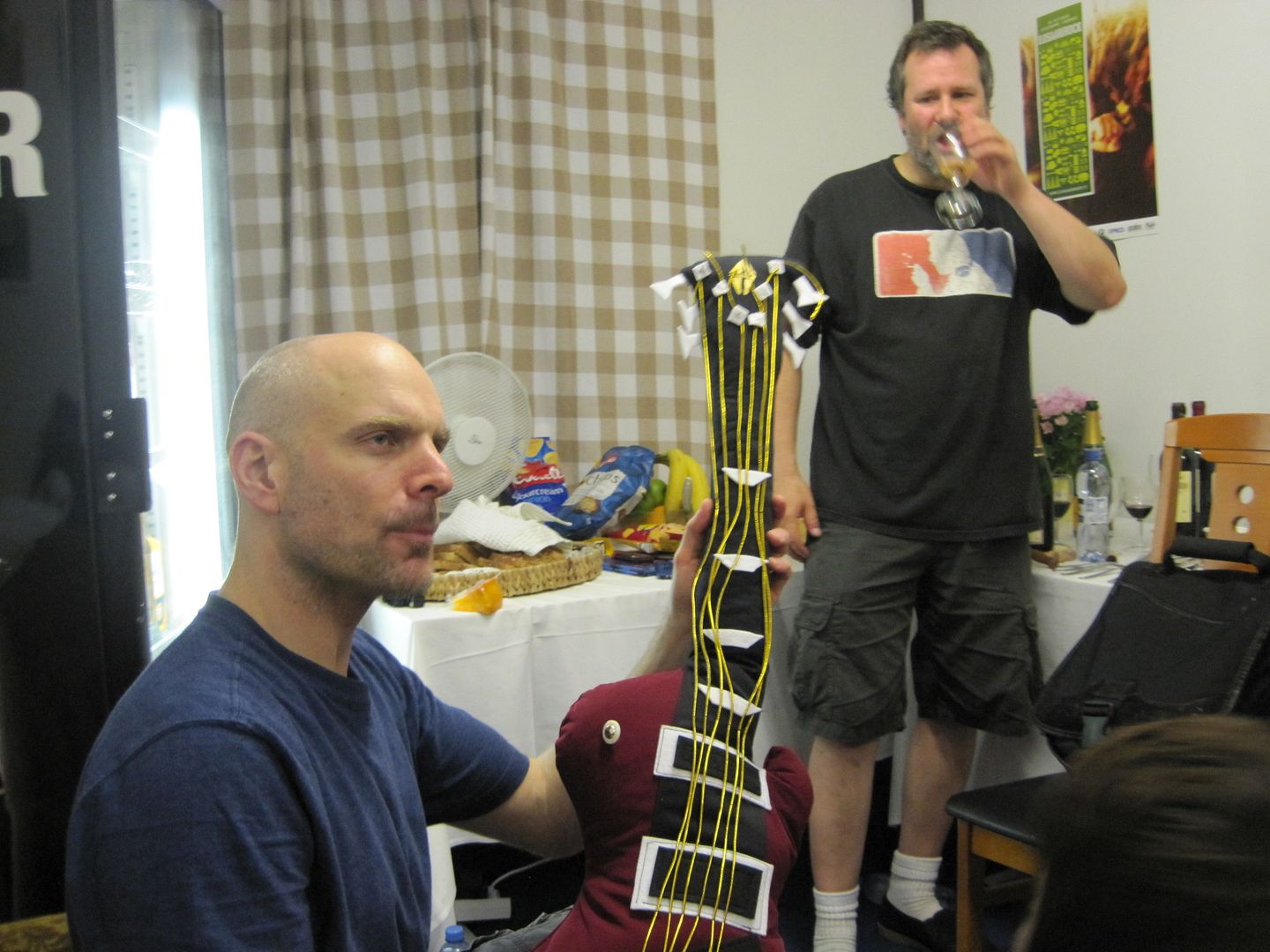 One awesome guitar.

For Billy:



A bodacious bass!

For Puffy: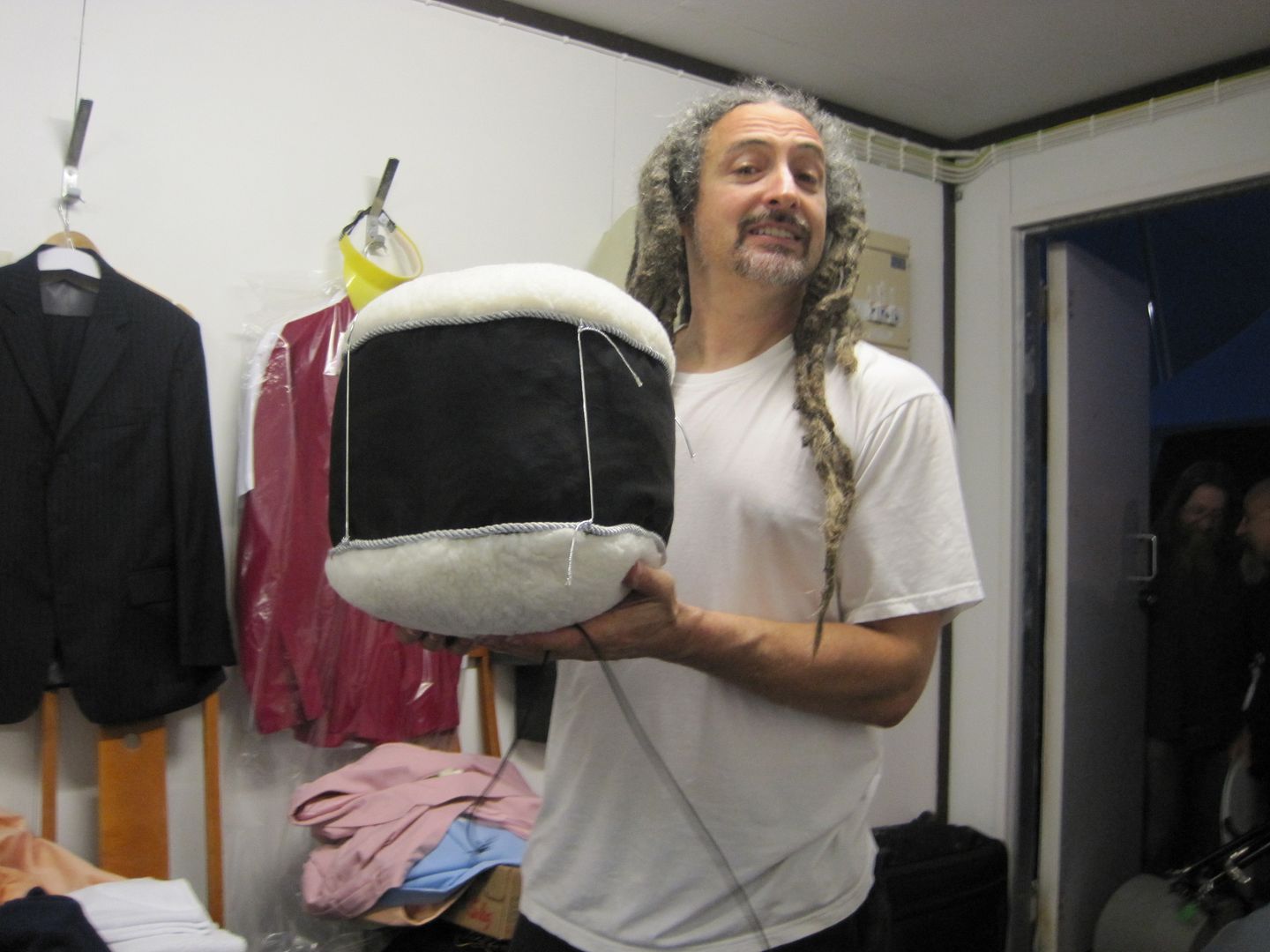 A Puffy Drum!

Last but certainly not least... For Mike...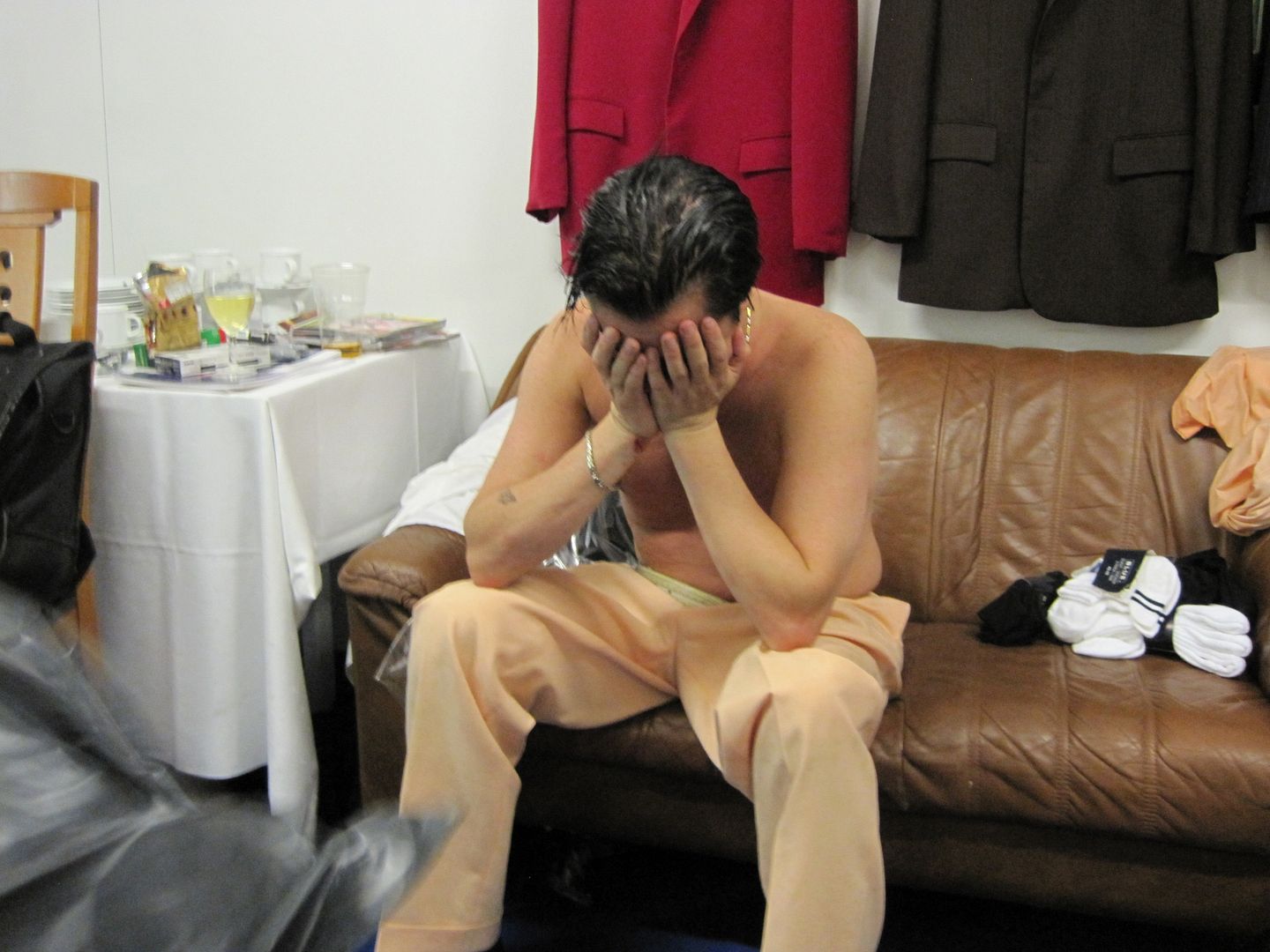 He's worried about what it is (scared, more like it)



It better not be a horse's head...



And it's a dead horse's head, complete with an X for an eye - homage to The Godfather (Italian, you know).



But he likes it anyway... doubles as a pillow!

Time for my gift! Koskenkorva Salmiakki liquor...

Tim is NOT impressed "Will I like it? As long as it doesn't taste like licorice."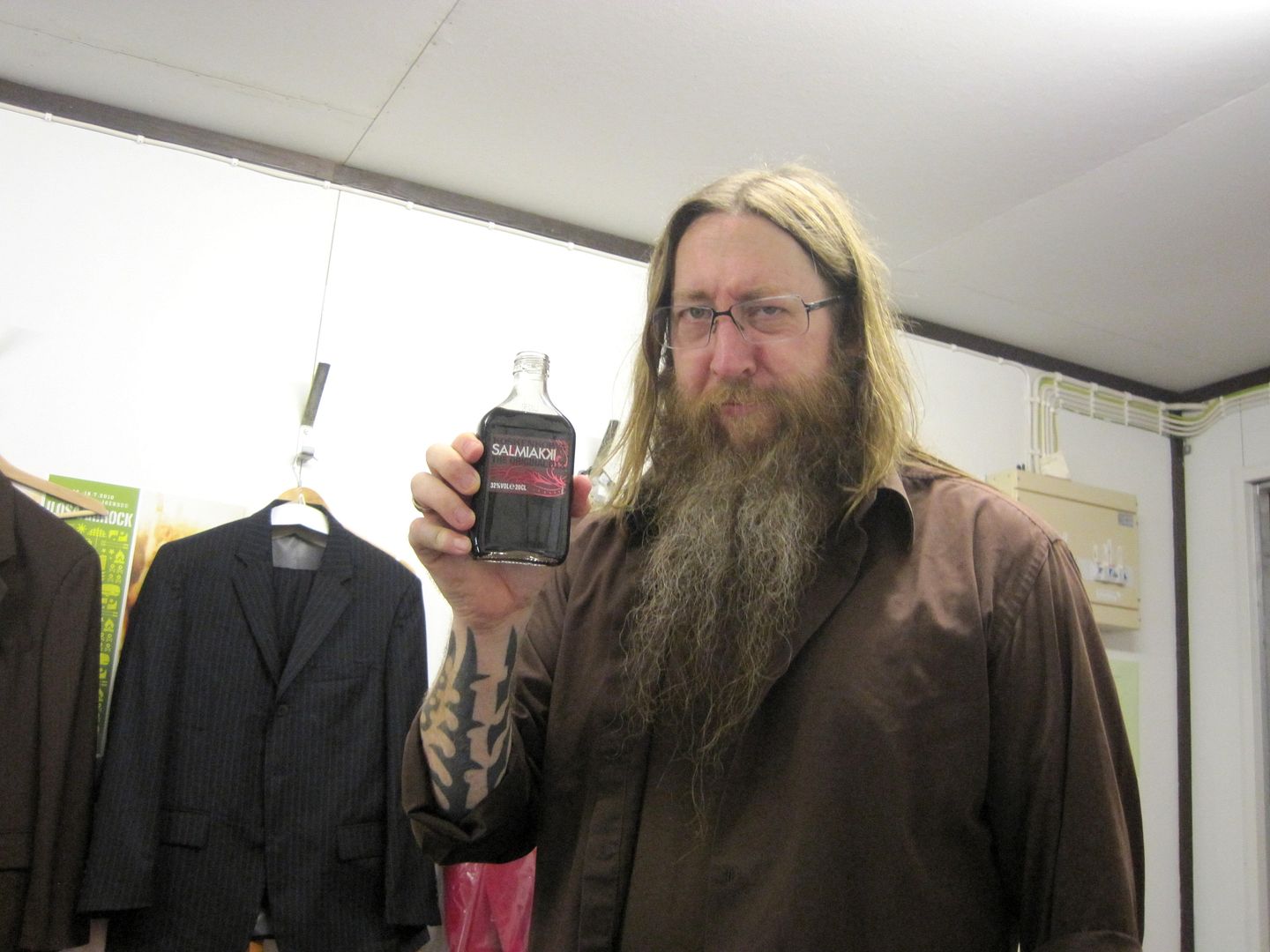 Patton and I in unison, "Well then you'll love it!"

(it's salty licorice flavoured booze) :P

Roddy is equally scared, and he should be...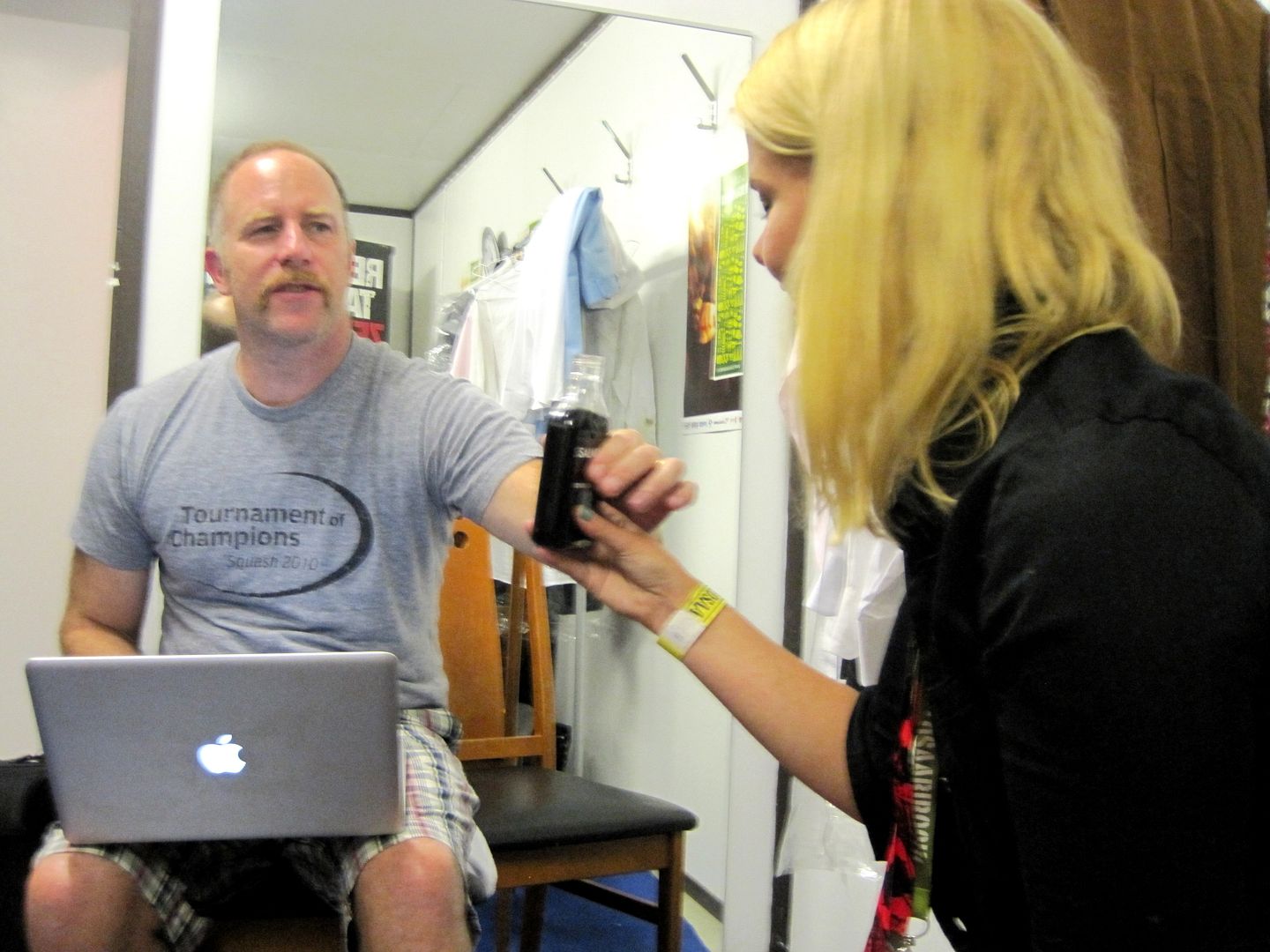 But I have no problem. At least, I'm brave enough to take the first gulp.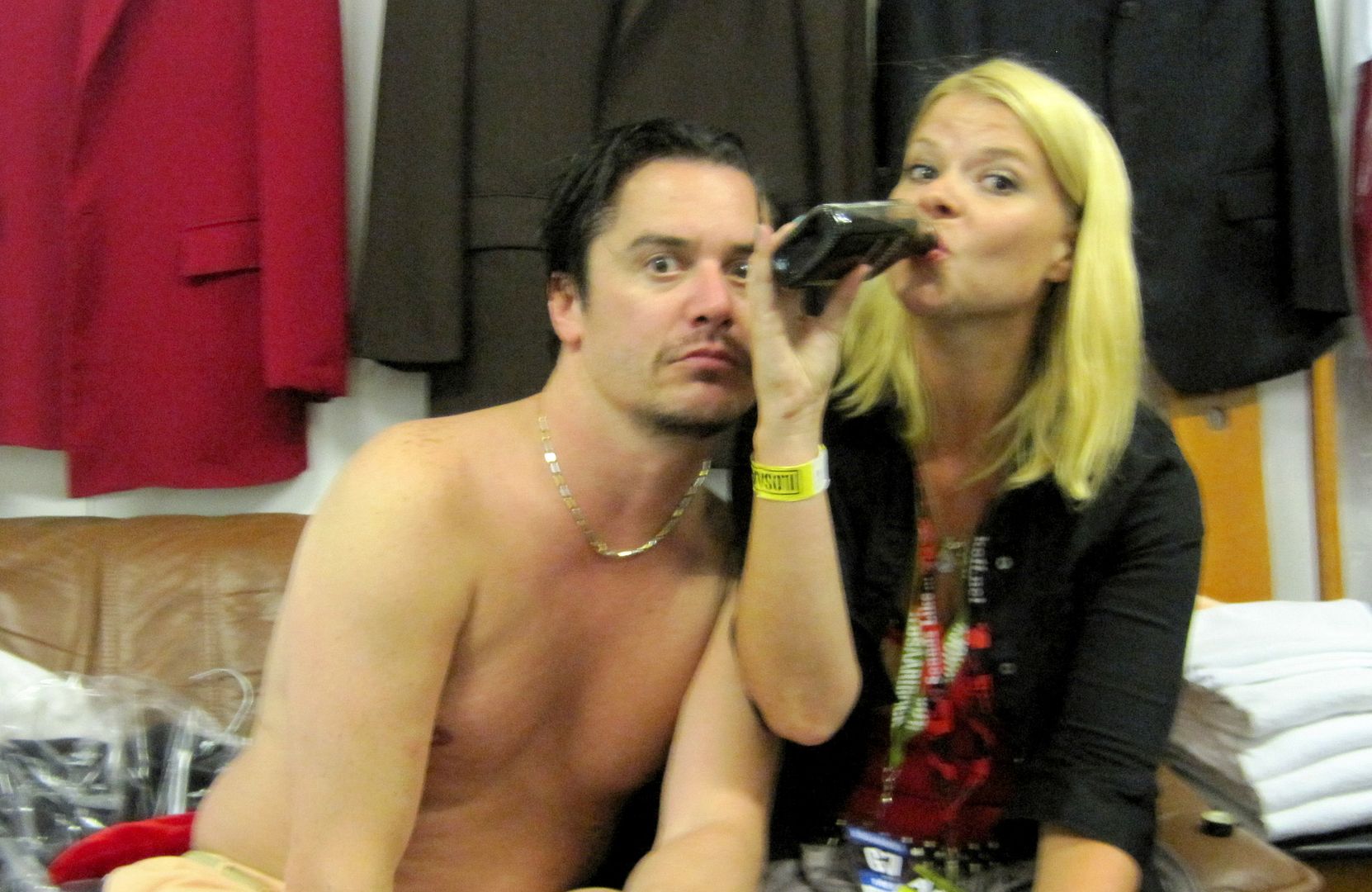 Then I pass it on to Patton since he's obviously had the liquor before and doesn't have that much of a problem with it. Meanwhile I'm coughing up a storm (that shit is STRONG).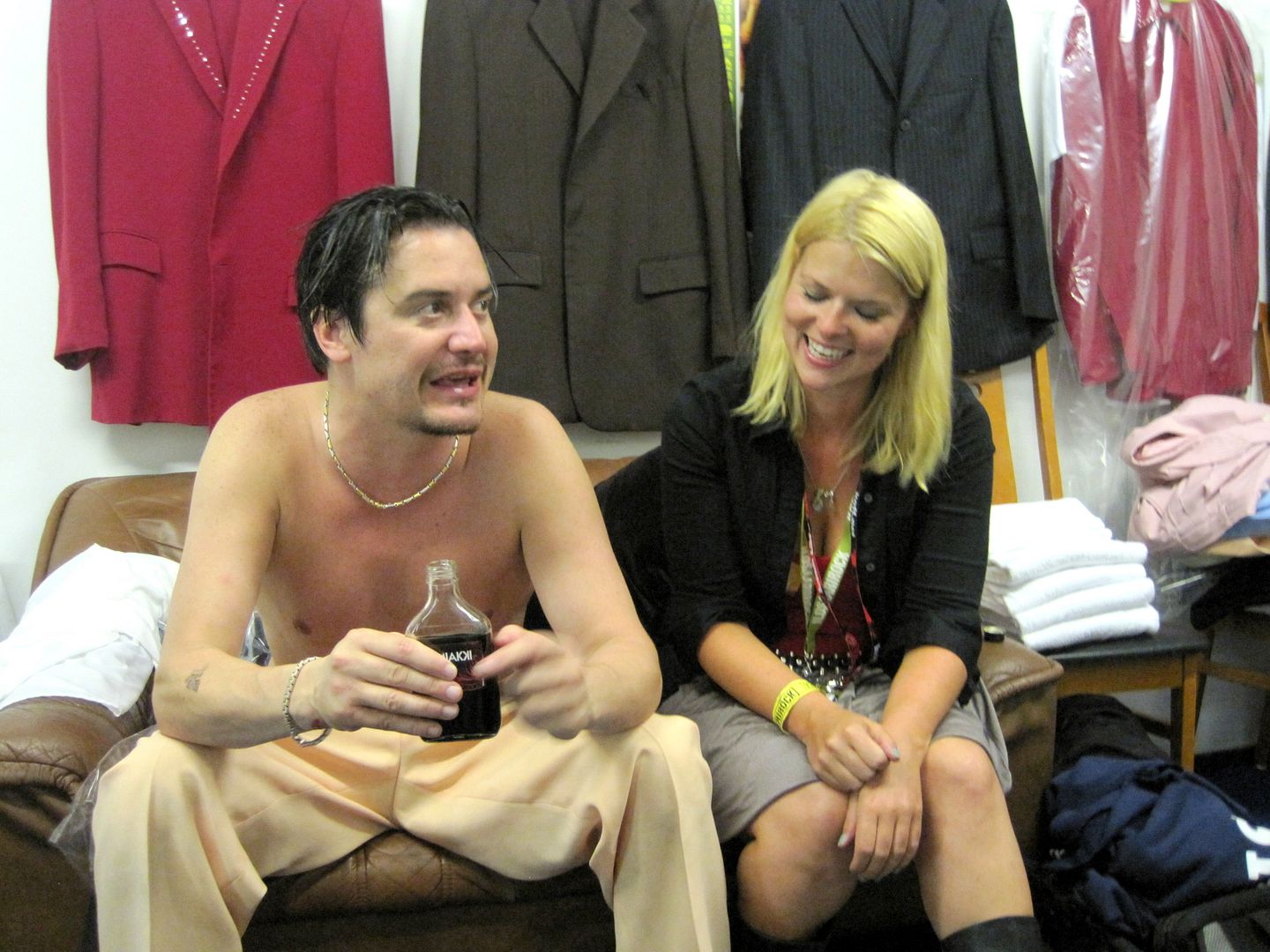 Seconds later I am raiding their food tray and munching on Finnish bread. I remembered I hadn't even eaten dinner that night and that huge shot of licorice booze was making me woozy.

Patton, the food gourmand eyes me, "you know we have real food you can eat."

That they did. Anyway, S and I just hung around, drinking champagne, beer, Salmiakki, eating their ubiquitous peanut M&M's and Kinder Surprises.

It was just us and the band. Unbelievable.

We all talked, drank, laughed for almost two hours. They are just the best group of guys ever, nevermind the fact that they happen to comprise of my favourite band in the world. Each one of them is unique, thoughtful and earnest.

We talked about the band's experiences on the road, my Finnish citizenship, Coachella, Random Youtube videos, Russia, I taught Jon and Mike how to swear in Finnish (Mike: "Hey Tim! You are a Vittu Perkela!!"), talked about how much the band loved Finland, we talked about... tattoos... *ahem* I showed Roddy and Bill my tattoo, they were excited and took pictures of it with their cameras... Mike got involved. Hilarity ensued, etc.

Later we were outside and Puffy stumbled upon the FNM2.0 blog and the whole band watched, for the first time, the video footage of Patton doing his Forestglade jump on to the drum kit.






Puffy's first response was to laugh his ass off. Patton's first response was to cover his face with his hands, "Oh my god, I'm so terrible."

Spent a good a few minutes reasurring him that he wasn't terrible. After all, Puffy was fine - so fine that he had taken his laptop away and was watching the incident over and over again and laughing - meanwhile, Mike was the one with scratches and bruises on his arms and wrists thanks to his tumble ("cymbals are really sharp!").

Anyway, 'twas a rad night. I mean, raddest of the rad. It was amazing, stupendous, fantastic, or as in Finnish, it was was Loistava! To just be one of the gang, for one night... beyond my wildest dreams.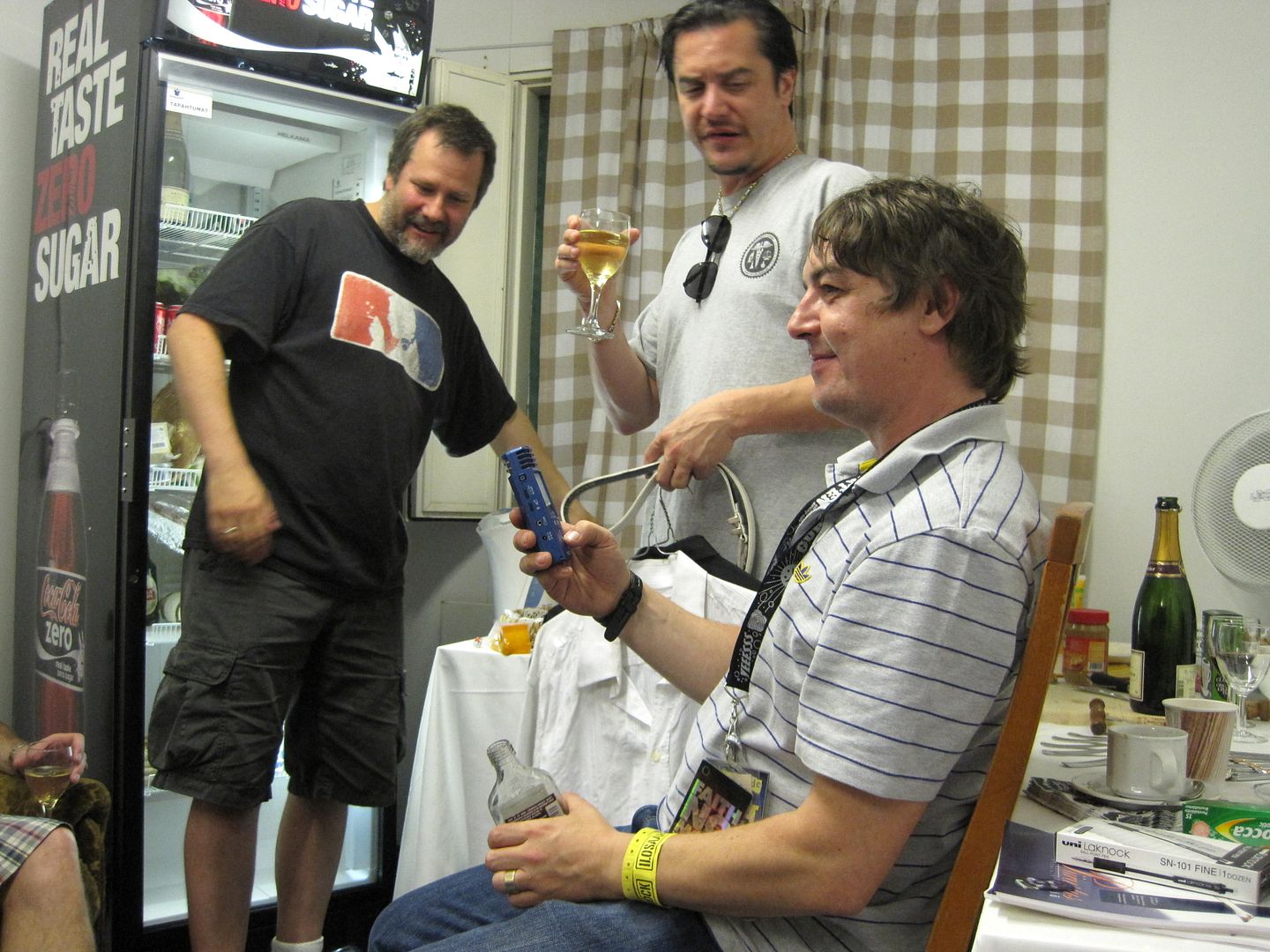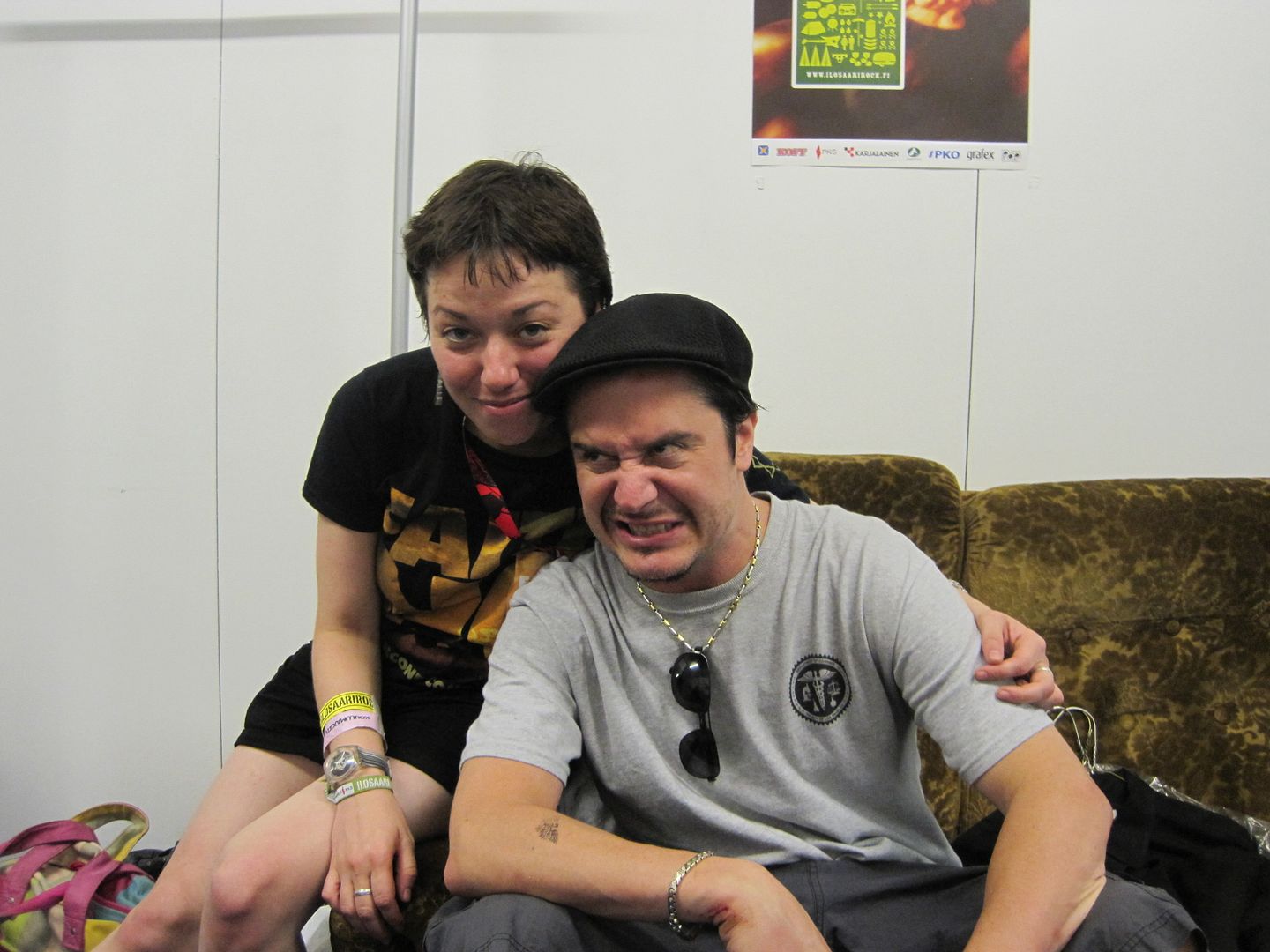 And in the end, I walked away with their monkey (well, Roddy said I could take him). Yes, there was a monkey in their dressing room (according the festival staff they requested a monkey that "doesn't shit everywhere but that eats shit" - I am sure something got lost in translation). I spent some time trying to work the fucker ("Are you raping that thing?" asked Mike) but alas I failed just as the band had failed. Monkey was a dud.

Wasn't until the next day that I realized Mojo (yes, that's his name now) had a magnetic banana, and, well... this is what happens:


There ya go FNM. I figured it out! Mojo lives and he is glorious!

Good times*



*understatement of the decade