Presenting dress #2 - I love this dress and its whimsical collar. But I'm starting to think a belt is a pre-requisite for all vintage dresses.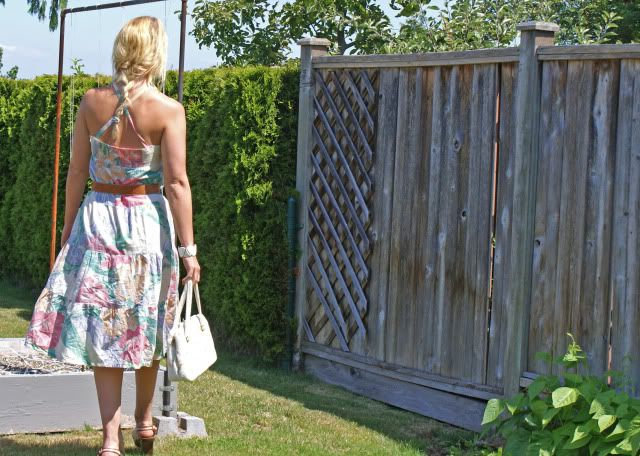 Dress: Vintage; Shoes: Marni; Belt: Vintage; Bag: Vintage; Cuff: Forever 21; Sunglasses: Marc Jacobs

Those are Kimberly Stewart's MJ sunglasses that I got for a steal from one of my fav Ebay sellers. I love how nerdy they make me look lol, I feel like Clark Kent when I wear them :)


I love these shoes too, though they can be a pain to walk (and jump in). I bought them off of Shoes and Your Mom when I was in their good books. Not sure what happened, but now everytime I contact them to either buy something from the site or sell something of mine (I have a HUGE stack of designer clothes I need to sell), they ignore me. I've sent about 6 emails, from different accounts too to make sure that one wasn't getting spammed, as well as commenting on their blog and saying HELP!. Nothing - no replies.

It sucks because all I ask is that they just say "No we don't want your clothes" so I can take my clothes elsewhere. But they won't even reply at all. And I know they get the messages because they are still doing business. So yeah, I have been boycotted it seems and it hurts, I tells ya.

I've got Louboutins for sale, Gorgeous NWT DVF, Cynthia Vincent dresses, Da Nang cargo jackets, French Sole ballet flats new in box, Chloe sweaters with chains, Philip Lim...all stuff people would LOVE and all priced very well and yet - NO LOVE FOR ME....what a mystery.