Yesterday was Canada Day. To celebrate our anniversary (yes, again :P) I took HIM out for breakfast at our favourite local haunt Hamburger Marys. Though it's a block away from our place, we haven't been there for ages. Two years ago though, we made this all-night diner the place to be (and/or pass out) at 3AM on Saturdays. On Canada Day it wasn't quite 3 AM but it was still time for a good meal, followed by my favourite Caeser (virgin...I'm trying to cut back lol). Funny thing, I reached for this dress thinking "hmmm haven't worn this in awhile" and then realized the last time I wore it was LAST CANADA DAY! What gives? It's not even red, it's orange. Oh well. My mind is funny sometimes.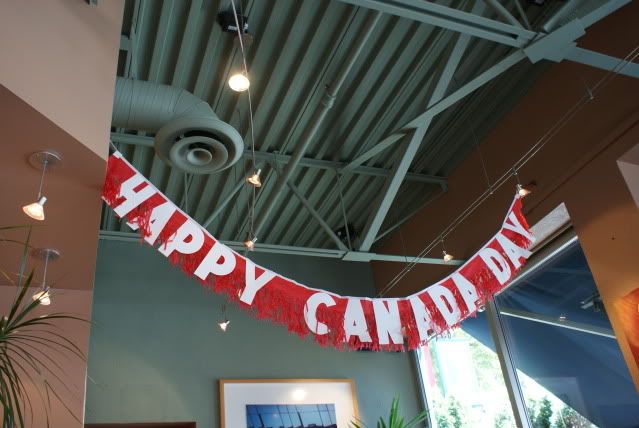 Dress + Sunglasses: Forever 21; Necklace: Gorjana; Shoes: Gojane: Bag: Coach

We spent the day lounging by the pool, getting a tan and drinking Corona (whoops, there goes my cutting back).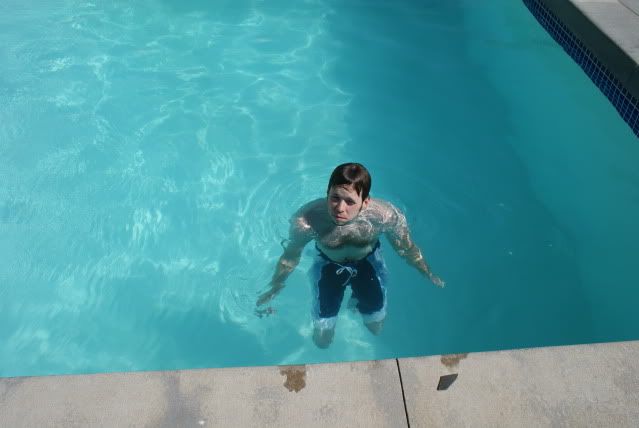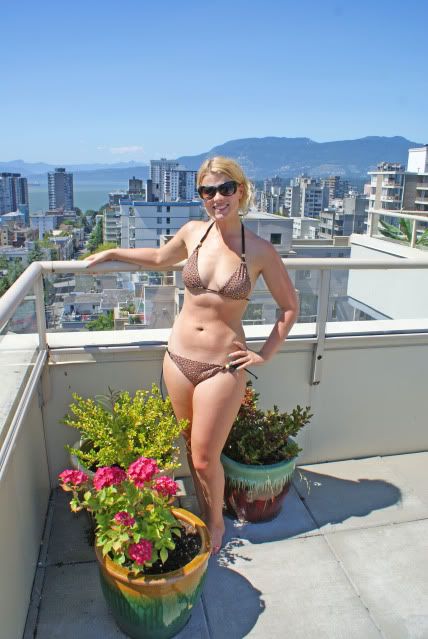 Ugh, I almost didn't include this picture because although the bikini (VS) is cute, I am not. It seems all other bloggers are super skinny and thin and trim and wicked hot and I must be the only roly poly pudgy one out there!!
It totally sucks because I've gained 10 pounds since last year and it doesn't move despite the fact that I barely eat and I work out a lot. I have tons of muscle which sadly just doesn't show. I am not making excuses, I just didn't want you all to have the wrong impression of me, which is that I am a lazy, non-moving slob. Well, I am lazy, but I am also strong like bull. Anyway, I guess I am posting this so that I have something to work for. I'll post another pic like this in August and hopefully you will see a difference!! :)
At night we watched the fireworks from the roof as well.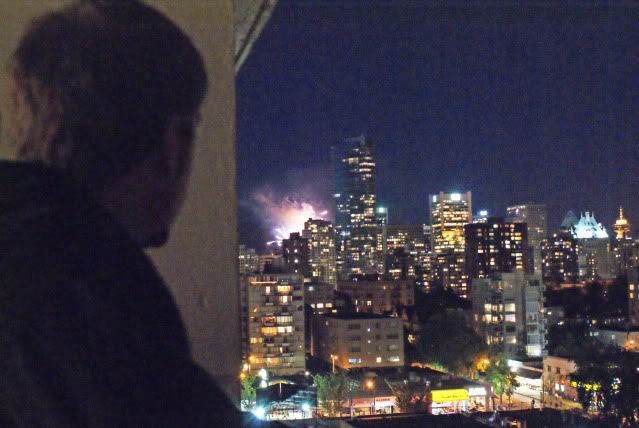 And in the early evening, we spent many hours packing. Yup. Since we are moving on Sunday we had to use our one day off to pack up as much stuff as we could. While we piled suitcases high with my stuff (thank goodness we are renting out my place furnished! Although, it's the little things that make up the most), my boyfriend ran them out to our new place while I cleaned. And tackled my shoes.
I am not sure how I am able to fit all of the below into my closet in a 435sq foot apartment but somehow I did. I documented my findings and counted my pairs. It was...startling, to say the least!
63 pairs of shoes, 20 odd pairs of boots...eek. And quite a few had never been worn! I am totally the woman who had to live in her shoes, ala Carrie Bradshaw.

10 pairs of pumps/heels (my cage heels aren't included in the pic, they were hiding under my coffee table) - this is an area that needs improvement, though it is hard to find nice heels under 3" - Back row, L-R: Asos red mary-janes (modified, I cut the straps cuz they were too tight); Christian Louboutin Mary-janes (modified, I added straps LOL); Some italian brand slingback kitten heels; Steve Madden Mary-Janes;
Front row, L-R: Guess lizard print heels; Vic Matie maroon and blue patent metallic Mary-Janes; Te Casan crackle metal heel patent and calfskin pumps; Vintage Ferragamo heels



15 pairs of ballet flats - Back row, L-R: Juicy Couture suede flats; Fair Lady flats; ASOS metallic canvas ballet flats (I added long ribbon); ASOS satin ballet flats; Bamboo pantent pleater elastic back shoes; Payless flats; French Sole sparkle flats (never been worn!)
Front row L-R: Kate Spade puzzle flats; Marc Jacobs blue suede shoes; Tory Burch leopard pont hair; Candies flats from Kohls ($2!); Nadia Grilli silver sequin bow flats; Coach flats; Pulp pointy toe flats; ASOS snow leopard sating flats

15 pairs of wedges - hmmm love me some wedges...need more! Which reminds me, I have some in storage including some Ugg wedges (don't laugh, they are cute!) - Back Row, L-R: Michael Kors cork wedges; Modern Vintage wood heel wedges; Espadrilles etc; Harajuka Girls nautical rope and canvas wedges; Cafe Noir gold mirror wedges; Payless wedges (my fav, so old); Marni wedge clogs
Front Row, L-R: Marc Jacobs velvet wedges; Christian Louboutin trash espadrilles; Colin Stuart low wedges; Patent red cork slingbacks; Dolce Vita snakeskin wedges; Manufacture D'Essai suede and leather wedges; GoJane snakeskin espadrilles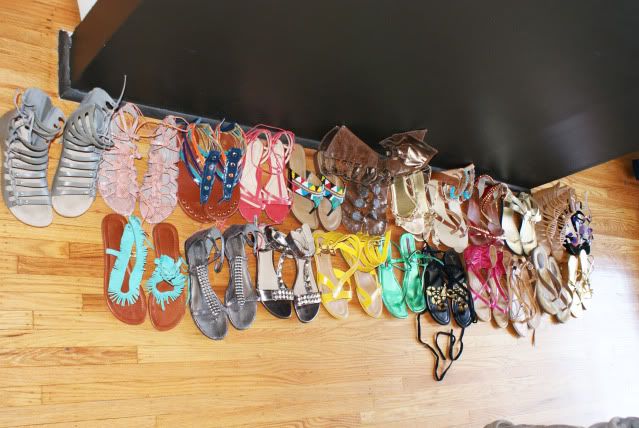 23 pairs of flat sandals. Make that 24 (forgot I had a Jeffrey Campbell awesome pair in storage). Yeesh. Back Row, L-R: Dolce Vita cage sandals; Pour la Victoire Naomi gladiators; Matt Bernson Jouer sandals; Erno Angliozi or something red sandals; Target beaded sandals; Gladiator sandals; Forever 21 gold wrap sandals; Gojane beaded cuff thongs; Matt Bernson Barracuda studded sandals; Diba gold thongs; Gojane nude hurrache-esque sandals; Prada patent flower sandals
Front Row, L-R: Twelfth St Cynthia Vincent fringe flats; Target studded gladiators; Forver 21 Pyramid flats; Gojane yellow cuff sandals; Chinese Laundry metallic green t-straps; Sam Edleman suede and gold coin sandals; Gojane pink cuff flats; Cocobelle roman sandals; Ugg flip flops; GoJane starfish jeweled low wedge sandals (guess it could have gone in the wedge category)
And then there are my boots which - at this point in packing - was far too lazy to take pictures of them, also they don't stand up straight. But I have around 22 pairs of boots, from ankle to over-the-knee.
Scary thing is, I only really started buying shoes in the last few years...before I was a handbag crazy lady. Still crazy though, apparently. Oh well. My only issue now is to figure out how best to store them. Now that the floor of my closet is all bare, I'm really taken with this light, airy zen look that my apartment currentlty has! Oh, to realize these things just as you are leaving :(