First prize for being awesome (and lucky) and scoring
this amazing ASOS dress
is:


Yay! Hope it won't be too big for you though - fingers crossed.

There is a suprise second prize too, for a used but great condition Arden B dress (worn once or twice, once in an upcoming "special" post! - is knee length, has long sleeves, a sweetheart neckline with circle ring cutout and a back cutout as well - dont worry, you can still wear a bra), and that winner is:



Again, hope it's not too big - both these dresses are medium-sized and from your blogs you ladies look small :)

CONGRATS! Be sure to email me your address and I'll try and send them out within a week! This contest was so much fun and so is giving away my clothes, so I'm going to make this a once a month thing :) btw - those purple marks are me blotting out my company info ;)


I've also decided to ban online shopping for the month of May. Note I didn't say shopping in general because that is more or less impossible for me, but I think online shopping takes up too much of my work time, drains my wallet and makes me lazy (and can be risky too).


Case in point: I went to Winners for the first time in a long time and spent a good 90 minutes looking at shoes - and the shoe collection wasn't even that big! Either way, if I was doing it online, I would have snapped half the stuff up in a second, but since I was trying them on, comparing, hemming and hawing and in the end, forking over cash, there was zero impulse from me. In fact, i ALMOST walked away empty-handed except I kept eyeing these Harajuka Girls sailor wedges. They were cute but for some reason I didn't think I could walk in them and because there were so many, I didn't want to look like everyone else.


That said, I tried them on just as I was ready to leave and TA DA!


Super comfy, SO cute and a perfect fit!! If I can just get past my feet phobia, I will proudly wear these all summer long :)

Meanwhile, I am trolling my favourite eBay seller and the US Forever 21 site, hoping to score some last minute deals before my online shutdown and I can't help but keep going over what I have already in my closet. I don't NEED anything to be honest, but the urge to buy new stuff is still there. Therefore I am trying to think about what things I really lack and not buy more of the same thing.


For example: I want a purple dress. I want black capris or silky shorts (don't own a single pair of capris or shorts, again due to feet phobia - but I am trying to break out of that this year). I want stripes because they make me feel sophisticated and cute at the same time. I want to cut down on babydoll tops because I plan on getting past my "bloated tummy" phobia and start looking for straight cut styles (which is nearly impossible at f21). I need more plain tanks and tees that I can mix with everything and over-accessorize. I want new sandals to replace my favourite ones. They are so beat-up and old and kinda ugly, but I love just slipping them on my feet and heading out the door so I want something very similar.

Anyhoo, today I was going to wear my new shoes with bare legs to work but the truth is this: no one at work has seen my feet and I just wasn't ready to deal with it.

I know it may not seem like a big deal, and yes you may notice that at the wedding I had my feet out in all their Marc Jacob wedged glory, not hidden by boots or tights.

But I also had to deal with a lot of questions about my feet - I should point out it was questions my friends had, not random strangers, and they were all innocent and understanding. That's fine...but it does get tiring having to explain why my darn feet are the way they are. I just know that at work I'll be subjected to the same questions and stares, since I get questioned about the way I walk, what I'm wearing, etc.

But I'll have to go and get it over with at some point - it's obvious, I guess, that I'm different even when I wear tights - after all it's actually not so much the scarring that I care about but that my ankles are, um, not right. Basically looks like someone took off my feet and put them back on at a crazy angle. So yeah, you can see that with tights too. But still, I just hate being reminded that I am different and everyone else notices.

Maybe some people say I have nothing to complain about but let me tell you, people do ask me about my feet (when I'm showing them) on a daily basis and yes people do stare and no it's not because of other reasons (ie what I'm wearing - unless I am wearing crazy tights). I wish in my heart of hearts that I could just put on a skirt and flip flops and be done with it. Sometimes I can, but it can be SO hard because I know my feet ruin my look. I'll look cute till someone sees my feet and then their whole opinion of me changes. They start wondering what's wrong with me, perhaps they pity me (she would look so pretty if it wasn't for her feet, what a shame, I wonder what happened to her, etc) I hate that, that's why I wore boots in summer and ankle length skirts for like 25 years. Of course, that alone made people stare - but for different reasons!

Anyway, I know I have to get used to this, I kind of go through this every Summer. This is why I am delighted that gladiator sandals are aplenty. I bought myself glads a couple of years ago
Pic taken in Nov 2006 - that's my mom and I in La Cruz, Mexico, which I just posted about in my travel blog
- before they were in and I remember that they were so hard to find. But they make the perfect ankle-covering shoes. Unfortunately, they aren't the most flattering...
It's a minor dillema. Either I wear wedges, which are super flattering to my legs but show my scars, or I hide my scars with gladiators and have short, fat stumpy looking legs. Catch -22.
Enough about my feet phobia though - things could be worse. At least they work and allowed me to finish my first 10K - that is something I never thought I could do! I just need to toughen up some more and accept that this is the one thing about myself that I can never EVER change. Oh dear, I'm tearing up as I write this. Poor footsies.
So today I chickened out and wore tights with my Vic Matie metallic blue mary-janes. The was snowing with Sakura, as I asked a cute nerd from IBM to take my photo.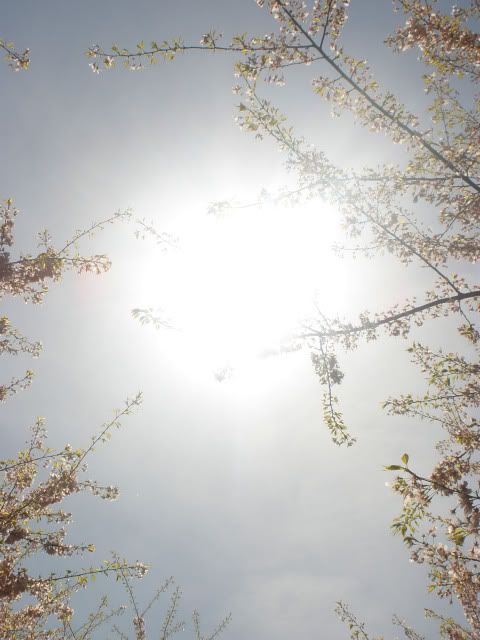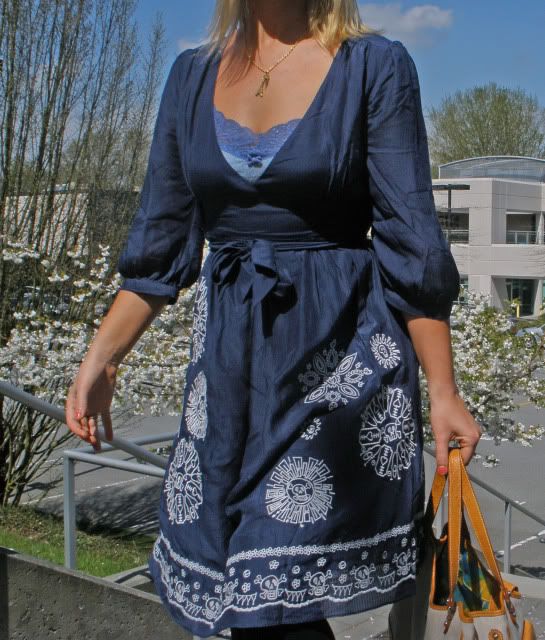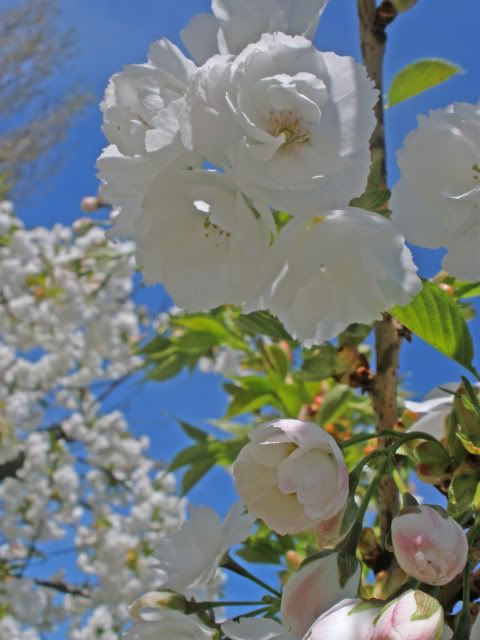 Dress: Laura Lees; Lacy tank: Express; Ostrich leather + canvas bag: Rafe Totengco; Necklace: DaisyChain Dreams; Patent Mary-Janes: Vic Matie
Once again, congrats to the winners and thanks to everyone for your lovely comments. Personally, I like the Dire Straights look best - but maybe because I love their music most of all :)