As
Budget Babe
touched on, there is no reason why well-endowed (read: big-boobied) women can't wear maxi dresses. A maxi dress is like any dress, just longer. As long as the top parts are structured or provide enough coverage for heavy-duty bra straps and further-supporting camisoles, there should be no problem. Let's look at this woman here (captured brilliantly by Scott Schuman):
Stick a bra and a tank top under there, and you have a maxi dress for all sizes! Even better, if the dress has a shelf-bra (many at Victoria's Secret do) or a stretchy tube-top like bustier, with straps ala this dress:
I think a lot of people who are afraid of Maxi dresses are so because the extra fabric creates extra attention. But that doesn't mean you can't wear bright colours! In my opinion, bright colours look sublime and elegant when presented in a long, lean column: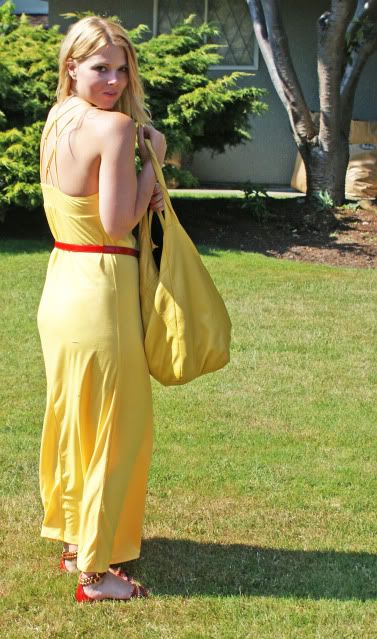 Dress: Urban Outfitters; Belt: vintage; Sandals: Matthew Bernson; Bag: Mango MNG; Necklace: Coin (Italian department store)
And maxi
skirts
? They are a DO in my book. As I blathered about in this post from a few days ago, they are excellent traveling companions in hot weather and make everything look just dressy enough.
Lengths of maxi skirts and dresses CAN be tricky though, especially if you are short-legged like I am. The solution? I take scissors to the ends of mine and create a "jagged on purpose" hem...doesn't work with all looks, but works with simple ones (why I suggest buying maxis from Forever 21...you don't feel bad about shredding up a $14 dress!).
Anyhoo, that's enough about maxi dresses from me.
I'm back from the island now and just going through my many photos. It was a great trip and as usual I am heartbroken that I had to leave and come back to my mundane life. But I'm also excited because the dreamer in me had a chance to run amok, and big changes are coming to my life...slowly, but surely. At any rate, there will be a proper post about my trip tomorrow.
In the meantime, the winner of my "followers" contest is: Talk Pretty to Me! Huzzah! Email me with your details and I'll send a pair of earrings your way!
PS
to all the people who don't know how to follow me...I'm not really sure, perhaps someone can explain it? I can't follow people's blogs myself because my own blog is not set-up that way (old template) and I can't add the follow me link to mine but I guess since I have followers someone must know how! lol.
PPS - I've been uber lazy with my clothing choices as of late. In fact all of last week I wore jeans, flip flops and babydoll tops. And today was no better. I have so many clothes and so many looks, so I ask (loaded question)...what would YOU like me to wear this week?