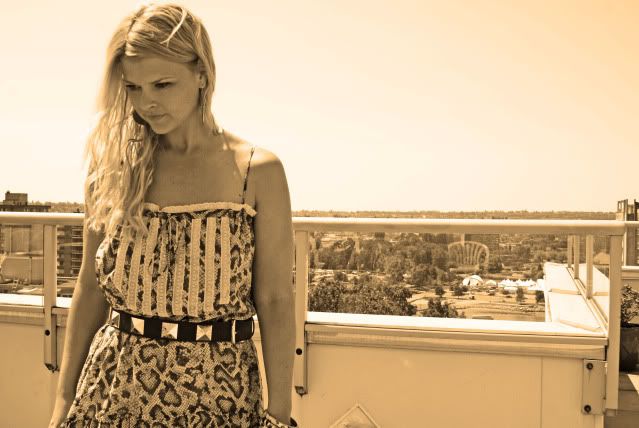 I am not a slave to the trends. I do not say this because I am above trends, or too cool for them, but I have a few issues that surround me. One, is that I do not like to look like anyone else, hence why I used to love H&M, only because they didn't have it in Canada and would stock up when in Europe. Two, most trends do not suit my body type at all. Three, I do not know who makes up these trends, but most of the time they don't gel with my style.

To put it simply, I like what I like, trendy or not.

Back in 2006, before Gladiator sandals were everywhere, I bought this wicked pair off of Ebay:




I bought them because I am always a fan of theme dressing, an a grecian godess or tribal warrior is always at the top of my list. I love those looks. But mainly, these sandals covered up my scars, so I could wear skirts and dresses without feeling persecuted. Can you believe that before last year, I would spend my summers in boots? Or I simply would never wear dresses or skirts, no matter how much I loved them?

Anyway, now glads are everywhere and while I am not getting as many crazy looks as I did three years ago when I wore them, I do not like looking like I'm trying to jump on the bandwagon. Yesterday, as I worked from home, I felt exactly that. I dressed like one big trend-whore.

But I didn't care! I got up, feeling inspired by the stifling heat, and wanted to wear my new Karta dress that just screamed "DRY! DESERT! MESAS! RATTLESNACKS! THE EAGLES!" and thus this trend-bomb was born.

I'm just proud of this outfit. So many times I get dressed and it's kinda "meh" (I should do a post of all my meh outfits, the ones that just didn't warrant a post), but this I found was the anti-meh. I dunno. What do you think?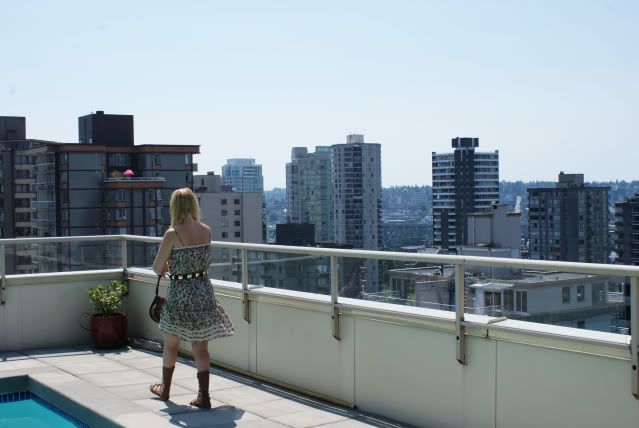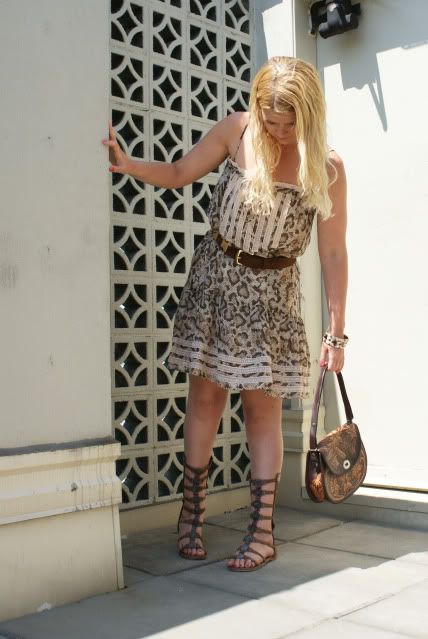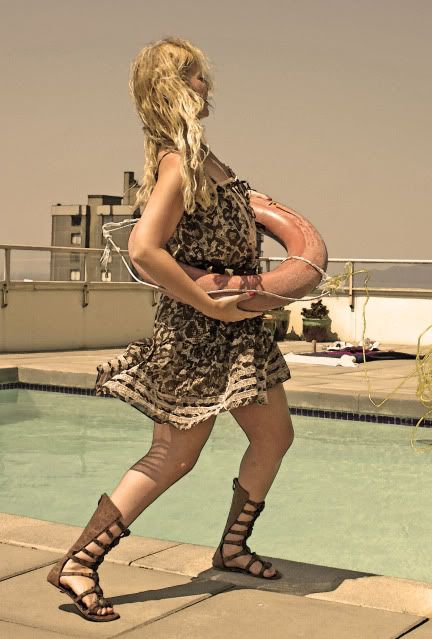 Silk and lace snakeskin dress: Karta; Sandals: unknown; Bangles + Earrings + Belt: Forever 21; Bag: Vintage
BTW - This is my 499th post! Watch for my giveaway tomorrow, where three BRAND NEW awesome dresses are up for grabs :)