So last, last weekend I had my girls clothing swap party. As I said, it was a great success, with everyone trying on a load of swag and getting out of our comfort zones. The weather was so brilliant on my roof, that we were tempted to bring the swap up there!
Eyeliah from
Style Symmetry
was there (her apartment a mere few blocks away), as was featured local designer Hannah Fletcher from
Narcissist
, my bf's sister and two other uber stylish friends. A great gathering of various styles!

All my wee shoes lined up for grabs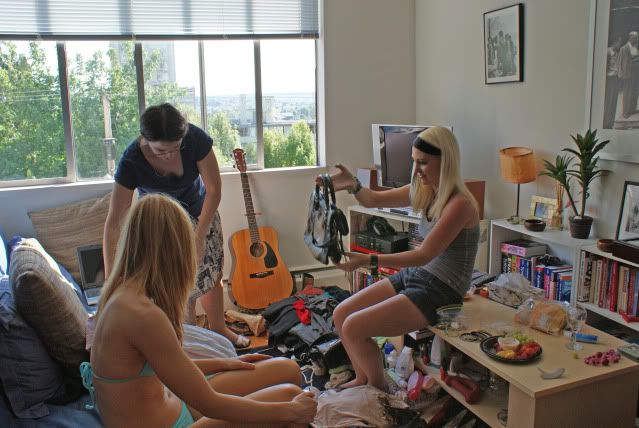 Kiersten decides if the bag is "black" enough for her



Eyeliah thinks about my Forever 21 "Marilyn" dress, before Hannah decides to snatch it up.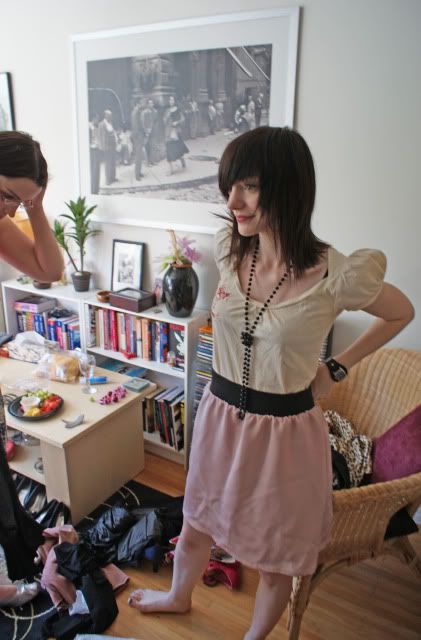 Kelli scores Hannah's owned designed and made skirt (sample), which I am uber jealous cuz I love that blush colour with the black. She also found my Locher's I Hate Children top.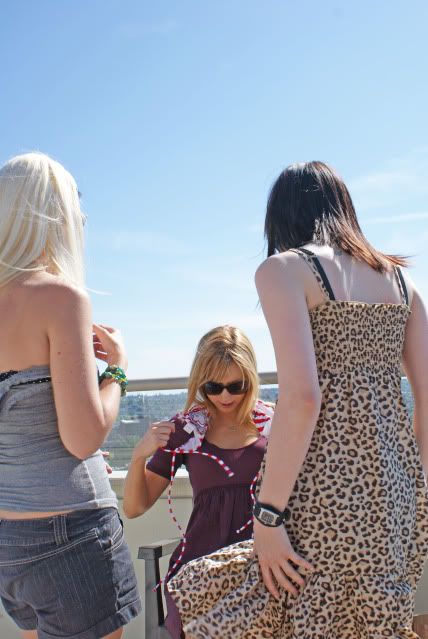 Kelli teaches Hannah a new way to tie on your string bikini (hello cleavage maker!)



Ain't my roof swell?

dress: Alice and Olivia; sandals: Go Jane; earrings and necklace (worn as bracelet): F21
Remember to enter the contest:
read my previous post for the (non-existent) rules and to see the swag and then leave a comment on that post or on this post below -
and if you link back to this contest (mention it) on your blog, you will get THREE entries into the contest
. That certainly more than doubles your odds of winning and yes, I am pimping out this baby hardcore (I have plans *rubs hands together
evily
*) - also, I will be giving out little goodies (mmm, fun stuff) along with each prize, so you will win more than just a dress!
In the meantime, because it's been so long, I wanna learn more about my readers, so in the comments below, shout-out:

1.Where you live


AND

2.Your favourite store (can only pick one!)