I am often afflicted with the "too-short" condition. This applies to both tops and dresses...and skirts, now that I think about it.
I am blessed/burdened with a long torso and upper body. My butt is round and sticks out and is placed fairly low on my body. My legs are very short, yet my thighs are very long in comparison. This makes for all sorts of wardrobe problems. Dresses are shorter on me because the fabric is still covering my torso when it should be covering my butt - and of course, the mountainous detour it has to take to get over my rear shortens it up quite a bit in the back. Skirts that should go to abouts the knees are invariably shorter on me because of my long thighs, and of course, the buttaral region :)
So I bought this tunic/dress and thought I could make it work. Nope! Too long for a top and too short for a dress. So I just tucked it inside a drapey skirt, added a belt for emphasis and huzzah! Dress becomes shirt. I know this isn't a new concept (in fact I did this in my
MUSE
post) but whatever!
That said, I did end up giving away the dress at the clothing swap to the lovely Hannah, whom I'm sure could make it work with leggings (I'm not really a legging person).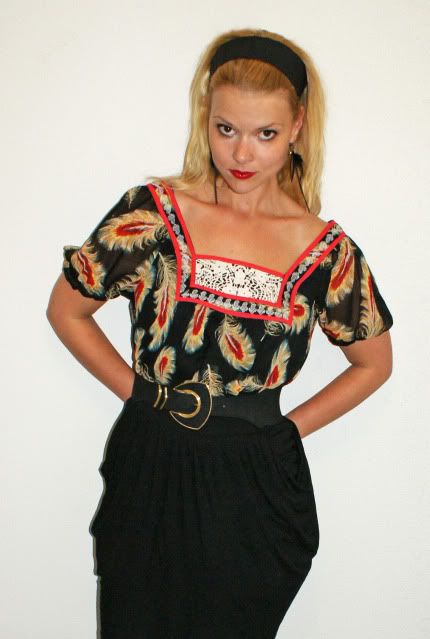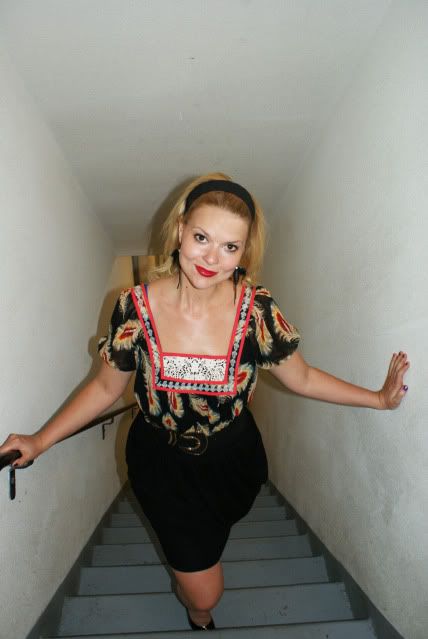 Dress/Tunic (tucked in) + feather earrings: Forever 21; Skirt + Belt: ASOS; Shoes: Te Casan
Aren't the shoes darling (please don't let me horrible feet detract from them). They were limited edition "Liu" (as in Lucy?) pumps by the now recently defunct
Te Casan
. I saw them on Bluefly last year and had to have them...so unique, patent leather, normal leather and a metal, crackle finish heel. I wore them last October to my bf's concert and danced my ass off, causing one of the shoes to be looser around the heel and side which makes for some instability as I walk. Even after a trip to the cobbler (where he actually found other problems with the shoe), they still aren't perfect but hopefully I will brave enough to wear them outside again.
Ahhh right...winner number two time!
Bella, was the wonderful first winner who picked out the Love Yaya dress, which means winner gets to choose between the remaining dresses (check a few posts back for the pics).

And the winner (#2) is....
Zombie Lace
! Congrats!! Please email me your dets with your choice of the Forever 21 dresses!!I will announce the final winner tomorrow!

Oh, btw...IT'S FRIDAY :D




YAAAAAY!