I've been inspired by the impossibly gorgeous girls on Stockholm Street Style and the ways that they effortlessly combine menswear pieces - such as their boyfriend's shirts, shoes and jackets - into their wardrobe without losing an ounce of their inate Nordic sexiness.

I've gotten into the bad (but comfortable) habit of wearing a tank top, flare jeans, platform heels and a blazer to work everyday this week, but decided to just make it a little more special wearing the Tuxedo jacket I wore on New Years Eve (remember, I wore a tux instead of a dress? no? Well here it is again).

A fat cat wearing a hat, screenprint shirt added a touch of whimsy.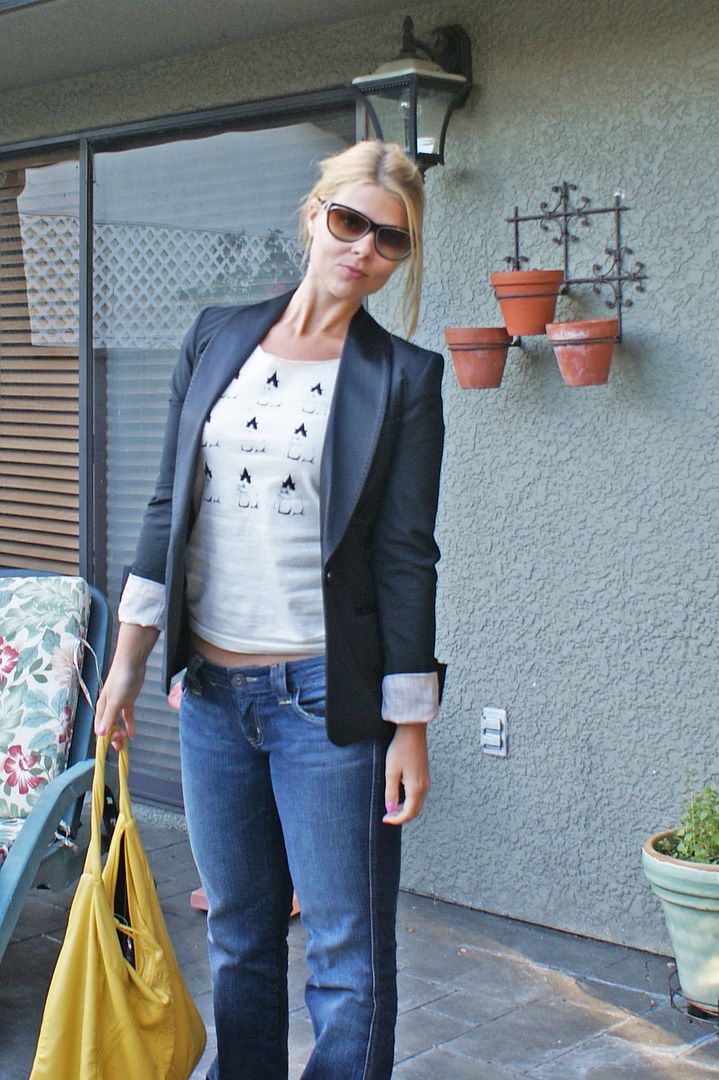 Tux: H&M;
Shirt: salt spring island market stand;
Jeans: Guess;
Bag: Mango MNG;
Sunglasses: Marc Jacobs

The next day I decided to branch out a bit, still keeping with the menswear theme. Ahhh, I love my bf's shirt collection. Just really trying not to get lipstick on the collar, as I do.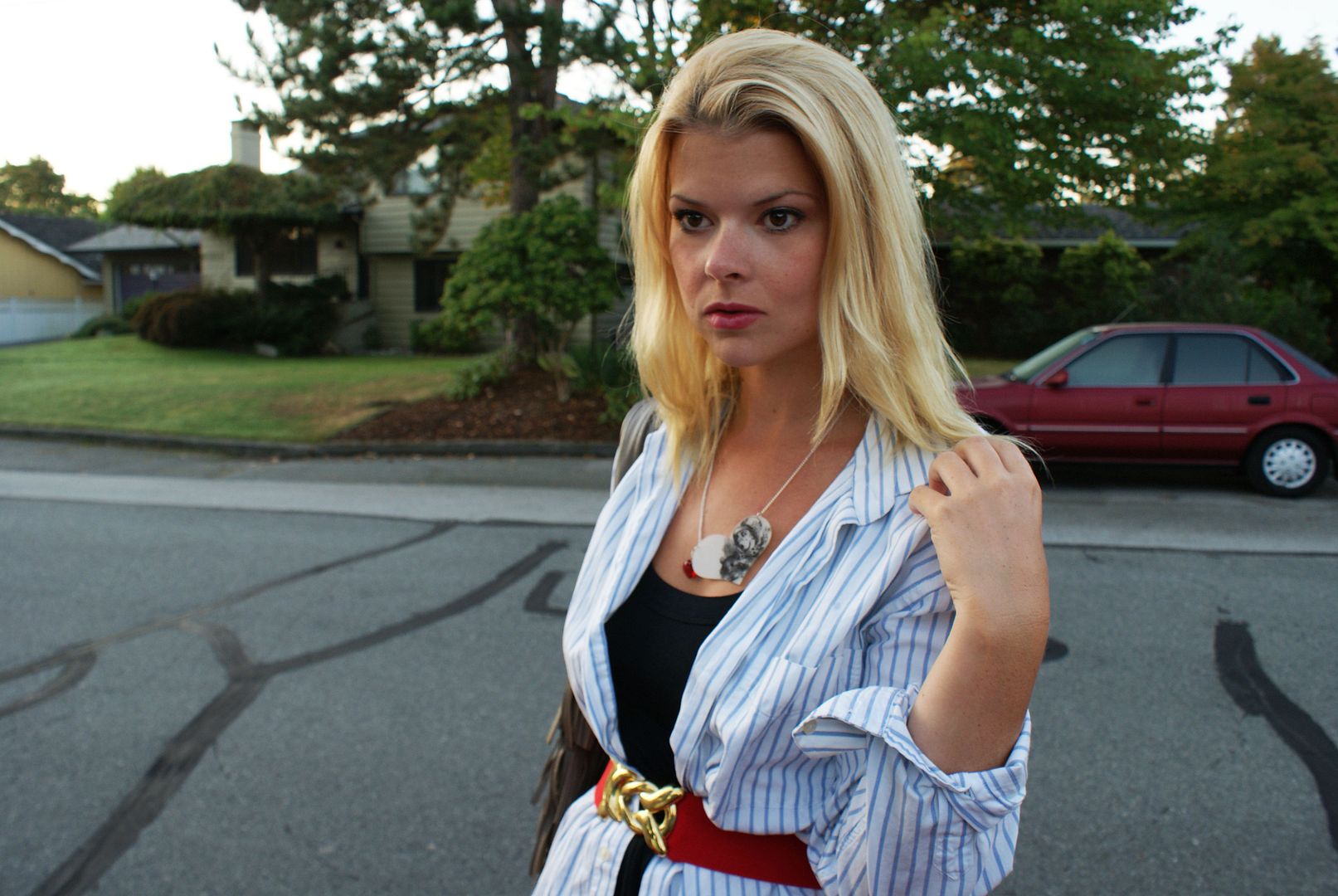 Shirt: my boyfriends;
Dress and belt: Forever 21;
Necklace: Paraphenalia;
Bag: Miele Bianco;
Sunglasses: Marc Jacobs;
Boots: See by Chloe
Oh and I should probably declare this publicly now, but in order to "change my life" I am facing my habits/trying to create new ones head on. According to zenhabits.com, the best way to go about doing so is to:
A) focus on ONE habit for 30 days
B) think positively
C) set a routine to deal with your new habit and pick one of the four times: when you get up, before you go to work, after you work and before you go to bed BECAUSE no matter your schedule, everyone (almost) has to get up at some point and work at some point
D) exercise (because it creates discipline which you need, energy which you need to accomplish your goals and creates positive thinking (think about it, you NEED to think positive while exercising in order to actually keep one foot in front of the other)
and B) publicly declare your intentions.
So here I am. I have 12-15 goals to complete over the next year, focusing on one for 30 days until it becomes a habit and in most cases continuing that habit throughout the year but shifting my focus to something else for 30 days. Sometimes it will be small things, like "Not wearing any makeup for 30 days" and "paying someone a compliment everyday for 30 days" in which I will do both, other times it will be something bigger like having sex every day for 30 days :P
My current goal for 30 days: write for 30 minutes everyday and excercise for 30 minutes every day. I can write anything to do with my novel or my screenplay and I can excercise anyway I want, whether it be a half hour walk, lifting weights or going for a run.
Both these things are HUGE deals for me but I figure excercise is something that I would have to do anyway to make my writing goal stick - they go hand in hand (excercising helps me think and be creative).
Anyway, these are my intentions. I got up at 6AM this morning to write and write I did. I never thought the mornings would be a good time for writing because my brain doesn't work but you know what???? It actually works BEST because I am writing instinctively - my brain doesn't have the energy to overanalyze and overthink because, well, it's half asleep, and that's the biggest sabotage with my writing - overthinking it in my head and not on paper. I never woulda thunk it!
Here's to the next 30 days....