BICYCLE! BICYCLE!
Don't worry, I am doing an
Inspired By: Queen
post soon but this isn't it.
Instead, it's pretty much about my BICYCLE! BICYCLE!
As most of you know, I am one horribly put together lady. Having my feet and ankles broken (on purpose) every year for the first six years of my life and then slammed into casts (not to mention I just realized my Achilles Tendon on both legs has been severed - clues as to why I can't stand on my toes) has rendered me a bit, well, wobbly. My balance is atrocious...can't ice skate because my ankles can't support me, can't stand on one leg, and maybe the reason why I didn't learn how to ride a bike until I was 8 or 9 years old!
Yep, I remember - clearly - the day that the training wheels were taken off - absolutely terrifying but thrilling too. I had come to love riding my bike and my family would often go riding around Pacific Spirit Park and around UBC on Sunday afternoons.
I did a good job of riding too - that is until we came to a stop. The hardest part for me was trying to get back on the bike. It took a few attempts of me constantly bailing to learn I actually must have both feet on the ground while sitting, otherwise I could not balance myself to get back on the bike.
Anyway, I quit bike riding around age 15 and never got back on one until, well, this Summer! I was at the Yacht Club's outstation on Salt Spring Island and decide to just go for it. I found a bike that was low enough and by the end of our stay, I was zipping up and down hills - huzzah for my giant, muscular thighs and ass!
After I got back, I was totally gung-ho about getting a really sweet cruiser bike - unfortunately my lack of funds meant I had to settle for a hand-me down: my mom's bike.
Luckily the bike - Old Bluey as I now call it - could be lowered enough so that I could reach the ground and soon I was zipping around town.
Okay, that's a lie. I zipped around the block - most of the town I now live in is packed with hills and narrow, un-bikefriendly roads. Plus I would have to contend with traffic which frightened me...I'm still not exactly the best rider.
Case in point: on the weekend I road my bike down to see my rents, taking as much of the backroads as possible. The jaunt was only 15 minutes but I immdiately ran into trouble.
You see - as I mentioned before - I have bad balance. BAD BALANCE.
And generally when you are riding around the streets, amongst other cars, you need to use hand signals.
Well, I knew what the hand signals were....which is good. But the execution was poorly done.
I came up to a quiet intersection with a car pulled up beside me (realizing at this moment I need a rear view mirror on my handle bars). I wanted to turn left at the corner.
So I took my left arm off the handlbar (and the kung fu grip I had on it) and lifted my left arm.
CRASH.
Yep. Without that arm supporting me I immediately keeled over and onto the pavement.
Luckily I managed to half stay on the bike and wasn't in any danger but when the people came running out of their car because they thought they HIT ME, I wanted to die of embarassment.
"I'm sorry, I'm just learning to ride...yes, I am 27 years old."
A few blocks later, stil shaken, I decided to try out the hand signals without anyone around me. I gingerly lifted my left arm - started to tilt that way - overcompensated by leaning to the right and...
CRASH.
Now bailed on the right side.
EPIC FAIL.
Does anyone know if you can buy blinkers for your bike? From now on I'm just gonna shake my head in the direction I want to go...
Bike riding outfit essentials:
Helmet (in garage still - yes I wear one when I ride. I should actually wear a helmet TWENTY FOUR HOURS A DAY). It's a moto helmet I think, I think I look less dorky in it than a regular helmet but my mom said I still look dorky, just now like Nazi dork
Cross-strap bag: Not a fan of these bags but this one I picked up in Spain a few years ago is perfect for bike riding
Aldo Leggings: So they don't get stuck on the spokes
Tory Burch Reva Flats: these one have a grippy rubber sole
Forever 21 Dress: comfy
Express Jacket: not as obvious as my motorcycle jacket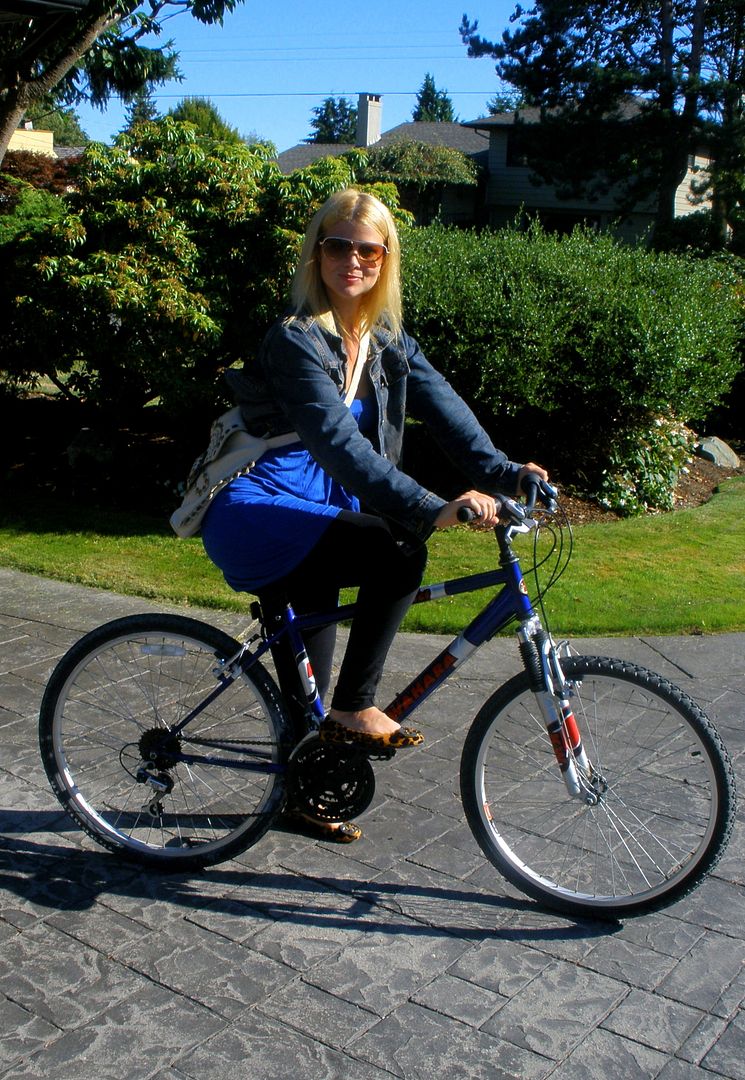 *CRASH*
PS Anyone have any ideas on how to make my bikeriding a little easier? Cool gadgets? A basket? Portable stereo so I can play Queen?
So far, I am saving up for this helmet, the Tokyo version by Yakkay: