I've been feeling extremely under the weather lately - both mentally and physically, sleeping a lot, moping a lot and feeling what my doctor wrote down on the lab form as "general malaise."
However, for about an hour last night I snapped out of my funk and started studding the crap outta things.
I started with afixing studs to a skinny elastic bracelet (which you can see in pics below) and then moved on to a pair of flat mary-janes from Payless which always seemed too "Minnie Mouse" to me.
Then came a few minutes of me wishing I could afford a studded vest. Preferably real leather. Before I knew it, I took this XS jacket out of my closet and torn the arms off of it.
Yep, demolished a vintage leather jacket...that said, the jacket is SO small, not even the skinniest people could get it on - and probably why it never sold or garnered any interest in my store. So I figured, what the hell.
I ripped off the sleeves, added studs to the pockets and voila...had a pretty strange looking vest lol. But I was determined to wear it.
Today for work/doctor's office I decided I would make use of my "new" vest and found the perfect shoes to pair it with. Since it technically is still sandal weather, I brought out my Jeffrey Campbell cuff sandals - I got these a YEAR or TWO ago and didn't wear them at ALL this year! It was about time....
As I was leaving the house, I got a glimpse of myself in the mirror. With vagabondish hippie/gypsy shoes and a disheveled and ripped studded brown vest I felt exactly like an extra in
Mad Max
.
And felt like I was a road warrior all day.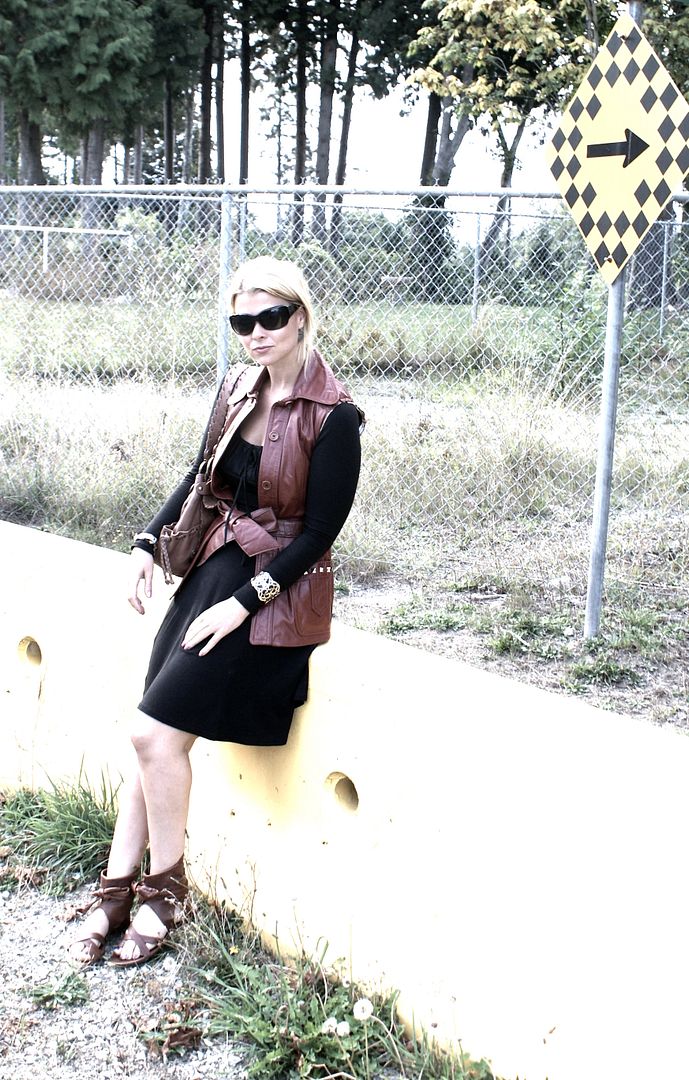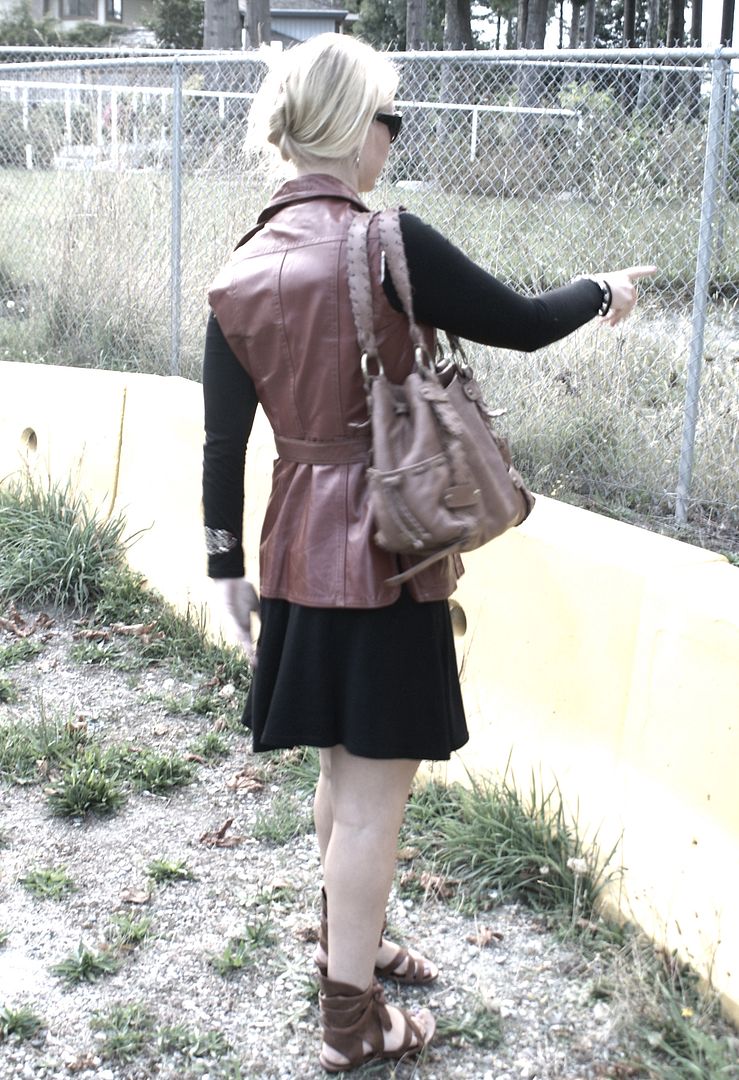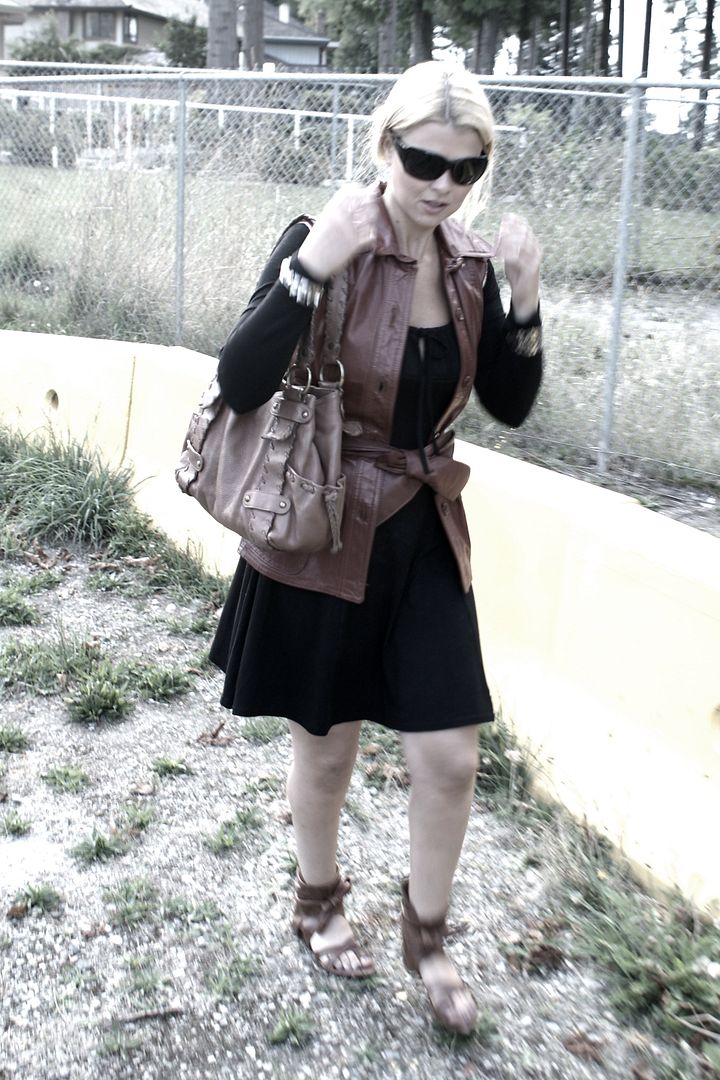 Shoes: Jeffrey Campbell; Dress: some store in Rome, Italy...Habana? Vest: Vintage/DIY; Cuffs: Forever 21 and DIY; Earrings: ASOS; Bag: Kooba
And onto today's musings from a brain-fogged mind:
* Can Bloggers "Sell Out?"
Bands are constantly being accused of "selling out" - you know, when they alter their original sound in order to appeal more to the masses. Sometimes of course, they alter their sound because of natural experimentation and progression. Led Zeppelin never sold out but their sound did evolve and change over the years (as Robert Plant's voice got inexplicably higher).
But can Bloggers sell out? Not naming names - I don't really know anyone who does this but I've heard- but say a blogger is know for a certain look and style...if she starts accepting advertising and starts turning her blog into one big ad for that company, thus creating a more biased looks and potentially changing the blogger that we come to know and love...does that mean they are selling out? Should that be applauded as the thing to do ie; Sure if American Apparel offered me tons of money to look like a whore, I'd take it! (note: just an example...I think all of AA ads are distateful and tacky).
I think there is a correct way to do this and most bloggers with ads on their blog do it well - they keep being themselves and aren't pimping themselves out. Especially if the outfits they are given fit with their style and personality - it's a win win for the blogger and for the PR people because the blogger is staying "true" and is actually just really lucky! I wish F21 sent me clothes :P But what do I know? That's why I'm asking you!
*Why don't shoe-makers alter the heel to correspond with foot size?
My size 5.5 foot is about 8 inches long...with a four inch heel, that means I only have about 4 inches to play with making shoes very hard to walk in. However someone with a 10 inch foot has more space to make the shoe look good. Why haven't designers altered heel heights to fit the size of the shoe-wearer? This happens often - you know those street style photos of girls with toe overhang? This is NOT because the shoe is too small as so many people comment but because the shoe is too big.
When I wear high heels, my toe totally comes forward, mainly because there is room for it to slide, and also because my foot is too short to lie flat against the sole...something someone a size 10 would have no problem with.
*Why do some many bleeding heart PCers have a problem with images of smoking?
Am I the only here who isn't easily influenced by photographs/media and can actually think for myself?
I think smoking looks romantic in photos...in real life it is gross, but who am I to lecture someone? Everyone has free will to do what they wish with their life...I'm pretty sure every smoker on earth knows of the risks and it's up to them to listen or ignore it.
If I see a picture of someone smoking, I just think it looks cool or I don't really notice it at all. Does that mean I'm going to go smoke? Hells no. I don't smoke, never have and never will (tobacco, anyway) but I don't look down on those who do smoke and I certainly am not naive enough to think that "smoking = fashion." I'm tired of people who raise a fuss over everything - chill the F*ck out people! Not everyone is going to agree with your uptight views. Some people smoke, some people drink - it doesn't mean YOU have to do it too.
*No white after Labour Day?
Do people actually believe in this old-fashioned rule? To hell with them...I'm wearing all white this weekend!
*TRENDS
Why bother? It seems like half the stuff that is "in" for Fall was "in" for Fall last year. I'm not complaining...I like to wear stuff for infinity with a tweak or two, but it just goes to show EVERYTHING IS ALWAYS IN! HUZZAH folks! This means you can rip out that poncho from 2004 because I'm sure next year it will be in and now you'll be considered a trendsetter. So follow the mags but follow your own style too because if you wear it, it's either in now or it will be soon!
That reminds me, I wonder if I still have that poncho?
*Stores that change for the worse
Remember the stores you used to frequent when you were younger? When I was in my teens, I was all about vintage shopping and Hot Topic before I grew somewhat out of my "punk/skid" phase.
Then it was all about Charlotte Russe and Wet Seal, Le Chateau and Annex, Plenty and Aritzia. Arden B and Bebe. Remember Bebe? I went into that store for the first time in years (last I went was the outlet mall store at Desert Hills outlet mall in 2006) and holy crap! Bebe is so damn A) expensive (more so) and B) tacky! Like really polyester clubbing dresses kinda tacky. Ew. What happened? Did I evolve or did the store?