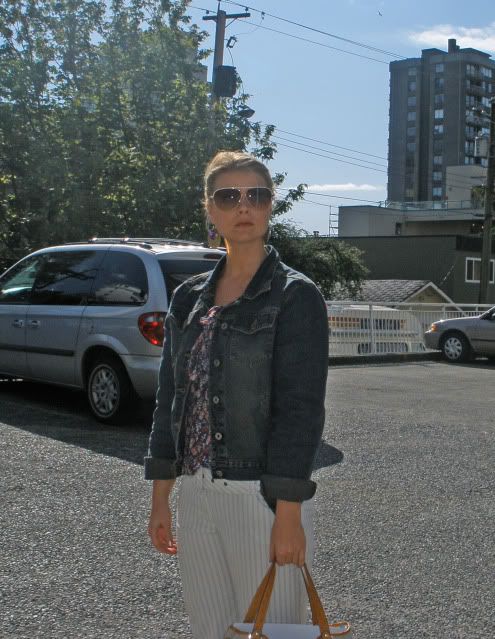 You know how somedays you just kinda through stuff on without *much* thought put into it and only later you realize you kinda had a theme going on?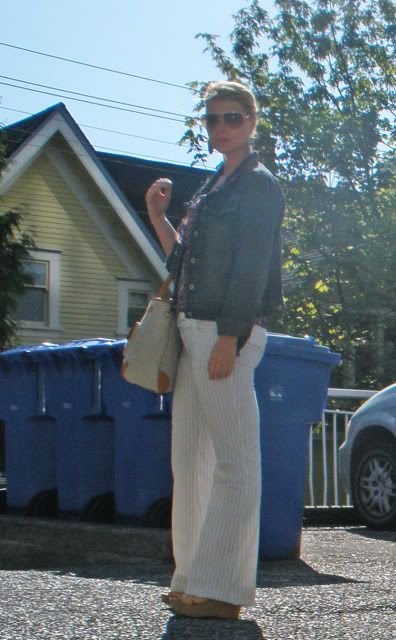 Striped boot-cut pants: Guess; Platform wedges: Manufacture d'essai; Jean jacket: Express; Blouse: Max C; Aviators + earrings: Forever 21; Bag: Rafe

Well that was last week. I wanted to wear these new Guess pants I got and this dreamy idea of pairing them with my nautical platforms. At the last minute I went for a heftier pair and after that, everything just came together. I even put on a jean jacket (my only jean jacket) that I scored at a clothing swap party and hadn't worn yet. I coupled that with a flowy (skull) blouse and suddenly felt very American circa 1975.




Even my hair kind of fit the flow...I was inspired by pictures of Olivia Palermo when she wore her hair in twists to work (note: I don't watch The City but I do look at pics of her outfits). BTW - this was the first pic I took with my new digital SLR camera. I am in LOVES with it! (the camera, not my hair). All my pics have so much depth and clarity, I don't even have to use photoshop on them!

Last weekend was interesting...went on our boat for the first time this year at the Royal Vancouver Yacht Club's annual Sailpast. Got WAY too drunk. Took WAY too many pictures with the new cam (be prepared for them, next post!). But at least I got to meet Muffin the next day (my parent's new dog they rescued from the pound).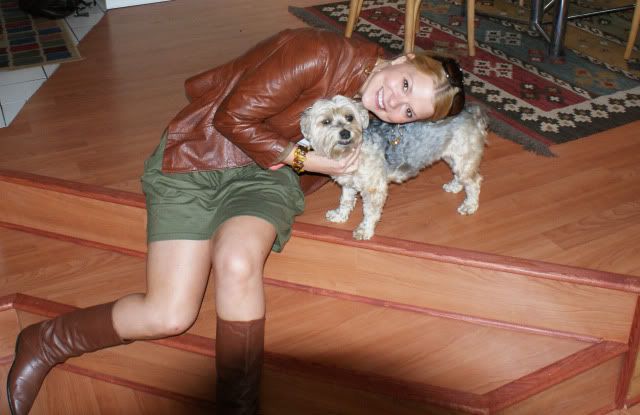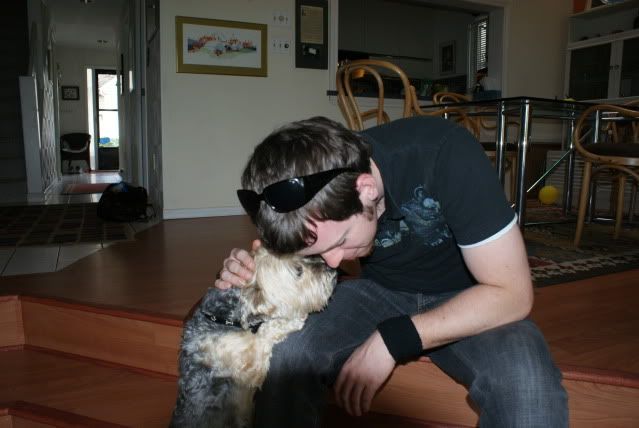 Ain't she the cutest! She was smaller than I thought she would be, but super duper friendly and licky and does tricks like dance around. I am so happy my mom found her and visa versa, she's like a whole new person having this lil doggie in her life!

In other news, my beloved Vancouver Canucks lost in Game 6 of Round 2 of the Stanley Cup finals. Our saviour - and one of the top 3 goalies in the NHL (according to the actual NHL, so all you naysayers can shove it!)- Roberto Luongo just couldn't bring it to the game. He let a shocking 7 goals in which is unheard of. He was just off the entire game, which was a real shame because we showed some real heart and drive at the end there. It's not all his fault of course, but he was the one I thought would be playing his "A" game...guess he didn't want the cup that badly.

Unlike many "fans" though, I am not jumping ship. They've come a long way this year (lost 11 games in a row in Jan) and to actually get to round 2 (and be the only Canadian team left) AND be the TOP 8 IN THE NHL was more than most could have predicted. Sure, we swept the St. Louis Blues last round (meaning they didn't win a single game of the four) but the Chicago Blackhawks were just clearly the better team. I wish them the best and I thank the Canucks for a thrilling and exciting rollercoaster of a season!

Enough about hockey, let's talk about...blogging.

I've learned that a linguistics professor at the University of Ausberg in Germany is publishing a paper in a journal which features my blog almost exclusively. I don't want to link to the article here because it's not been published yet, but basically this professor used my blog as an example of what blogging is - and that's a huge compliment to my writing (which is un-spellchecked and half-assed at best).
It was neat to see how he broke down specific entries and divided them based on classic linguistic theories about complicating action, narrative, coda and a whole bunch of mumbo jumbo I did not understand. But I was honoured to be used as an example, nonetheless. I will definitely link to it once the journal is published (he's sending me a hard copy too!). This blog is academic material, baby (OK, you can stop laughing now).

Funny...so many bloggers out there get free clothes and free makeup and free samples sent to them all the time. But not I.

What do I get? Linguistic papers and Inside Edition.