Last month I ended up scoring some free tickets to The Killers. I used to actually really liked The Killers when Hot Fuss came out and listened to that album all the time. I'm not really a fan of the new stuff - a lot of it sounded very Barry Manilow to me - but they still put on a pretty awesome show. We had excellent seats too which helped, from where we sat we could cleary see how tight Brendan Flowers pants were. Still can't believe that guy is married lol.

That aside, I'm just not sure if The Killers are ahead of their time or just mediocre songwriters. Hot Fuss felt ahead of its time for 2005 or whenever it came out. I'm not sure what can be said about Sam's Town which many critics have dubbed as wannabe Springsteen but I know that their latest album really does push the boundaries. It's not my cup of tea per se (I like things harder and faster) but I can appreciate how they are trying embrace the Vegas Show Band with hints of the Clash and Bowie.

Naturally when I got dressed for the concert I wanted to go for a bit of a glam rock look. I definitely looked a lot diferent from the rest of the concert goers....what is it about concerts that bring out all the hoochies? The whole venue was packed with girls in crop tops, fake tans and nails and spindly stilettos. Stilettos at a rock concert? Please, give me my most-happy boots any day!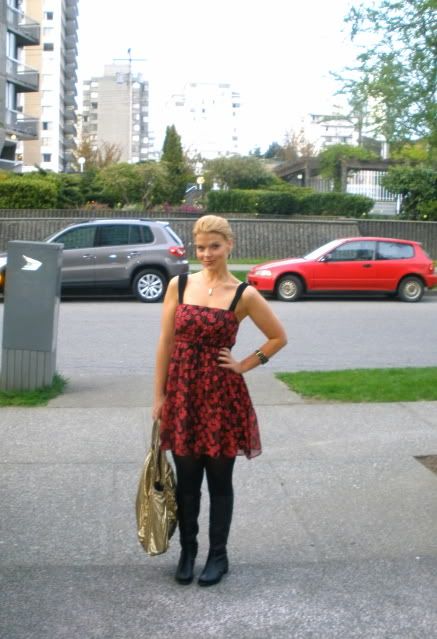 Jacket: Forever 21; Dress: unknown; Gladiator cuff: House of Harlow; Boots: ASOS; Earrings: Forever 21; Necklace: DaisyChain; Bag: Chinese Laundry