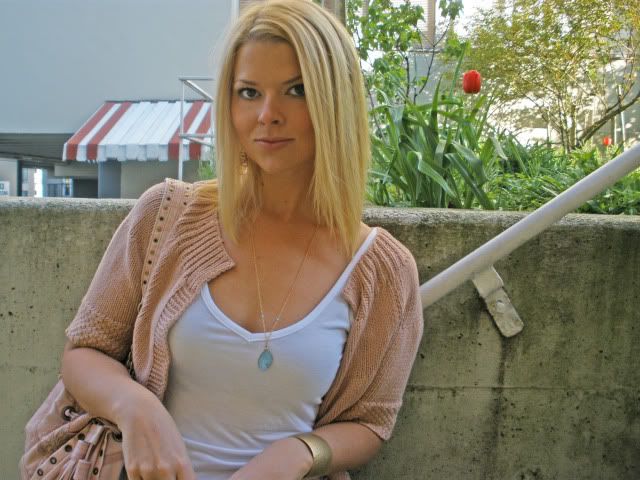 Skirt: Missoni; Gladiator sandals: Pour la Victoire; Tank + ring: ASOS; Cuff, earrings, shrug and scarf (used as belt): Forever 21; Pink leather purse: Kenzie; Oilcloth lunchbag; dunno, but ain't it a cute alternative to "brown-bagging" it??
I got this gorgeous Missoni skirt the other day that just made me think of watercolours and summer sorbet - ahhh refreshing! Only problem is that's slightly on the large size and a bit too long. In the pics I've actually saftey-pinned the waist smaller and it's still a bit stumpyfying. Now at work, I've actually hoisted the skirt up so it's almost at my bra and re-fastened it again - seems to be doing the trick.
Anyway, most gorgeous of all is this necklace I got from
Cupcakes and Cashmere's
Etsy shop. How unique is this blue agate?
I love the length of this necklace and the fact that it's 18K gold (or was it 24k?) plated, perfect for someone with metal allergies! I think she's sold out at the moment due to awesomeness, but I'm sure she'll have some more fanciful items in the near future :)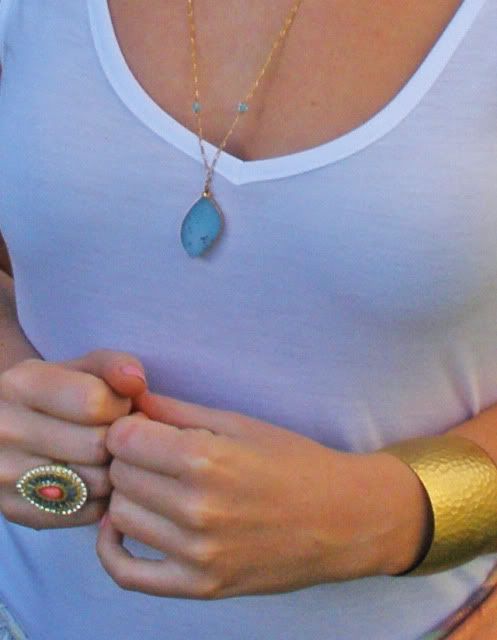 So I've got a wedding tomorrow which I am a bit apprehensive about. My boyfriend is the best man (yes again, he was the best man at a wedding in Sept) and I won't know a single person at the wedding - except for him, the bride and groom and I'll have zero interaction with them all day and night.

Normally I don't mind going places alone as I make friends/getting along with people fast but I have no idea what to expect and it really bugs me that the only people I do know will be there but NOT there, you know? I hate feeling like some straggler, like I'll have to tag along with people I don't know or something. And I have no idea what to do in between the ceremony and reception! I would go to the mall or something but I'll be too overdressed for that. Maybe find a field and take pictures (I will be in farmland)? Sigh. I don't even know what I'm wearing yet...yikes.

Anyway - GIVEAWAY TIME!

I know I just had a giveaway for TWO gorgeous dresses, which will be on their way shortly to their lucky owners, and now it's time for another one!




I just bought this dress a few weeks back and am too lazy to return it. It's from Forever 21, is a size medium and 33 inch long. My problem is my mega wide hips - the top part fits fine, but the bottom is really stretchy so it rides up to be REALLY short when I walk. I hate my legs so it's not the best look for me. Also, I have a looong torso and a bubble butt which makes many dresses even shorter on me. Le freakin' sigh.

Anyway my loss is your gain! To win this new with tags dress, all you have to is answer the following question:

What are your biggest fashion pet peeves?

For example, a few of mine are leggings worn with denim skirts, heavy black shoes paired with pale denim (I once turned down a guy once I saw his shoes), really long nails, brown lipliner with pale lipstick, crimped hair, leggings as pants (as in hello Camel Toe!) and anything from Mariposa.

The winner will be selected at random next week. I will ship to anywhere in North America, as well as the UK, France and Germany, NZ, AU, Singapore and Japan :)

And for shits and giggles, a friend of mine dug up a still of me on an episode of House :P



Aren't scrubs sooo flattering?
Happy Weekend!