Wow. Once again, I am amazed at how many people get so upset over politics. I know that you can have an opinion and I think you have the right to share it - I also think when you exercise that right you have to expect that not everyone is going to agree with you.
We had our provincial election last night. I did not vote. I was planning on it, but in the end (at the last minute), I didn't. I felt ill, for one (more on that waaaay down this post). For two, I was torn on who to vote for. I wanted our local MLA (rep) from one party but I wanted the premier of our Province from another party. I couldn't vote knowing I wanted both.
Luckily (for me), it turned out that my local MLA got in (fighting my right as an apartment building leaseholder) and the premier got in so it worked out good enough.
But there is SO much animosity out there, on Facebook of all places, with so many people bashing others for not voting the same
or
not voting at all. I think people should vote but I think it's their perogative to do so. There are many factors at work - some don't care, some don't want to vote for any party (but would otherwise), some, like I, were torn. Whatever, people have their reasons. Luckily we live in a democratic society which gives people the RIGHT to vote, and also the right not to vote.
Yes, it's sad when people get more worked up about hockey than politics but a lot of people are disenchanted with politics and fed up with the whole system. Same can be said about our hockey team. Such is life, live with it.
I don't know what the answer is to make young people more interested in voting - I do believe a lot of it has to do with what is at stake. Take the recent US election - lots of young people went to the polls because for once it was (to them) a BIG deal. There was a lot at stake and a chance for real change. Regardless, I still think people will want their say when they find a reason to.
It just makes me feel ill how mean and petty people get over politics. I made one joke and a bunch of people were jumping down my throat, just because they assumed I voted not for the party THEY wanted - then I admited I didn't vote and they came after me for not voting. You can't win. Too be fair though, there was one person with an agenda against me...my bf's ex-girlfriend whom on all accounts is a major bitch (just trust me on this one...what she did to him was NOT nice). People should be free to share their opinion - regardless of whether they voted or not - and have healthy political discussions without crucifying someone for not thinking the way you do. You can even learn a lot that way.
My only thing about not voting is that I do think that if you DIDN'T vote, you don't have a right to complain down the line.
Enough of that, let's get on to FASHION (ooh how being frivolous is so much easier and offends so many less people).
Three weeks ago, an eBay order arrived and I never bothered to pick it up from the post office. Finally I did and boy was I glad! In it was this GORGEOUS leather jacket, from my favourite seller no less (same one I got THIS bargain jacket at). It's light blush pink, Piazza Sempione (which, judging from their ads, is pricey) and the softest leather ever. No, I mean, THE softest. As in, I didn't know if it was leather or velvet at first. It's like a baby's bum, melt in your fingers kind of soft. I didn't even know it was possible to have leather like this. Yuuuuuuum, like rose gelato!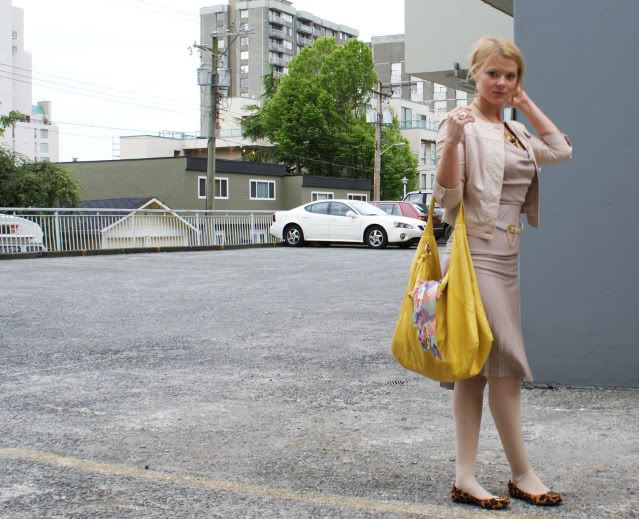 Dress: St. Jillian by Kay Unger; Leather jacket: Piazza Sempione; Tights with tatoo print rose: Emilio Cavilini; Scarf: F21; Necklace + belt: ASOS; Flats: Tory Burch; Bag: Mango
Another thing that my seller did though, was send me a purse. Not just any purse, a red Prada bag with a certificate of authenticity (and price tag of $660 attached) that is absolutely lovely. Now, I would love to pretend that she sent me the purse as a gift for being a good customer (or for shipping my "rush delivery" dress late)...but I'm quite sure that someone else bought this purse and it was sent to me by mistake. I rather like the purse though, so I will contact the seller and maybe I can buy it from her (depending on the price) otherwise I will just send it back.
Really wish I wasn't such an honest person sometimes (oh God, must you always watch me???!) but I couldn't keep the purse without feeling like a criminal everytime I looked at it. C'est La Vie.
In other news, I have been extremely tired this week. My shoulders, back and neck are aching something awful, my temple is getting sharp stabbing pains, I feel like I can't stretch enough, my face this morning was SO puffy and my undereye circles SO pronounced that I was only able to salvage a few shots for my outfit posting - even photoshop couldn't help them! I am exhausted and tired despite getting 8 hours of sleep. I don't get it. The only thing I can think of is that during the week I try and not eat as many carbs (though I've been bad on weekends).
I totally thought it would help speed up my non-existent weight loss but so far I feel like shit. Sigh, I just can't win. I've been eating better than ever and working out more than ever since JANUARY and have not lost a single pound. Very, very frustrating. Turns out stopping Birth Control only resulted in a 5 pound water loss that I assume came back (I dunno, I stopped weighing myself), I've been tested for everything under the sun. I seriously don't know what to do.
The last two weeks I have been spinning almost everyday and eating just meats, veggies and fruit and some dairy, but NADDA! Sorry to complain...I try not to but it makes me so mad that nothing has happened for 5 months despite my best efforts. I know some will say "oh you don't need to lose weight" but I want to and should be able to. I just want to show off my muscles (
I strength-train 3x a week
) that are hidden under my pounds of fat (yes FAT - you can't see it in any photos because I crop precisely and choose only photos that are flattering but believe me, I have a good 10 pounds of excessive fat on me) and want to feel good about being in a bikini this summer. Makes me so mad, to think back to January where I thought I would be smoking hot come March. Now it's May and I am still the same as I was in January.
FML.
/rant.