At last, some good news! I went running last night with the rockstar - in the rain, I might add - and not only were we able to tack on an extra 5 minutes to our run to bump it up to 45 min, BUT I was able to go at a faster pace. This didn't happen until the end though, but for a good 10 minutes I probably went from around a 12-minute mile to an 11-minute mile. Sounds like peanuts but I am so impressed because running FAAAAASTEEEER seemed impossible. I mean, my legs were too heavy to move more than a slog, I don't have the ability in my calves to push off, etc.
Yet, for some reason I was able to move my feet quicker and maintain it without puttering out.
I did the stretching recommended by my physio before the run (also after) so perhaps that had something to do with it? Or maybe it was my protein shake? (yum). Or maybe it was the shoes. Yes, definitely it was the shoes.
These Nikes are so incredibly lightweight on and I could actually feel my feet in them (the shoes I was running in before - walking shoes - were so stiff that I had no foot flexibility at all. Not that I do anyway, but you get my drift!)
Here I am pre-run in my new workout clothes - feels so nice to look mildly fashionable while running:
Top: Adidas; Capri pants and Zoom runners: Nike
In other news, two people at work randomly commented that I had lost weight. When people do that, I start thinking there is some conspiracy, like my boss had told everyone I had lost weight or was trying and so they start telling me to keep my ego up, encouraged, etc. I also didn't feel particularly slim yesterday but anyway - I'll take it! Makes me feel more motivated to reach my goals and more accepting if it happens slowly.
Coat: ASOS; Blazer: Vintage 55 bamboo blazer; Tee: Forever 21; Pants: Zara; Necklace: French Connection; Blue suede flats: Marc Jacobs - I got these on Ebay and huzzah they fit! So cute and comfy!
A few of you have been asking about the diet I'm on (
4-day diet,
which is actually about a month long), so I thought I would give a little review about it in the next day or so. Keep your eyes peeled for it! It's vague and aggravating at times and it makes you work out like a mo-fo but I guess it works!
I have a wedding or two coming up soon, so I want to look good - not that I'm getting married but you know, always nice to have a goal. Besides, the one in April will have a lot of old college chums there and since I left college looking nice and super slim, I figured I better go back the same way! Anyhoo, I have my outfit picked out for the April wedding - I think - it's going to come down to two dresses of which I will ask for your help on later. And I think I have my May wedding one, but I was weary about footwear. I wanted something that would detract from my ankle scars, give me height, be strappy and secure and all in a nude colour.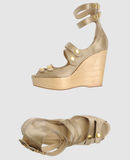 I ended up ordering two different pairs of shoes from Yoox.com (where I scored that awesome blazer above for a song), with the full intentions of returning which ever pair doesn't fit or I can't walk in, etc. I'm really hoping this pair by Patrizia Pepe does the job because it's just what I am looking for and so Chloe/Opening Ceremony-esque-->>
I also ordered these shoes by <------MANUFACTURE D'ESSAI - knowing they would be more sensible....also, they would go with the dress...
Tonight I am pretty excited about heading over to
Style Symmetry's
apartment for a good ol' fashioned Clothing Swap Party. I have so much stuff that I really don't need, bonus icing on the cake would be if someone happened to have size six feet! Bonus bonus: she lives a block away from me :)
Hope you're all having a great Thursday - the weekend is almost here!!