Not whispered ominously through a scratchy telephone, but yes seven days have passed since I decided to try out my "30 day challenge."
Off the bat, I must say the excercising component didn't really pan out. But I'm OK with that - the exercise was the thing I wanted to change yes, but more on the suggestion that I SHOULD excercise, no matter what it going on in my life.
They do say that if you wish to make a habit stick, you should only focus on ONE habit to change. Multi-tasking is a big no-no. So after realizing that I would rather do one thing well than two things poorly, I decided that exercise will happen when it happens. And it still does, just not everyday. That is something to tackle next month, I have decided.
But of course, the good news is that my other habit has stuck (thus far anyway - still have 23 days to go). Since last Thursday I have gotten up every morning to write at 6AM. Somedays I continue writing throughout the day (while at work) or for an hour in the evening. Somedays I just write in the morning and be done with it. I even look forward to 6AM, even though it pains me to actually get out of bed, I have developed a nice ritual where I put on my robe, get a cup of strong coffee, sit at the kitchen table and write till seven. Sometimes it's just a sentence or two, sometimes it's a lot more.
But throughout it all, I now find myself 180 degrees from where I was last week. This last week I have been HAPPY. I have shown more patience. I have been kinder. I have constant energy and adrenaline running through my bones. I have even lost some weight (I think) - not through any effort but because I am so IN LOVE that I don't have the time nor want to eat. What am I in love with? A story, my story, and hope. Hope changes everything and plucks you down right where you need to be. And, 7,900 words later - I have found a purpose and completed 10% of my goal.
"It won't begin until you make it end
Until you know the how, the where, and the when
With a new face you might surprise yourself
--" M.Patton
It's super dark now in the mornings - especially at my new wakeup time - and I've discovered that hasty dressing in the dark isn't always the best idea. However I think yesterday it all worked out somehow, even though my tights were not brown as I had thought (my boots are brown, as is the skirt, in case you can't tell). Time to start picking out my clothes the night before!
I had read
Eyeliah's post
about vintage cardigans she wanted from Etsy and remembered my 50's orlon cardigan I picked up a vintage store back in 2001 when I went through my EPIC vintage clothing phase. I was going for a 50's feel but it ended up being a little more Mod, no?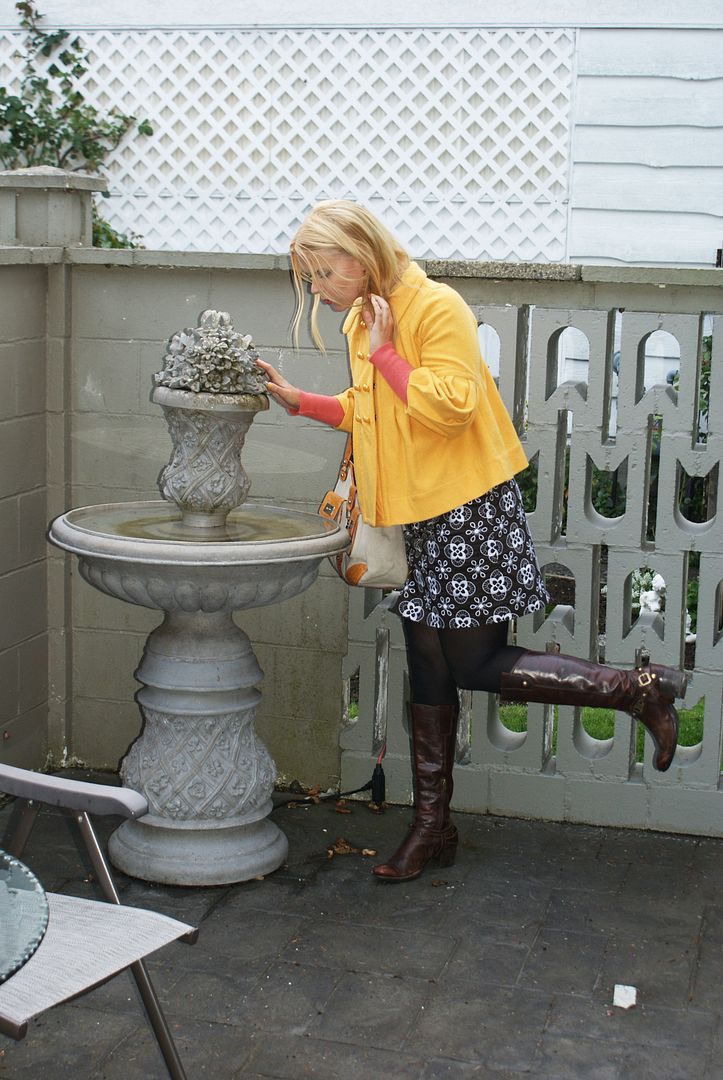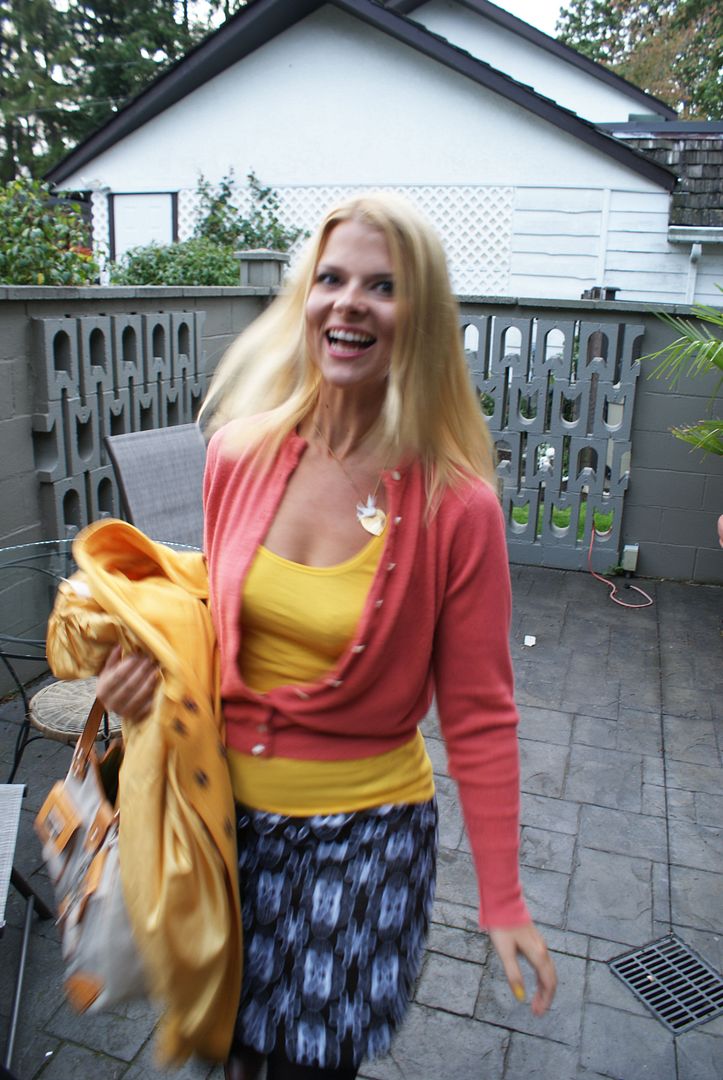 Coat: Forever 21
Skirt: Ann Taylor
Cardigan: Vintage 50's
Tank: Forever 21
Boots: Bata
Bag: Rafe



PS there is still more time to enter the Forever 21 Giveaway!!

Click HERE to enter.

AND BTW - thanks to my friend Kass's insistance (shakes fist)- I have joined Twitter.
Mainly just to follow people, not to have people follow me, but with that being said, I look like a loser with just one follower!
So, follow me if you wish, I may regal you with exciting yarns, all 150 characters or less (that is the going rate yet? I'm new) = @WanderlustingKH (that is the correct way to link people right? I'm new)