Hey all you folks with teeny feet (or folks that know people with teeny feet), you're in luck today. I'm having a SHOE SALE!
All the shoes below are in fabulous condition (some NIB, some not) and are all under $25 bucks.

And guess what? If you publicize this event on your blog or website, YOU get every item HALF PRICE! And if you refer someone to this sale and they buy something, THEY get half price!
So what are you waiting for? Peruse my picks below, decide what you want and shoot me an email to foreverwanderlust AT yahoo.com (that's also my Paypal address).
SHIPPING WORLDWIDE IS $15-20 depending on your location.
Dolce Vita - size 36, 3 inch heel - Snakeskin and cork wedges. So, so sexy and easy with just enough height. Mega flattering on the leg too, for a Grecian Megan Fox in a white dress kinda deal ;P Never been worn, brand new. $25
New-In-Box UGG Sandals. Suede bottoms, soft canvas ties and sheepskin toe pad = perfection. Seriously, these sandals are uber flattering, totally walkable and makes you feel like you are floating in the clouds thanks to the sheepskin padding beneath your toes. BLISS! Size 6, 3 inch heel $25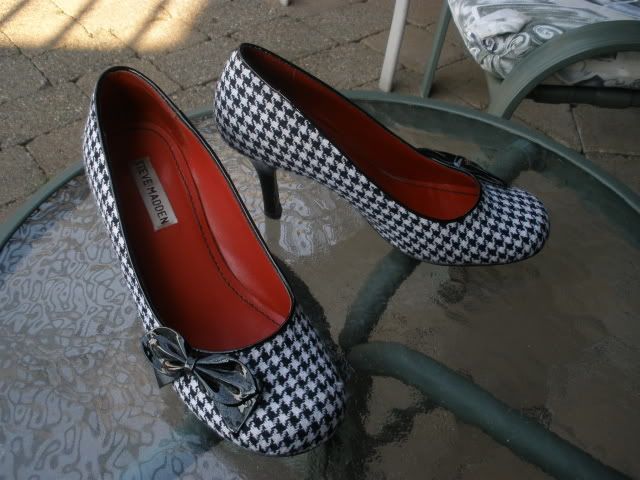 Steve Maddens - size 37 (size has rubbed off but it fits like a small 37). Uber cool houndstooth/check B&W pattern, perfect for A/W 2009! Has a stable yet sexy 3 inch heel and cute patent bow applique. $20
$25 for a pair of NEW, never worn Cafe Noir shoes? This brand is THE hit of Italy and Europe, and they go for quite the price (these were $100...at a 60% discount too!). Real leather suede straps, mettalic gold wedge and vamp squares. Size 35 (but fits a 36) and a 3 inch wedge = sex on a stick.
ALDO - floral fabric wrap sandals with clear strap. Dainty 3 inch heel on a skinny wedge + clear toe strap = really sexy shoe. Size 6, good condition. $10

NEW Forever 21 wedge heels. Cool chocolate mint shades. Size 6, fits large. Delicate low wedge. $10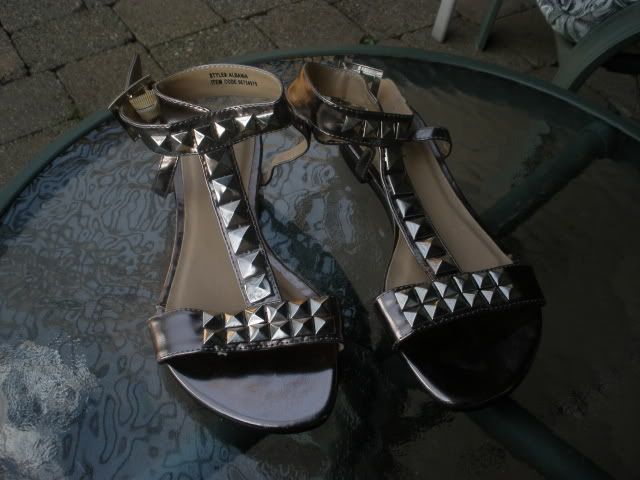 NEW and sold-out Forever 21 metallic stud sandals. Size 6. LOVE THESE! Never worn, look awesome. $10
Gojane sandals. Worn once. $8. Size 6, maybe fit 6.5. Metallic pink colour. Sold-out on GoJane and comparable to the Blowfish versions which go for $50.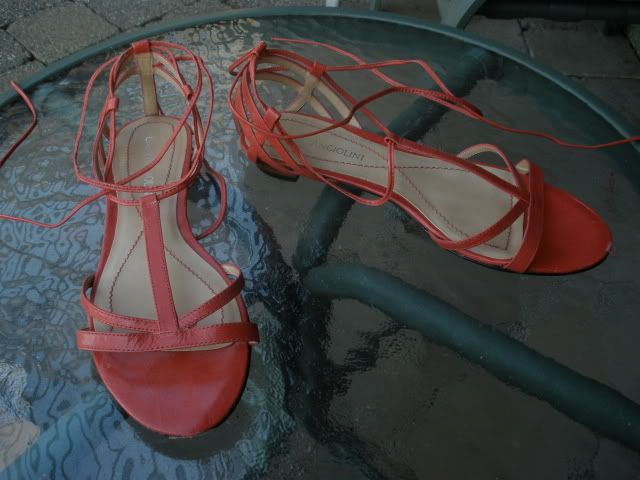 Who is Enzo Angiolini? Well this very popular European brand makes well-crafted, high-quality leather shoes. These adorable red leather sandals with a cage heel and wrap laces? Cost $80...at a discount. Scoop them up now - in size 36 - for $25! Worn once, look delicate and awesome on. Whoever said flats weren't sexy never saw these puppies paired with a flowy boho skirt and skinny tank!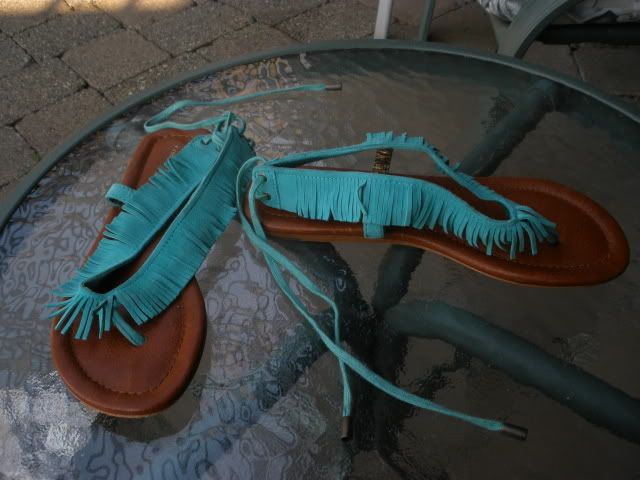 Brand New, barely worn, Twelfth St by Cynthia Vincent sandals. These turquoise sueded fringe numbers were in EVERY magazine this summer, or so it seemed. I fell under their PRICEY spell too, until I realized they were just slightly too big. True to size 36, near perfect condition. Retailed for over $200 on Shopbop - get it pretty much new for $25! THAT'S INSANE! I LOVE THESE DAMN SANDALS!


If you have any questions about the shoes, just ask! I regret not having bigger feet but for those peeps on the smaller side, this might just be the best thing ever!

And don't forget to enter my Rice and Beans Vintage Giveaway on the post below! There's a $50 gift certificate up for grabs to one of the coolest vintage stores on the net :)