Congrats to Sal of
Already Pretty
for winning the
Rice and Beans Vintage
Draw! I only just visited her blog today (to share the good news) but I am already enamoured with it. Hope you enjoy the $50 gift card and use it towards those heels you wanted! The lazy person that I am, I just numbered everyone's comments 1-68 (in order of commenting) and then used the random generator to come up with one. Sal's was the 46ths comment!
But if you didn't win, don't despair! I am doing a new giveaway on Monday, for Famous Footwear - $25 towards any pair of shoes on their fab site.
Musings...
Books:
Well, last October I started the third book in Steven King's epic fantasy series The Dark Tower and somehow I just never moved on past the first few chapters. My boyfriend - who had already read the entire seven book series (and the last books are like 700 pages each) - kept bugging me to read it so we could discuss but alas my life and procrastination got in the way. Anyway, a few weeks ago I finished the third book, finally...read about 500 pages in two days (I'm a very fast reader and no I don't skip pages). Now I'm starting book four, Wizard and Glass, and I am very much enthralled. Cowboys in the future, apocolyptic parallel worlds, horror and fantasy combined...I recommend these books to anyone wanting a little more "adult smarts" to their macabre reading material (ie these books are not written for teenagers - just my little jab at that whole unfathomable Twilight fad, urgh).
Films:
Saw Funny People last night - can wholly recommend it. Though the raunchy Apatow touch is there, this isn't his light typical fair. I know most - if not all - Apatow films have some veins of drama in them (remember how dark The Cable Guy actually was? Apatow was a producer and uncredited writer on that, btw), but this one skirts the line between heartwrenching and frivolous throughout the film. At some points, the line becomes blurry - where I find it works best. But at other times it jumps back and forth so much, you get confused as to what you are watching. Even the Sandler character (very well played Adam!) is lost at the end...as an audience, you feel like you don't know him anymore and you kind of resent the film for that. But such is life and probably the point.
It does drag on a bit too long too ( 2 and 1.2 hours) but overall, even though it felt hollow and coying at times, I do think it's worth seeing. Seth Rogan and Leslie Mann are great - I love Rogan, but always thought Mann came off as too much of a bitch in her films, especially her husbands (Apatows) ones but in here she was perfect. Even the insuferable Jonah Hill was likeable in this film.
Anyway, if you wanna laugh and get a good look into the world of comedy (as in aspiring stand-up comics and joke-writers), Funny People is worth it. If not for watching Sandler's character's Sandler-esque movies within the film. Mer-Man anyone?
Clothes:
It's funny how having too many pairs of shoes or too much clothing can make your choices seem more...well, limited. I know when I get up in the morning it is one pain in the ass to decide what to wear. When you have too many choices it is easy to stall and freak-out - which one do I pick?
But when you pare things down to just the basics, anything in life becomes easier. And it becomes easier to love things.
For example, when I went away to the cabin for 5 blissful days this week, I packed only a small suitcase full of my shoes/sweaters/dresses etc. With only so many options, I found myself living comfortably in two things: Cargo pants and cage sandals.
The cargo pants are interesting. I almost threw them out while moving a few months back, then I realized I can't do that. I've had these cargo pants since I was 14! You heard me right...14. And I STILL fit them.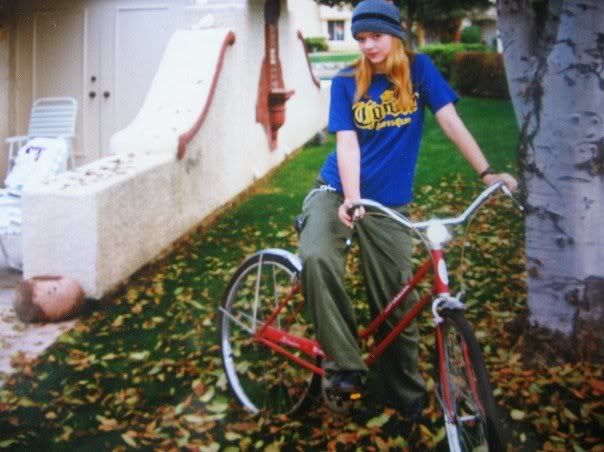 Problem is though, that they are quite high waisted (well it was 1995) and the ends of the pants are all ripped up (cuz that was cool, and paired well with my beat up Doc Martins...which I also still have).
Well I couldn't help the high waisted thing (embrace it!) but I did end up rolling the pants to make a pair of adjustable capris. They ended up serving me very well.
As did the cage heel sandal things, which were perfect for exploring rocky lands while keeping my feet cool. They went with the pants perfectly and with dresses as well (OK not as well, but it did hold up during bike riding).