Hi folks,
Well, I've been very shoe-minded as of late. If I'm not trying to sell my own shoes, then I'm giving you the chance to win some - or at least win some money towards that!
Famous Footwear
is a staple on the web - and in your local malls - for offering some of the hottest shoe styles available and at very fair prices. Right now they are having a buy one get one half off sale too, which is always an incentive. Recently, they launched a fun website called
MakeTodayFamous.com
, which doesn't just deal with shoes, but has a little bit of everything: beauty tips, house style tips, you name it.
In honour of the website's launch, Famous Footwear is giving my loyal Anywhere But Here readers a chance to win a $25 gift certificate towards a pair of shoes of your choice, valid at any Famous Footwear store or online.
This contest is open to anyone, however do note that there are only Famous Footwear stores in the USA, but it's cool if a Canadian or Mexican wins and doesn't mind hopping across the border to spend it. Unfortunately, the online store does not offer international shipping.
To enter, leave a comment here and tell me what pair of shoes you would buy with the certificate - view the shoes and store
here.
For example, because the weather is miserable here today, I would buy these Franco Sarto boots:


They are already 50% off from $100, so if I won the certificate it would only cost me $25! Sweet!

Anyhoo, Good luck! The contest will run until next Monday, when the lucky winner will be picked via random draw.

Speaking of shoes, I still have some for sale:



New-In-Box UGG Sandals. Suede bottoms, soft canvas ties and sheepskin toe pad = perfection. Seriously, these sandals are uber flattering, totally walkable and makes you feel like you are floating in the clouds thanks to the sheepskin padding beneath your toes. BLISS! Size 6, 3 inch heel $25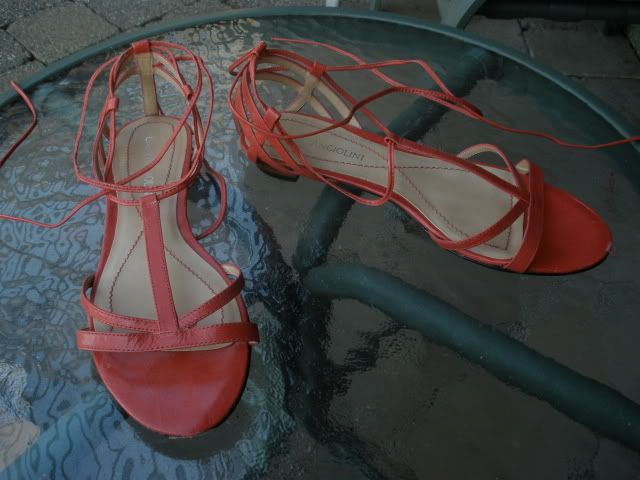 Who is Enzo Angiolini? Well this very popular European brand makes well-crafted, high-quality leather shoes. These adorable red leather sandals with a cage heel and wrap laces? Cost $80...at a discount. Scoop them up now - in size 36 - for $25! Worn once, look delicate and awesome on. Whoever said flats weren't sexy never saw these puppies paired with a flowy boho skirt and skinny tank!



Gojane sandals. Worn once. $8. Size 6, maybe fit 6.5. Metallic pink colour. Sold-out on GoJane and comparable to the Blowfish versions which go for $50.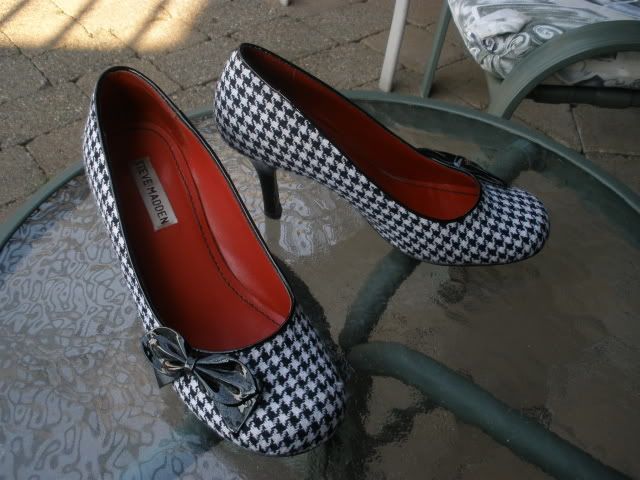 Steve Maddens - size 37 (size has rubbed off but it fits like a small 37). Uber cool houndstooth/check B&W pattern, perfect for A/W 2009! Has a stable yet sexy 3 inch heel and cute patent bow applique. $20

Did you not hear how Houndstooth is totally in for fall? Compare the above to these A/W 2009 Moschino heels (they aren't even on sale yet, that's how fashion forward they are).



If you want to buy the shoes, email me ASAP - I take Paypal and am shipping out this week!