Last October I ended up making a list of all the things I can't or don't wear and then gave little reasons for it. This was at the start of my foray into turning my personal blog into a more fashion blog and consequently was also the start of my more "risky" adventures into fashion.
I decided to look back over the list and see if anything has changed - after all, your style evolves, just as fashion does, and it makes sense that after a while you may start branching out and trying things that you never thought were "you." And so, I present to you that list and anything that may have changed since then:
1.Due to my poorly constructed feet, I can not wear stiletto heels (or any heels) that go over 3 inches, which sucks since heels are just getting higher and higher these days.
- This is still true, unfortunately. I can't wear shoes over 3 inches and even then, 3 is pushing it (totally depends on the slope of the sole too).
2. I won't wear plaid shirts (grunge aint me).
- Nope, totally bought a plaid shirt.
3. I don't even own a pair of shorts (and haven't since I was 15) so you can bet I won't be wearing gauchos to work.
-Still don't own a pair of shorts, but I did roll up a pair of my cargos...does that count? Actually, this photo combines #3, #5 AND #15
4. Boyfriend jeans have to be worst trend I have ever seen and very few can pull it off – on me it would look ridiculous, fat and dirty: holes (ew), rolled up ankles (ewe w) and big baggy uppers (ew ew ew).
-Yeah, I've seen some nice BF jeans out there but I can't do baggy with rolled up (ie tapered) legs. I'm also not a fan of holes in jeans still or light washes.
5.Bowler hats (or any hat really. I have a nice vintage cloche and have flirted with fedoras but…it's just not me. I know I do suit hats since I have a small head but when I wear them I feel like I stand out and not in a good way).
-I've been wearing a lot of hats, so I don't know what I was talking about lol
6.Most sneakers – just not my style. Too casual.
-Still holds true.
7. Light denim – unflattering, not sleek enough, too casual, can't do it.
-mmmmm, haven't done it yet but I am not as against it as I was...
8. Jumpsuit – ha, can anyone?
- Do rompers count? And if yes, still a big no.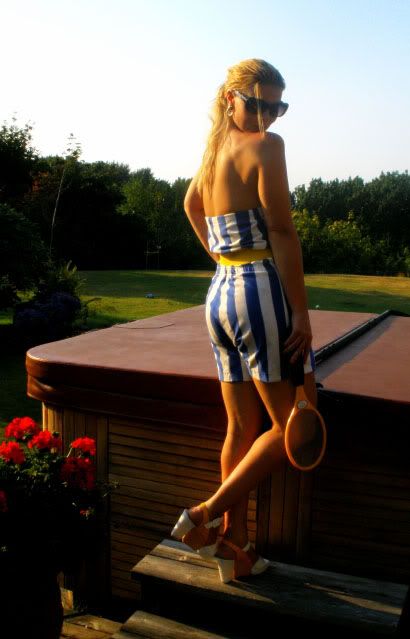 9. Pleated pants – see above.
-no way.
10. Lots of bracelets, layers of necklaces, many rings – I wear earrings and that's when I remember to put them in. I can't stand the feel of things on my wrist, on my fingers or around my neck so when I do wear them it's for a special occasion and I will be glad to remove them soon after.
- I do this quite often...I must have been on crack when I wrote this list.
11. Turtlenecks – ok this isn't a trend but unless it's a floppy cowl type turtleneck, it's a no-go on me.
-oh geez, no. Ugh. Still hate them.
12. Shirt and tie – I would look like I am trying to be Avril Lavigne.
-My theory stands correct
13. Animal print – Confession: I did just buy an animal print pencil skirt and so far I am making it work. As long as everything else is black and simple. I've been eyeing a few cheetah/tiger print dresses (simple sheaths) but I'm afraid I'll look too Lisa Rinna.
-Again, I have tons of animal print stuff so I must have done a 180 on that one since October.
14. Lots of layers – wish I could pull on the effortless chic look of layering (and it appeals to me since I've noticed I've been super cold lately in the office) but I don't know if my body is too bulky for it or I just don't have the right items.

-Still trying to master this one.
15. Scarves – I am trying. When I was in Finland, everyone, I mean EVERYONE, had a scarf tied effortlessly around their necks. It looked so cool and European and yet when I did it, I looked like an idiot. Now the idea has finally hit our shores and even though I see scarves everywhere, I still feel like I can't pull it off. Am I wrapping/wearing it wrong? I think I may have to devote a new blog post to this…in the meantime, I found this video to be quite informative.
-And again, still trying.
16. A beret – oh how I wish. See hats (above).
-I wore a beret a month after this post. Wtf, self! At least try and be consistent!
17. Penny loafers – ugh.
- No but I almost bought some (well brogues) which I think means I no longer think they are "ugh"
18. Patterned tights – I am still easing myself into coloured versions, so the patterns may never come. However I am a fan of fishnets so who knows…
- Oh, I totally attempted this and it didn't take very long either.
19. Vest – I was a little against them until I started work and starting to realize that they make a casual shirt look a bit more professional. But I haven't taken the plunge. A lot of people can pull the look off but it might be too Tomboy for my style.
- And of course the vest I do have is totally casual and unproffesional. Epic fail!
20. Headbands – doesn't suit my hair, I don't think. Not sure it suits my style either, too preppy. Which brings me to…
-I try but yes, this still stands. Just looks funny on my small head. But then I remembered this photo:
21. Preppy – A white shirt under a rugby sweater? A kilt? A bowtie? Anything that screams "Gossip Girl" isn't for me, though it doesn't mean I don't appreciate watching others tackle the trend.
- Not against it. I think I do prep in my own way but it's never full-on.
22. Shoulder bags/messenger bags – anything with a LONG strap I don't like, though the latter works great when you are traveling.
-They still aren't my favourite bags but I'm starting to see the beauty in a well-constructed cross-strap bag.
And there you have it folks! Is there anything you've ended up trying over the last year or so that you never though you would?
PS - I have new pics for the Roberto Cavalli and Catherine Malandrino dresses in
my store
:
I figured I needed to actually show you how awesome these dresses really are. Now go buy them!!!