A funny thing happened as I began to write my book...I slowly noticed that I started to dress like my main character. It was to the point where as I was reviewing the manuscript afterwards, I came across one description of the main character "Perry Palomino" and I was actually wearing almost the same thing as her. Bizzare, huh?
And so, since I've slowly started to dress like her, I thought it might be appropriate to do an "Inspired By" post about her (btw the name of the book
isn't
Perry Palomino).
I don't really look like Perry...she's shorter than me, slightly heavier than I (though most of that weight is probably in her boobs) and has dark hair (dyed black) and blue eyes. I would have loved to have donned my black wig for this however it just wasn't her "style" so I decided to play it safe and keep it blonde. Besides, I was actually wearing this outfit outside! In stormy weather, no less.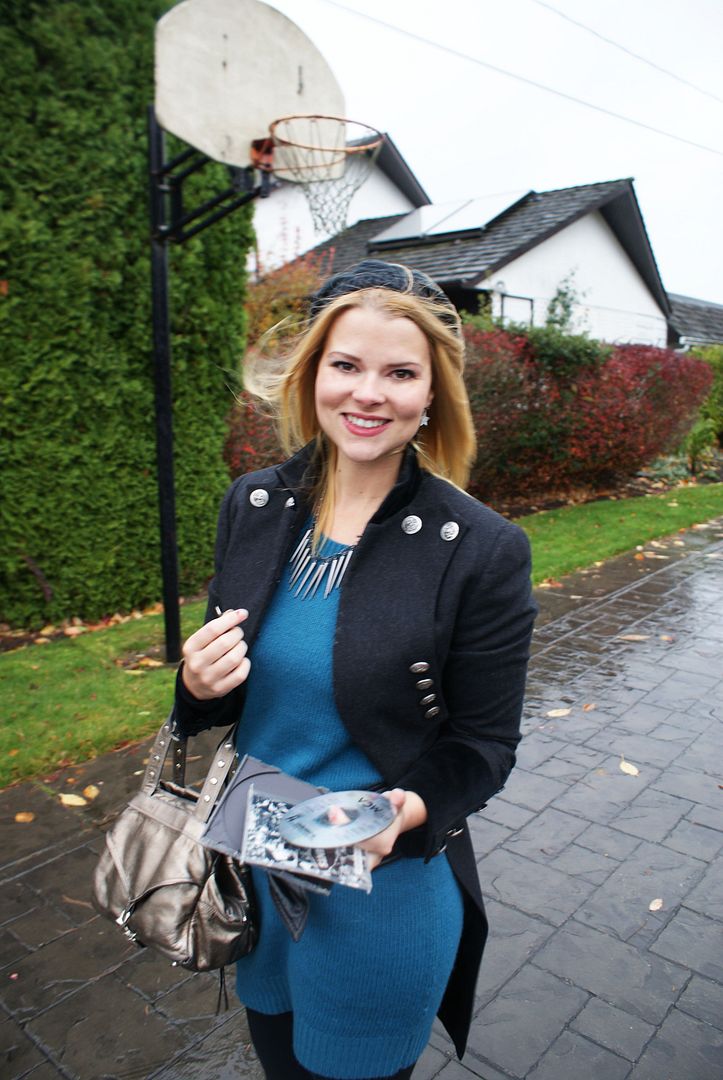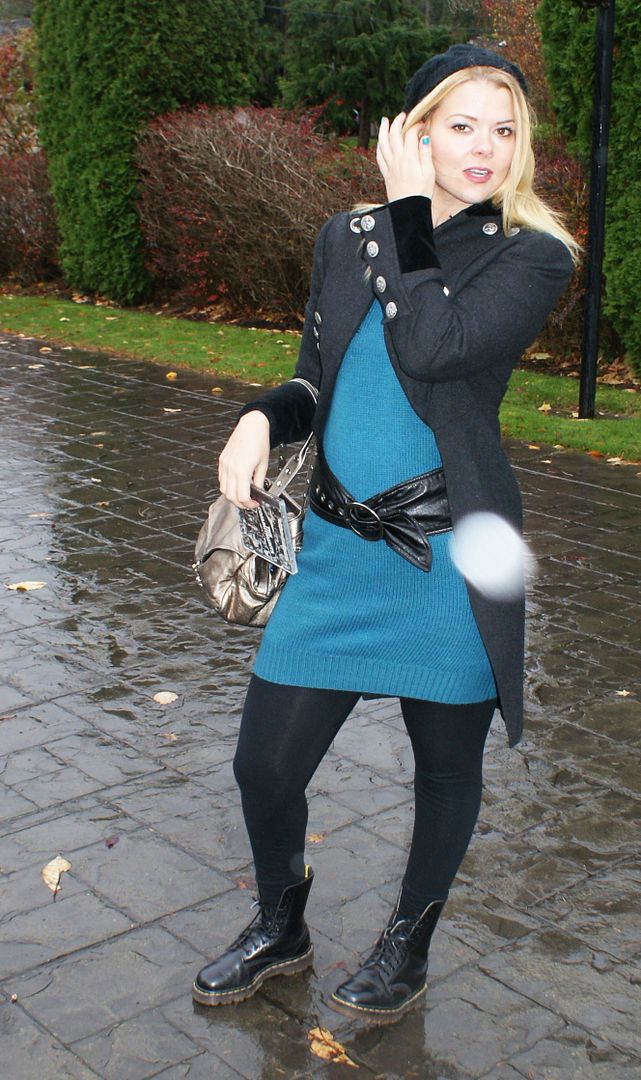 Coat: Dolce and Gabbana
- Perry normally wears a black leather jacket but since I've been wearing my black leather jacket like a uniform lately, I thought it would be best if I switched it up. I chose my D&G coat for her because it's got that military styling that she likes and it probably would have been a hand-me-down from her ex-model mother OR her younger, designer-concious fashion-blogging sister, Ada.
Sweater dress: ASOS
- A rich jewel tone and very comfy. Would bring out her eyes suitably. Perry isn't one to wear bright, happy colours or pastels.
Leggings: Aldo
- Perry wears leggings a lot. I used to subscribe to the "leggings aren't pants" motto and it still applies. However, I think they can be pants IF you have a long enough shirt, sweater or tunic
so that your butt is covered
. That's my opinion. Anyway, I'm wearing leggings right now at work, thanks to Perry.
Belt: Aldo
- gives you more of a waist...Perry and I think alike on many aspects
Beret: Forever 21
- she's fond of hats. If I could find my fedora or newsboy cap, I would have worn those too. Better yet, I could have worn the newsboy cap that Dex gave her to wear to cover up the wound she gets at the back of her head but that's all fiction and you don't know what I'm talking about.
Bag: Kooba
- It's got studs, zippers, it's metallic, leather. We both love it.
Boots: Doc Martens
- Perry is very a much a "90's" child, despite only being born in 1988. Her love for Docs has revived my love for Docs (as you all know by now). She's also big on Converse Chucks and I see a pair of those in my future as well. I don't own a single pair of sneakers, aside from running shoes!
Speaking of my novel, I've been dragging my feet to fix up the mistakes I've found before I send it off to my editor. Need to do this before Saturday! I guess I really don't want to say goodbye to the story for a month or so, but I'm sure once I sit down on the airplane and get ready for a 12-hour plane ride, I'll be starting the next one in the series. Yay!
And three sleeps left for me before I leave! I tried packing the other day and OMG how hard is it to pack for summer when you are in winter? Also, a month of summer. Also a month of summer where you will be doing lots of outdoorsy stuff in a variety of different climates. It's very hard. But I'll do a post about that - my last one before I leave - on Friday.
Also, discovered I can barely fit into my bridesmaid dress. UH OH. Need to lose at least five pounds before Dec 13th! Totally panicking...so damn mad at myself for getting so fat (and I don't know how since I've been very careful about food) but anyway it's happened and it sucks and I'm going to be taking my running shoes to New Zealand...'nuff said!
Happy Humpday!
PS For those confused about my "EARLY BIRTHDAY PRESENT" in the previous post...it's NOT my birthday LOL. My birthday is on December 11th. Hence why it was an early present. Proud Sagitarrious all the way!