The year: 2003
- I left the dark, rainy land of BC for the sunny shores of New Zealand and lived there for about a year and a half.
The year: 2009
- I again leave the dark, rainy land of BC for the sunny shores New Zealand, but this time it's only for a month.
It's not as epic but it's still pretty fantastic nonetheless. The mothership is calling me home, all the way back to the edge of the world.
I'll totally be posting while I'm there, by the way. Sometimes it may be once a week, other times it might be every other day - it's hard to say so KEEP WATCHING THIS SPACE! And though I will be trying to read your blogs when I can (you'll see me) I won't be able to do it all that often.
That said, DO COMMENT on here because I'm not going to have time to monitor my sitemeter or pimp myself out, so I actually won't know if you're reading it. Remember, comments make me feel better and let me know that I actually
do
have readers...
I was sick of the nonstop rain that has been bombarding Vancouver for what seems like the last FOREVER so I thought some bright colours might cheer up my day. Didn't really work and the rain totally ruined the suede on my shoes but oh well. Also must note that taking photos in the darkness and/or rain has led to some pretty boring photoshoots (I work 8-430 so it's not like I have my days free to take advantage of light) but luckily this will be my LAST indoor photoshoot for the next month and a bit :D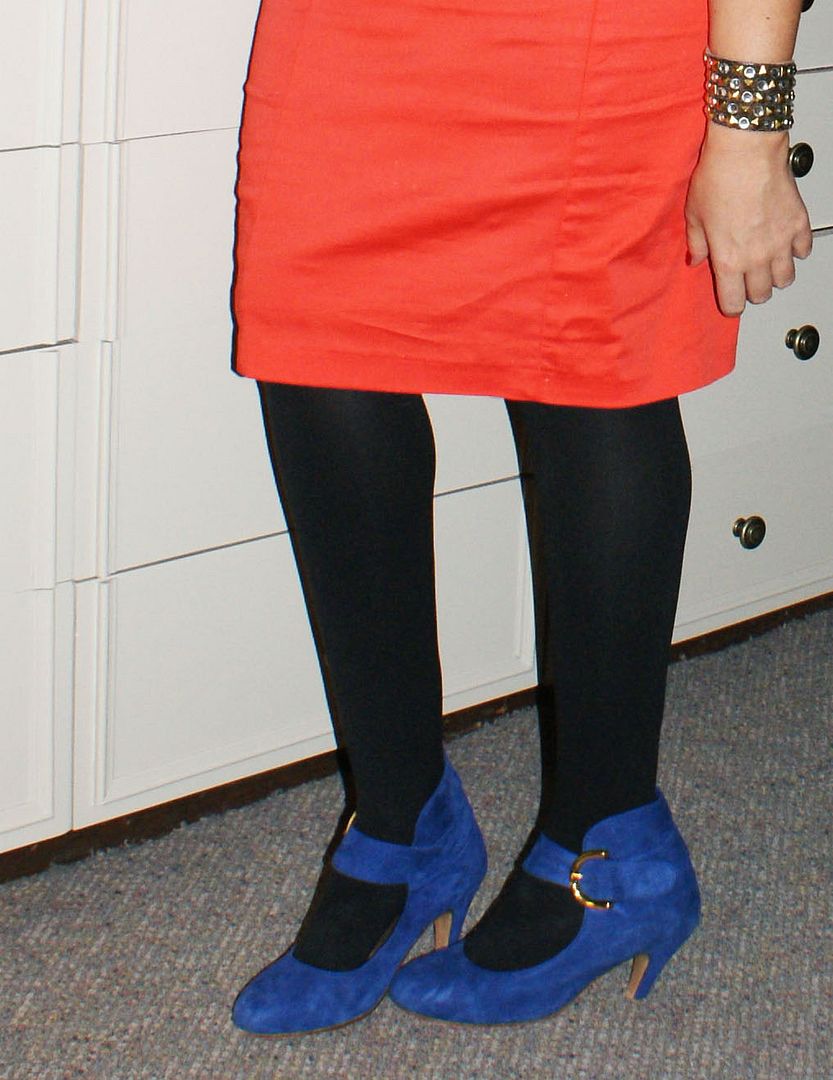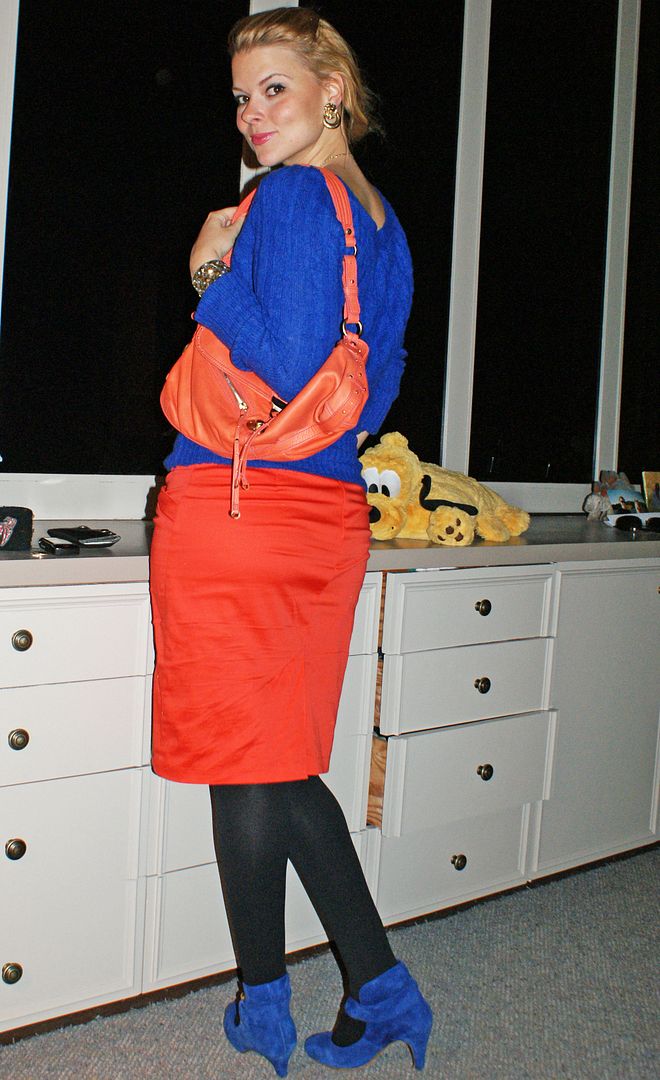 You'd think after all these photos taken for my blog I'd learn what doesn't make a pretty picture...no such luck. Thought I'd still keep this one in though.

Sweater: Kenzie Girl
Bag: Hayden Harnett
Shoes: Mogil
Leather Jacket: Vintage
Doorknocker Earrings + Cuff: ASOS
Necklaces: ASOS and Cupcakes/Cashmere

BTW, re: weight gain - I actually had to go back on birth control pills after quitting them in March. My skin has been acting like a 13-year old boy for the last two months - never had it so bad. They say that when you quit the pill your skin can go haywire 8-12 months AFTER you quit. So I'm back on it, begrudgingly. I have no doubt that it has contributed to my recent mystery weight gain and my mundo water retention. But it's either I'm fatter with clear skin or skinnier with bad skin...in hindsight I think I would rather be skinnier with bad skin but it's too late now.
***For all you Mike Patton fans out there (and Always Sunny in Philadelphia fans), there's a chance that Mr. Patton may be guest-starring on an episode in the near future (as you know, he and the shows creator Danny Devito are quite tight). Can't wait to see that (you can read the full article here:
http://www.movieweb.com/news/NEG3nLJMhB6hJN
)
I'm anxiously awaiting to hear Faith No More announce their US tour dates. They should announce them in the next few weeks and I would think that IF the tour is being done around April (which
I
still think it is) that tickets should go on sale in January at the latest. I'm going to be flat-ass broke after this trip but I'll make it happen :)
Addendum - someone pointed out that IF they play San Francisco in April (remember I got all this from Roddy's tweet, so you INTERNET can blame ME if it turns out to be wrong - though I won't be) would make a pretty good warm-up show for...Coachella. If so, that would be awesome. Mike was at Coachella last year anyway so it makes sense. Let's hope! Let's make it happen!