Ahhh, first off I would love to say thanks to the blogger of
Faith No More's blog
for giving me a shoutout in the links (you can get there by going to
http://www.fnm.com/
and selecting
Blog 2.0
in the COMMUNITY tab). That seriously made my day. And btw if you've come from there,
this is the post
you are looking for.
I also feel like I should apologize to all the FNM fans who keep coming to my blog and are scratching their heads "This doesn't look like a Faith No More blog, who is this crazy bitch?" and also to my readers who are also scratching their heads and saying "Where's the fashion? Screw FNM, you crazy bitch."
This tickled me though, you can now find my blog if you Google "Mike Patton is crazy" which is better than the usual most used search terms for my blog which include "How did David Copperfield make the audience disappear?" (Dude, I don't know, that's why I asked), "How does a woman become good in bed" (Again, this was a question. I have the answers now but I'm not going to post them) and my favourite "Old fashioned tits," which inoccently came from a blog post about my visit to the Moulin Rouge in Paris. People must be seriously disappointed everytime they get directed here.
Anyway, I'll divide this into two sections - Fashion and Faith No More.
First is something I wore the other day. The Angel Dust boots have rarely left my feet in weeks. I get tons of compliments on them, even though no one really gets the whole egret cover art thing, plus they are just comfy as hell. Also loving these spike earrings I got from Hot Topic. I used to LOVE Hot Topic as a teenager when I would stock up on Bad Religion and Smashing Pumpkins T-shirts everytime I was in the States (we don't have HT in Canada). And even though the store is a bit - um, EMO? - they still had some cool stuff: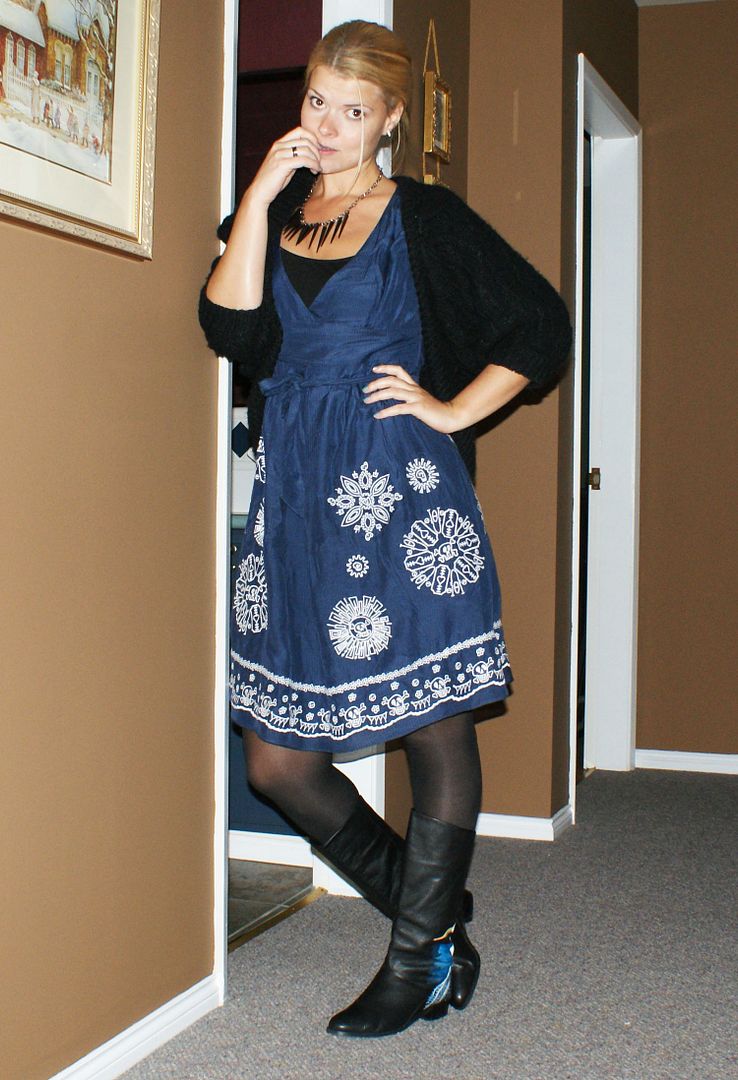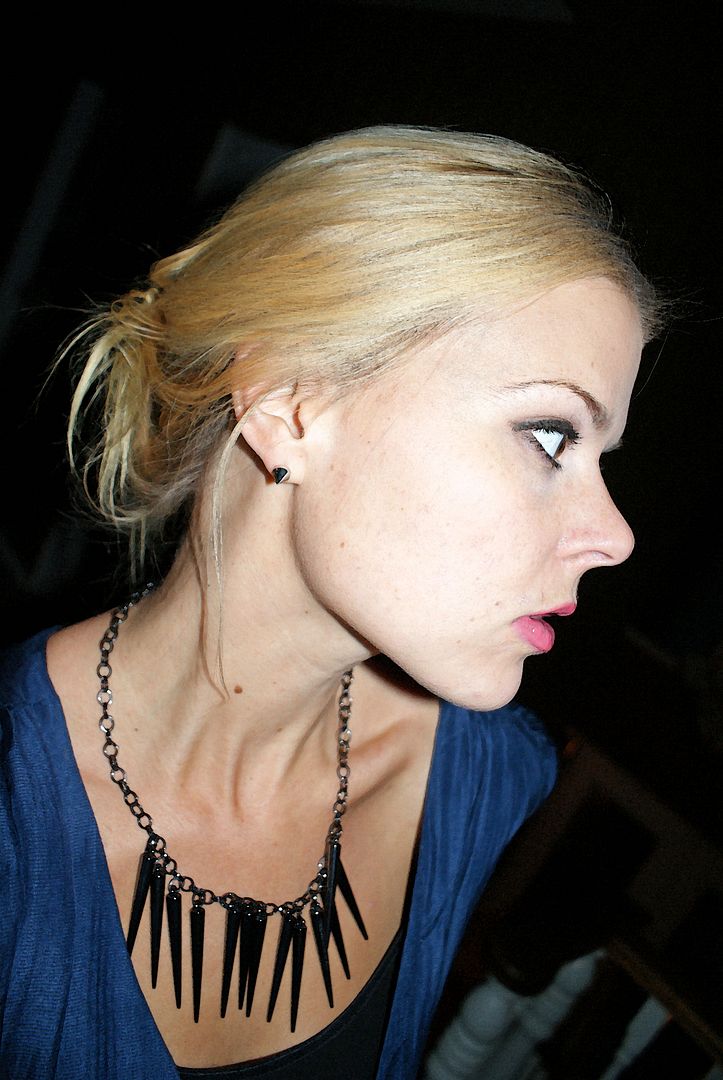 Boots:Vintage
Dress: Laura Lees
Necklace + Shrug: ASOS
Earrings: Hot Topic
And for anything Patton-esque/FNM related I'll just say I downloaded
The World is Yours
, an outtake from
Angel Dust
, and there's nothing quite as sweet as finding a song by your favourite band that you hadn't heard before. Of course there are elephants in the song - literally - plus some disturbing samples of
Buddy's Dwyer's public suicide
but I wouldn't expect anything less from Patton/Gould/Bordin/Bottom/Martin.
Also moved on from
Mr. Bungle's California
to their self-titled album and I am LOVING it. Quote Unquote, Carousel, Girls of Porn...f*cking wicked stuff.
I think my ears are pregnant now. BOOM!
Mike has taken to serenading me with FNM songs on his acoustic guitar (Mike my bf, not Mike Patton though I admit them both having the same name is very handy)in order to get my attention.
Speaking of, have you checked out
The Saints Collapse
? They are probably the band that sounds the most like
Faith No More
in a way. Not entirely of course, they've still got their unique sound, but for comparisons sake they do. There is actually no other band I could compare TSC to...anyway, take a listen yourself by visiting their
MySpace HERE.
Listen to For The Fires or Minotaurs.
DO IT! Then come back :)
Here's some more Peeping Tom for all you Peeps who seemed taken with Mojo (video below).
OH and here are our Halloween costumes of Zapp Brannigan and Leela AGAIN. This time we nixed the wig idea and I made Mike blonde-ish by creating a homemade blonde hair paste out of foundation, eye shadow and hair gel!
PS - To enter the Mike Patton Inspired Giveaway for A Wanderlusting Style Store gift certificate (ie free clothes), ASOS guitar necklace or Maybelline Mascara
click here
(or scroll below).
To enter the Forever 21 Gift Card giveaway
click here
.
I'll be drawing winners at the end of this week so check back on Saturday. Shanks!