Funny story...
My friend and fellow blogger Eyeliah decided that on Monday night we would go to see LCD Soundsystem at the outdoor venue Malkin Bowl in Stanley Park. Did we have tickets? Nope.

But she assured me that she's seen many bands just by hanging outside the venue... you can hear the music perfectly too. So even though it was pissing rain all day, we thought we would have a little outdoor dance party.

I'm not a huge fan of LCD Soundsystem but I appreciate the twist in genre that they do and I do have a soft spot (secret soft spot) for fun dance music that's not all "douche douche" and techno crap. Preferably stuff done with guitars, drums, etc. Anyway I had been meaning to catch the band at Coachella but Them Crooked Vultures (see my post about TCV HERE) got in the way, as did Little Dragon.

Anyway, I went to the concert with low expectations. Just something to do on a glorious Monday (the day I was notified of my Finnish Citizenship, see last post HERE).

We caught the short bus ride to Stanley Park and somehow, magically, the rain stopped. We had a drink at the pub across from the venue and was alerted by one of Eyeliah's friends that the knew people with two extra tickets.

Well, we were really short on cash but we managed to scrounge up $30 for the two tickets.... way below cost.

Little did we know that when we actually went to the pick up the tickets with our new friends at Will-Call, they ended up being VIP All Access tickets.





Say whaaaaaaaaaaaaaat?



Yeah. So we were stoked to say the least.

Suffice to say, even if it had poured all night, LCD Soundsystem still would have put on an amazing show. From the bouncy opener of US v Them, to the space-noised filled fun of Pow Pow, to the whimsical All My Friends which had most of the crowd swaying back and forth together with their arms around each other's shoulders, the band had the audience absolutely enthralled. I might have to go so far as to say that I haven't seen too many shows in Vancouver where the crowd has brought so much energy and positivity to the scene.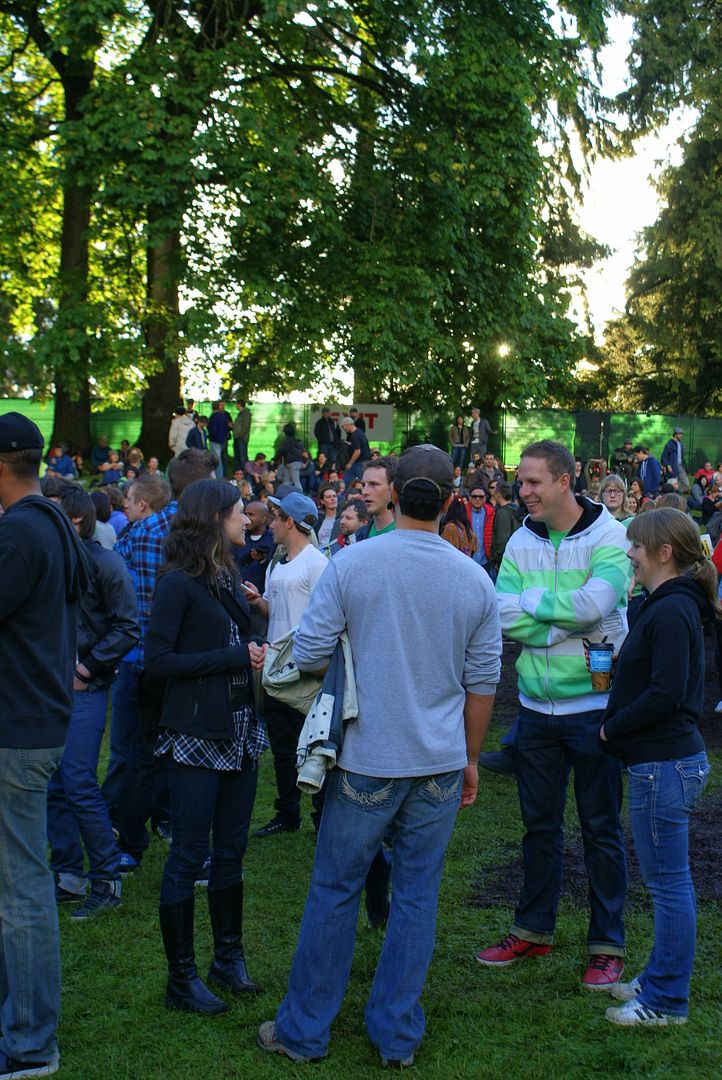 Sun breaking through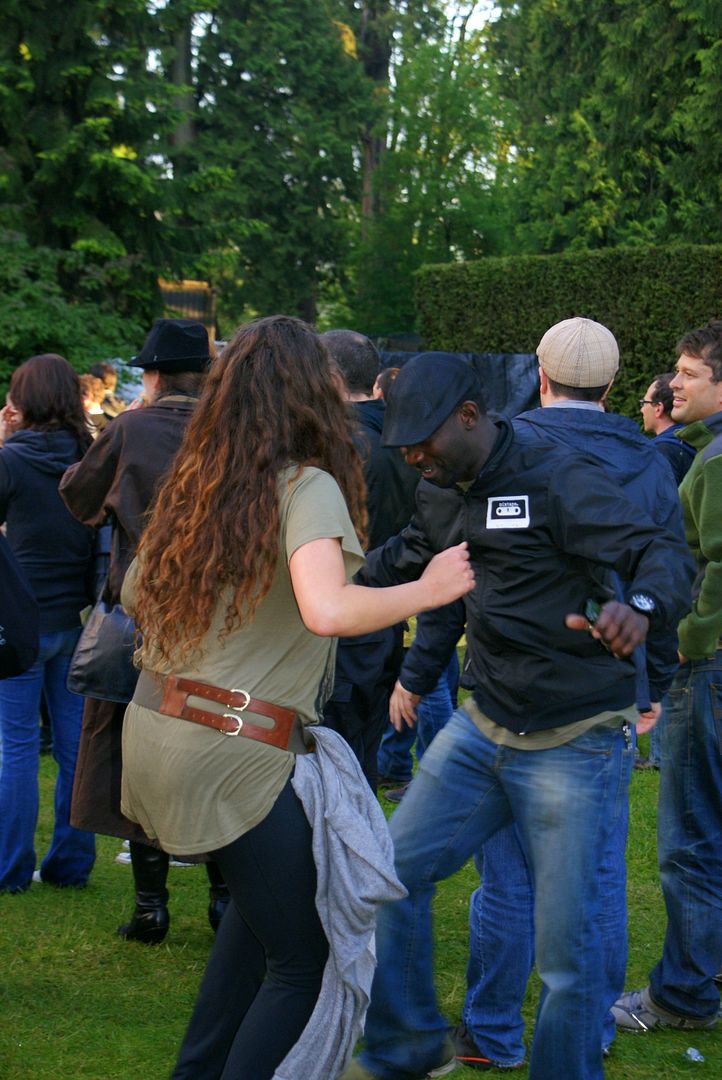 Dance party



James Murphy checks to see if it is still raining



Murphy benefited from the energy as a performer too, especially when he would pick up a spare set of drumsticks and started banging away on songs such as Get Innocuous.




But competing with that energy, Murphy was very soft-spoken and gracious between songs, remarking on how beautiful the weather turned out in the end or gingerly waving at the crowd and giving us a little "hi." There was an air of melancholy to the show, seeing as this would be LCD Soundsystem's last show in Vancouver ever. The soulful encore of New York I Love You felt as if Murphy was singing this love letter to his band instead of his hometown.




When the concert was over and the last notes filled the Malkin Bowl, Eyeliah and I made our way over the security guy guarding the stage. We showed him our badge, feeling a bit silly and nervous, and he let us in.

Then we were like uh, where do we go? I mean, what IS proper backstage conduct?

So we explored the stage itself.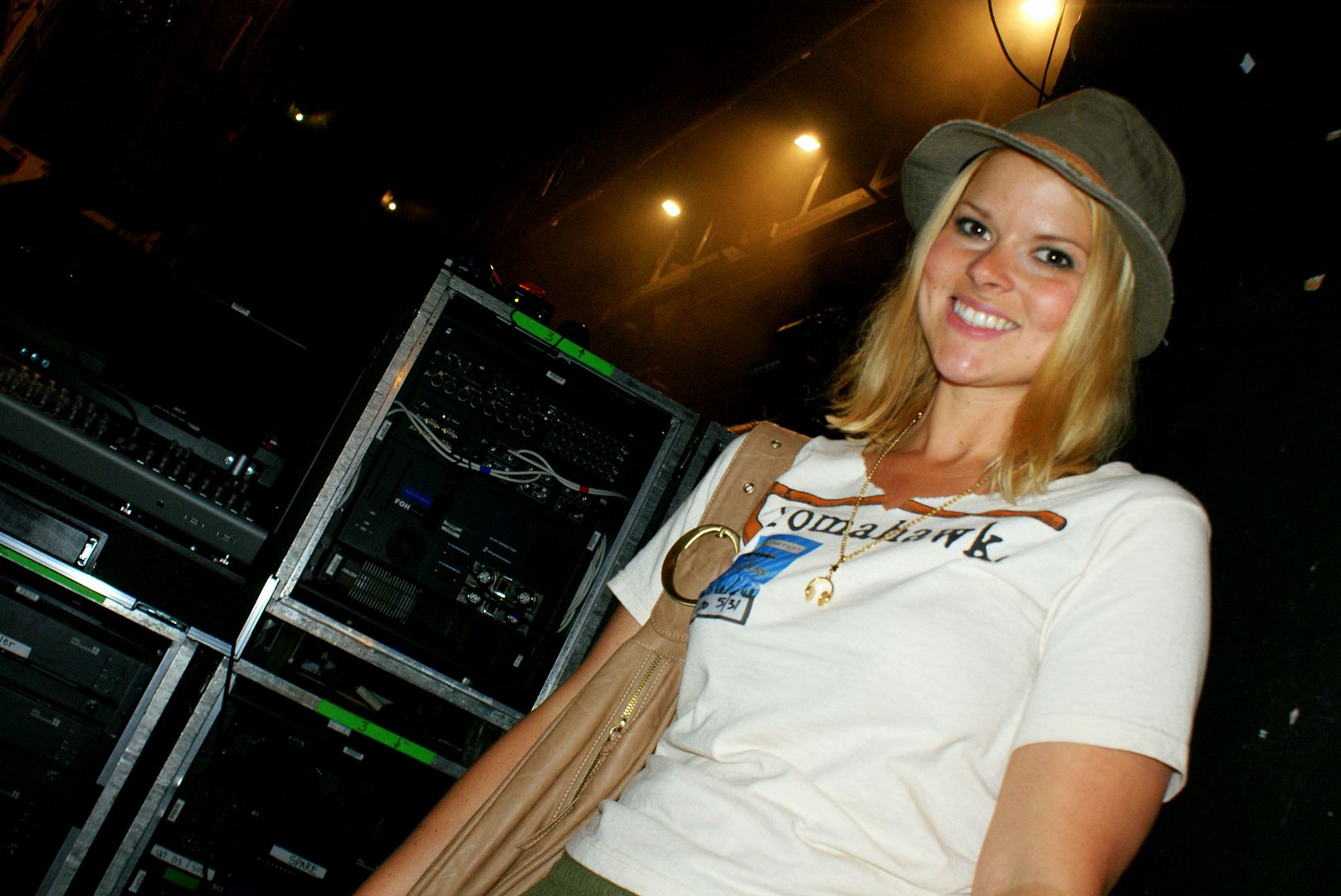 Admired the various dressing rooms and doodled walls by local theatre actors (this theatre is used by Theatre Under the Stars or TUTS every summer and they have many plays, including Annie and Grease).




Then found the LCD Soundsystem dressing room. We were sort of apprehensive about entering at first. It was just James Murphy, one of his guitarists/jack of all trades, and a few other people, including the couple that got us the pass (one of them, Dandy, is a singer that James was interested in producing for beforehand).


Nancy, James and Pat

(below)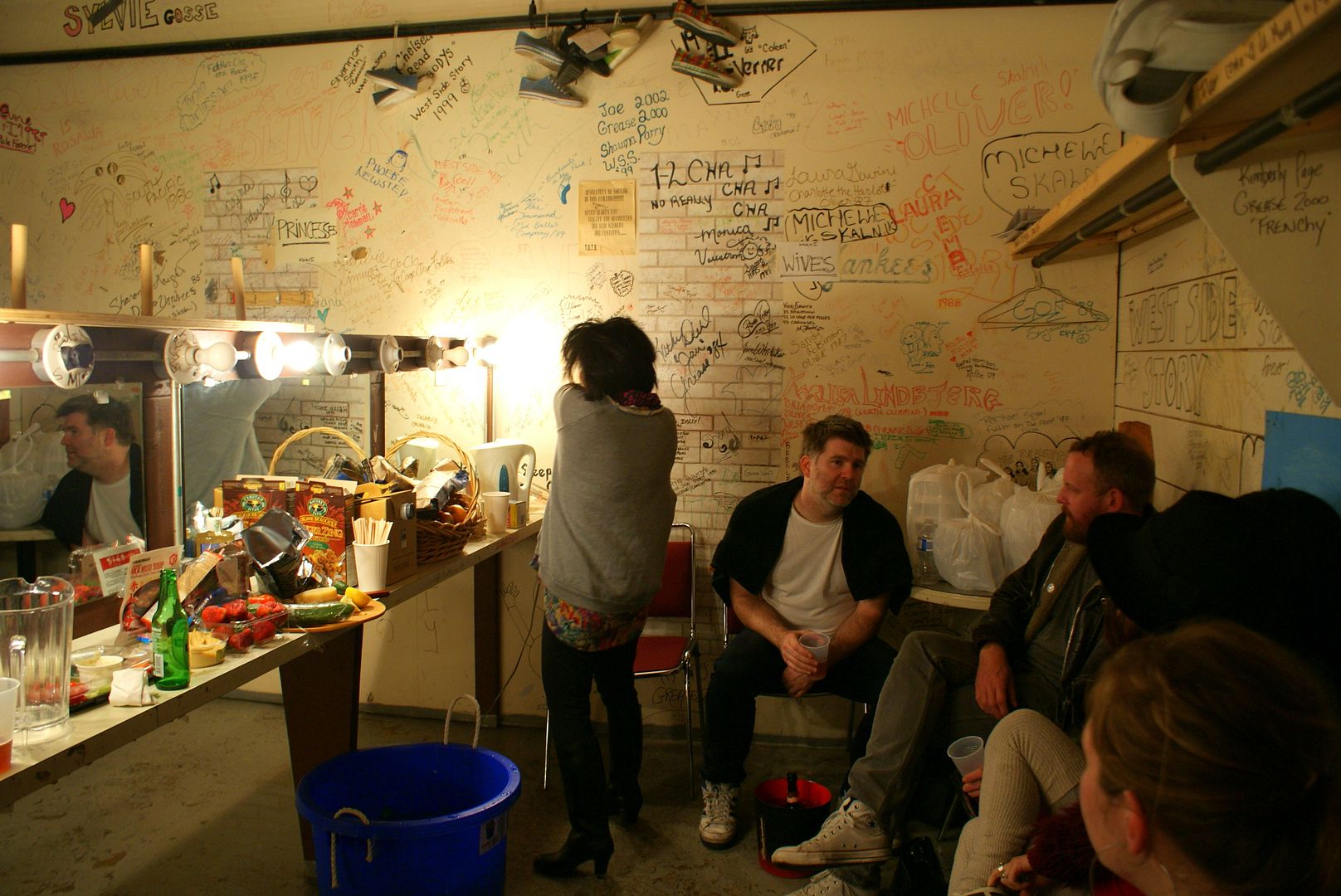 Dandy and Nathan - super cool couple



It totally felt straight of Waynes World when Garth and Wayne meet Alice Cooper... "Alice, is this cool?" "Sure, guys come on in, hang out with us." "Sure... we'll come hang out with yus... with... Alice... Cooper.... WE"RE NOT WORTHY!"

Actually it kind of was like that since James was like "come on in, help yourselves to the stuff."




Stuff included food and tons of Heineken. So I helped myself, but not until James kindly got the top off (what no bottle openers in the room?).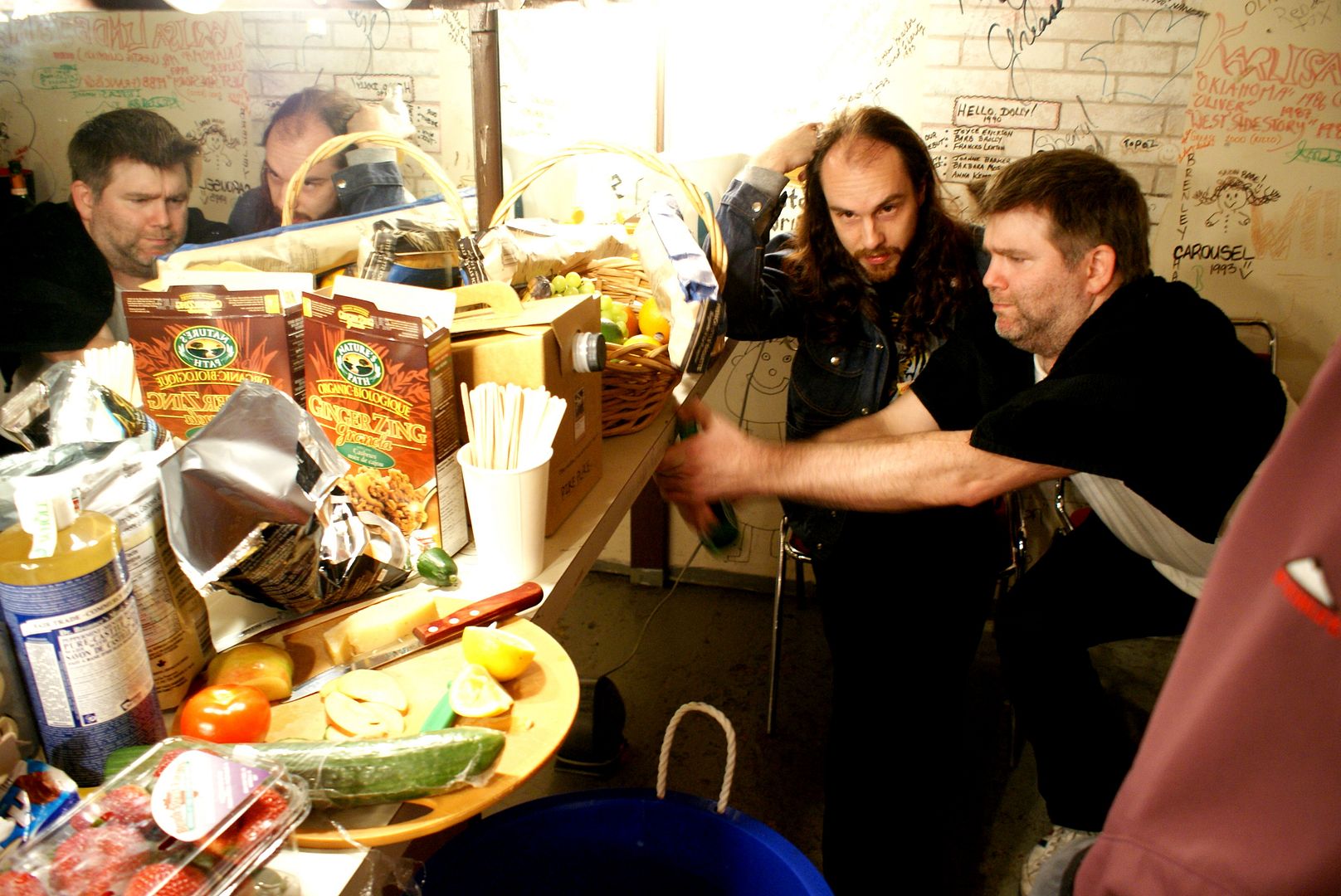 We just kind of hung out with him for an hour or so. I told him I was sorry I missed him at Coachella but glad to see him now and his quipped back with "You should be sorry but do you feel better now that you have confessed?"




All in all, James was a very nice guy. Friendly, a bit quiet but also forthcoming and obviously very generous to let us eat all his food and drink all his stuff. He was really pushing cereal on us since apparently everyday when they round up food for the dressing rooms, someone always requests cereal and no one EVER eat the cereal.

So Eyeliah decided to make do with that (it was practically insisted) and made herself a cup of cereal with milk lol.




James talked about the end of LCD Soundsystem: "I'm 40 and getting too old to front a rock band."

("You should take a lesson from Mike Patton" I said...quietly).

"I miss the days when LCD Soundsystem was just a project of mine and not a band. There are so many things I want to be doing... scoring music for films, devoting more time to my record label (New York City dance-punk label DFA Records)... all these things I keep ticking off to do some day and that some day is now."

I could see in his eyes that he was weary about being the frontman and a performer for LCD and would rather be in the background - and at the same time, he was excited for new beginnings.

We also met Al Doyle (guitar, percussion -- also of Hot Chip),Tyler Pope (!!! / Out Hud) (bass), Nancy Whang (keyboards) and Pat Mahoney (drums) and David Scott Stone (Guitarist, also toured with Fantomas and the Melvins).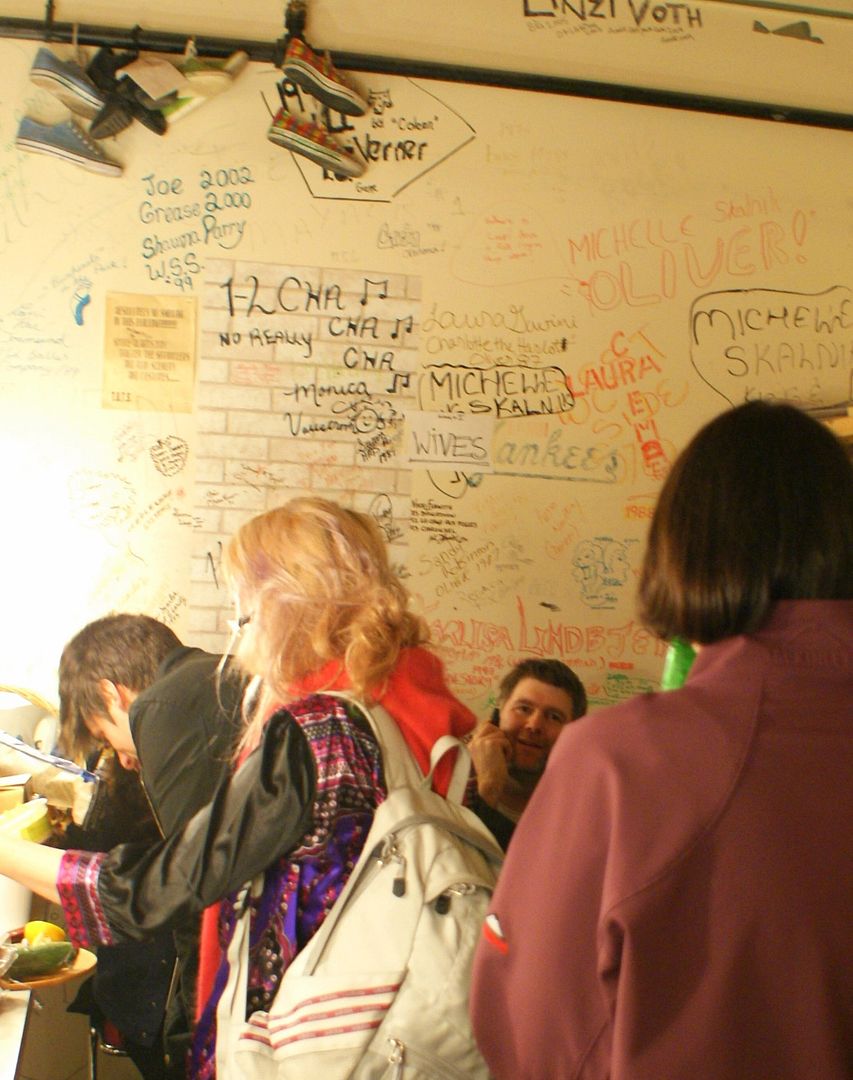 James talking to Eyeliah's friend on the phone - she was a big fan, got her in later



Near the end of the night Eyeliah and I decided to head home and Murphy and team were going to an after party at Shine nightclub where the opener, Ghost Story, was DJing for free.


Rockstar beerz taste better!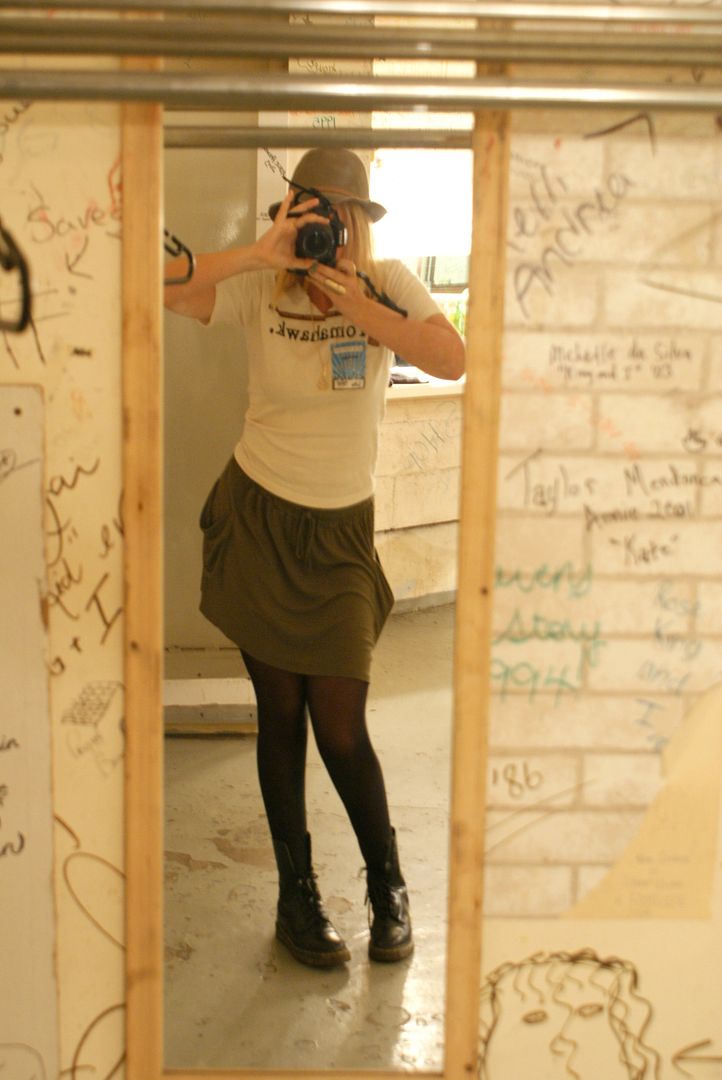 Outfit pic! This Tomahawk shirt gives me the BEST luck with meeting Rockstars, eh??



Me and James - don't mind the sad face haha



Once again, they insisted we take anything that wasn't going on the tour bus so I helped myself to a carton of Soy milk for coffee, cans of pop, more beer and a jar of cloves. That's right... someone brought them cloves instead of pepper. Not sure why I took the cloves, other than it's an expensive spice and everytime I use it I'll think of that fateful day with LCD Soundsystem. LOL

Don't forget to enter my giveaway for a New ASOS dress, click here - open to everyone, only a few entries so far!!