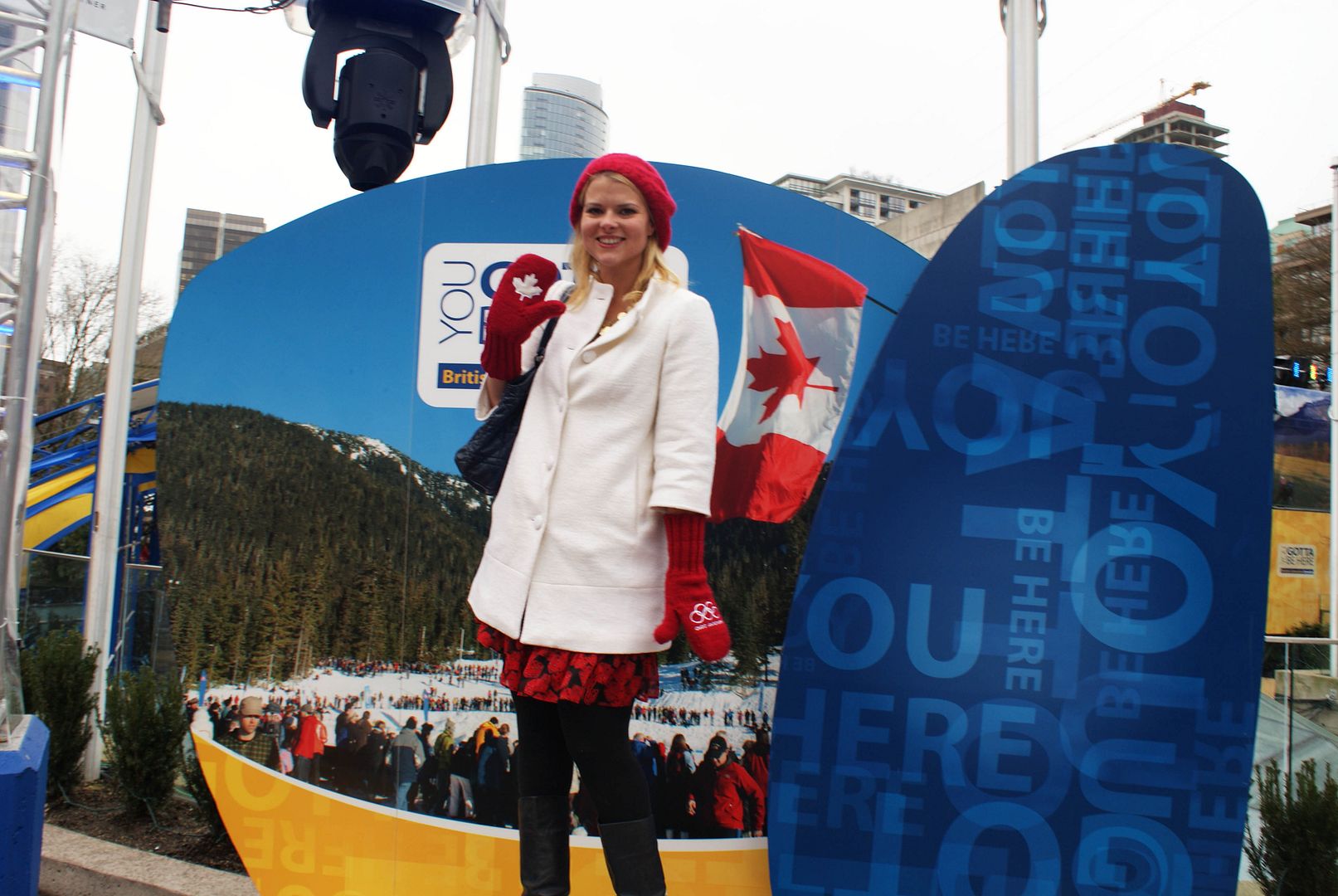 So...this post has a lot of pictures. A LOT. It's long. And the ceremony...well the ceremoney will probably be over by the time you read this. But The Games would have just begun!
As a life-long born and bred Vancouverite, having The Olympic Games here in Vancouver means the world to me. I know there are a lot of naysayers in the city...money shoulda been spent somewhere else, blah blah blah. But would it really go to THE ARTS? No, not with this government anyway.
Anyway, IMO, better it to go to an event that will not only bring more tourists and revenue to the city (because how can you NOT want to come here after the 17 days are up) but it shows the world a city we, or at least I, am very, very proud of. We deserve it, we're paying for and we better enjoy it because this is this city's...and Canada's...time to shine!
I'll start off my Olympic week with the Olympic Torch coming to my suburban town of Tsawwassen. The coolest thing that has ever happened to this place and I doubt anything that cool will happen again. Sadly, I didn't really get a good pic of the guy with the torch, but I was happy to take part in the national pride.
YAY!
LOOK! Vancouver does have snow, lol
My mom harassing local torchbearer
After the torch, I had the Opening Ceremony Dress Rehearsal #2 to go to.
Everything you saw (except the very end) of the Ceremonies is what I saw. Which meant I saw Bryan Adams, Nelly Furtado, KD Lang and Sarah McLaughlin LIVE. KD Lang - WOW. What a set of pipes. I cried during that Leonard Cohen song.
I cried actually a lot. So much national pride in that BC Place stadium. Maybe it was the Molson Canadian beers as well that I had. Anyway, there were so many cool parts of teh ceremony, but I nearly shit myself when that 60-foot high sparkly polar bear came out of the ground and danced. And when those whales spouting water just came out of the floor. And when the skiers and snowboarders descended from the sky.
No, Vancouver did not "out-do" Beijing, but we never tried to. We did it our own way, the Canadian way. It was very, very Canadian and I am very glad that they put a lot of aboriginal effort into it as well.
We also heard the Vancouver Mayor, Premier and the country's Prime Minister speak. The last two aren't too popular but it was still neat. Felt pretty special :)
Then today, for the first day of the Olympic Games, I decided to go downtown and find Arnold Schwartzennegar because he was running with the torch.
With the city filled with MILLIONS of tourists, that meant I had to catch the 520AM bus to beat the crowds. It was worth it though, as I ran towards the flame in Stanley Park, the dark city slowly awakening, even though thousands of people were already out and about at 630AM.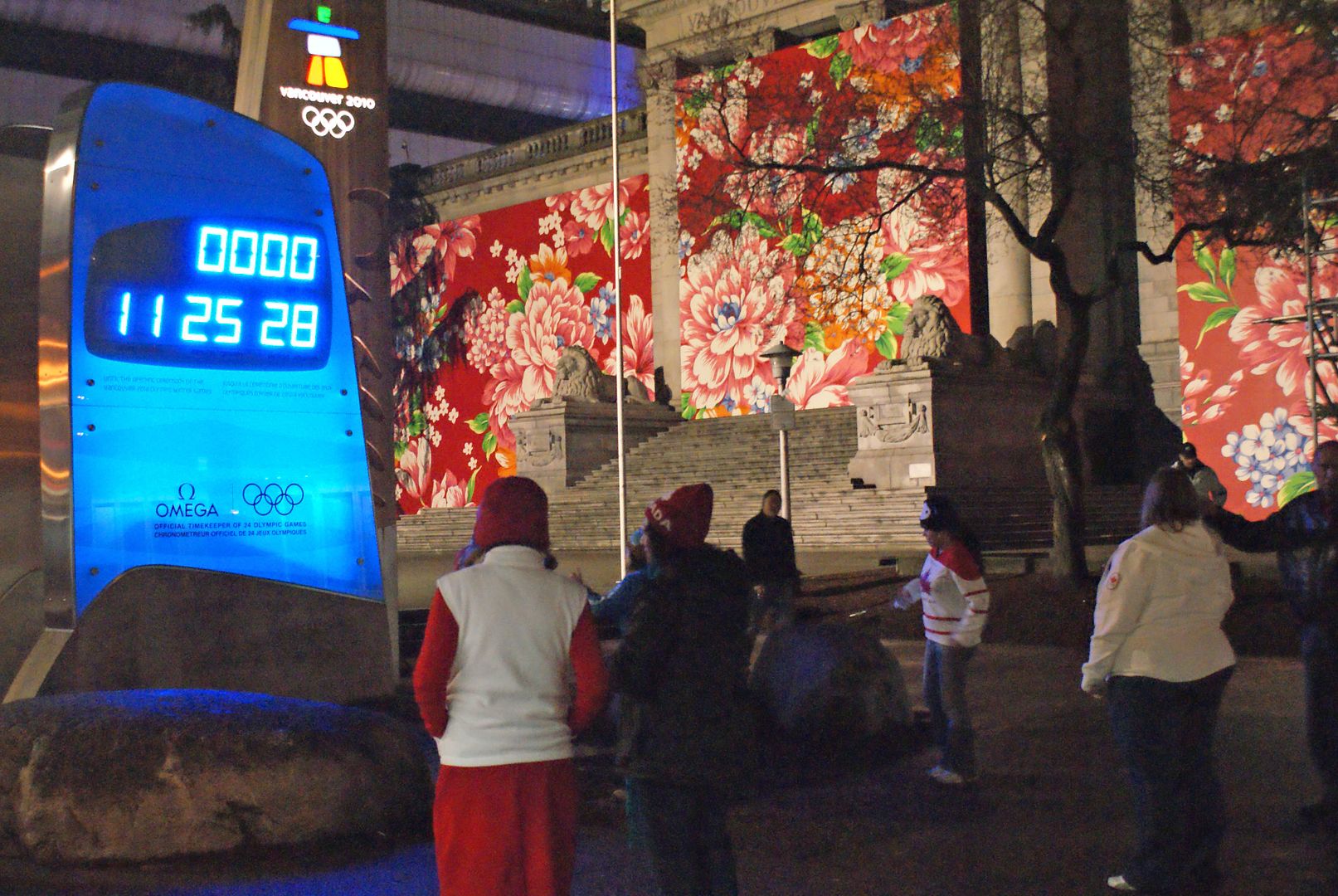 That clock has been counting down for the last seven years or something! EPIC!!!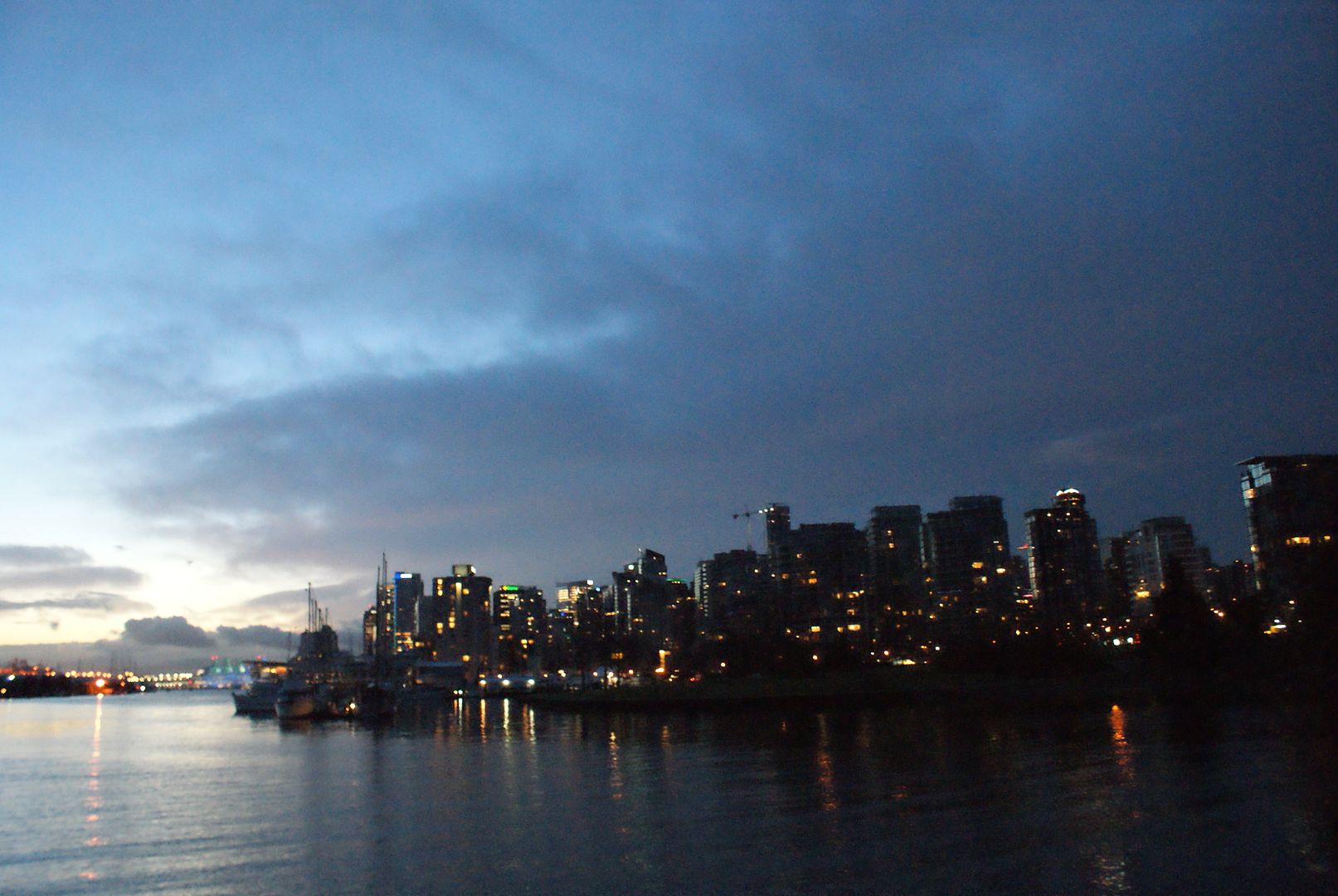 I lined up to watch Arnold...turns out his run was over but I DID see him in his secret service type car waving at us!
(check out these guy's poster...IT'S NOT A TUMOUR!)

Then the actual runner came, someone I didn't know but boy was he happy to be running with that torch!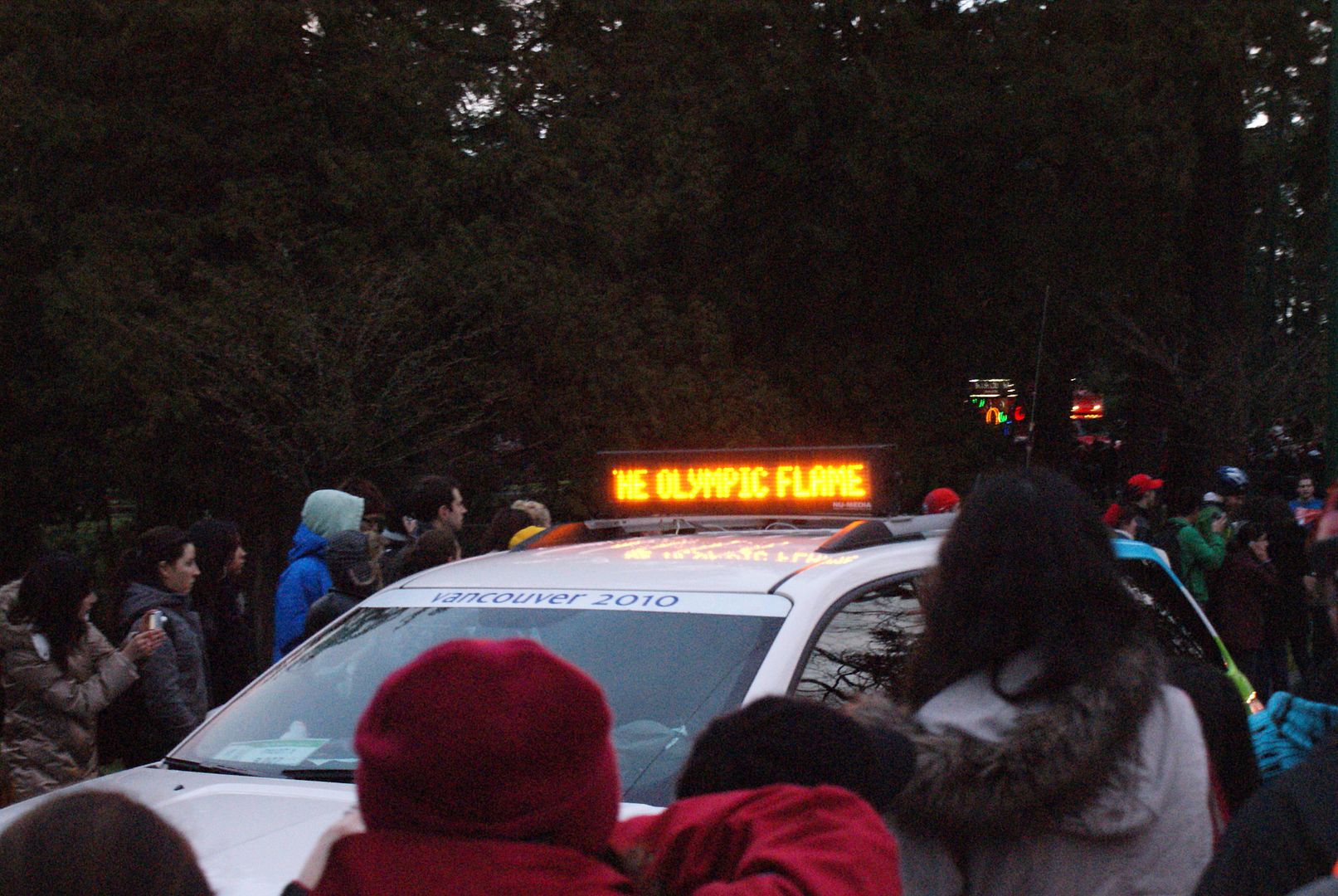 I followed the massive crowds with the torch and criss-crossed around my old neighbourhood. Felt good to be downtown and to see the cherry trees blooming. Yes, sakuras are out...definitely NOT winter.
I met up with friend and fellow blogger Eyeliah and we caught the torch again as it came by down Robson st with another runner.

Check out my ASOS "Gold Medal" necklace, lol


Afterwards we walked down West Georgia and was welcomed into a church that had free pancakes and coffee. I hadn't eaten anything that day, so who could pass that up? Bless!
After Eyeliah went to her job in a hotel where a certain George Clooney is staying, I went past the CTV News headquarters where I ran into CTV host Tamara Taggart, my long-lost sister.
Then I watched some of the live broadcasting by other local anchors, before I headed over to the Zipline. It's FREE and goes across Robson street. The fact that it is free though meant the line-up was SPACE MOUNTAIN LONG. Crazy. I'll do it before the Olympics is over.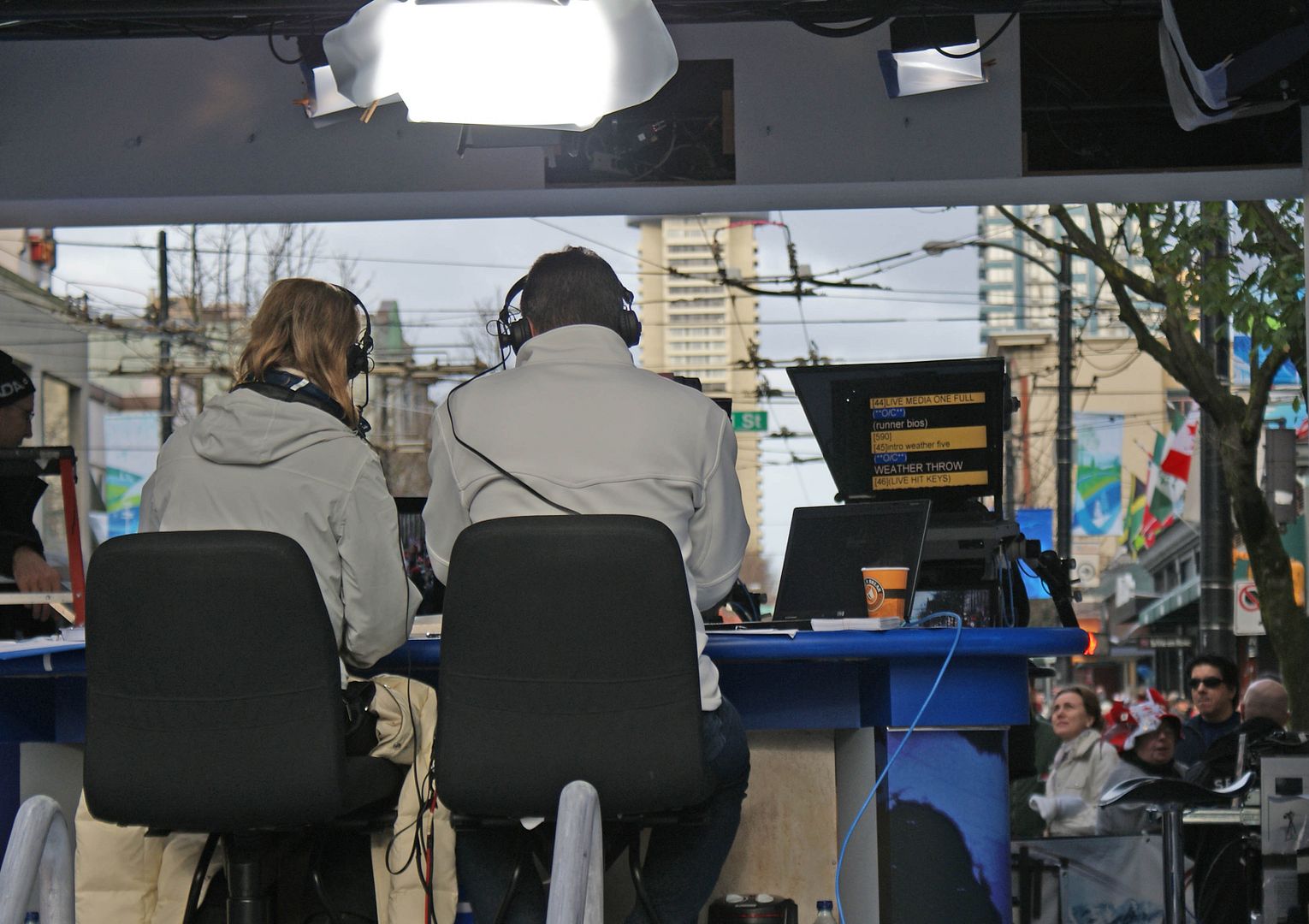 Mike Patton came too ;) (since the real Mr. Patton is in New Zealand right now, I thought it would be fitting if he got a chance to see The Games! YES I am a dork.)
Then I found some torchbearers and bullied them into letting me hold THE TORCH. Built by Bombardier, those torches are actually quite heavy and filled with butane. VOILA:
After that, I met up with my mom who is one of the many, many volunteers in blue who made these games happen. Her job that night was to greet all of the dignitaries who were attending the Opening Ceremonies. YUP. She met them all. More on that later.
Then I met up with my friend Kelli and her BF and watched the torch come through Yaletown.
Then to the Aboriginal Cultural Pavilion on West Georgia where "the official" torch run ended to the tune of a Native dance with pounding drums. It was THE END of that torch's journey. It would rest there until the Ceremonies that evening where it was handled by Rick Hanson, Steve Nash, and other prominant sport's celebs. The crowds for the torch were insane. And we saw CBC anchor Ian "Handsome Man Thing" ;)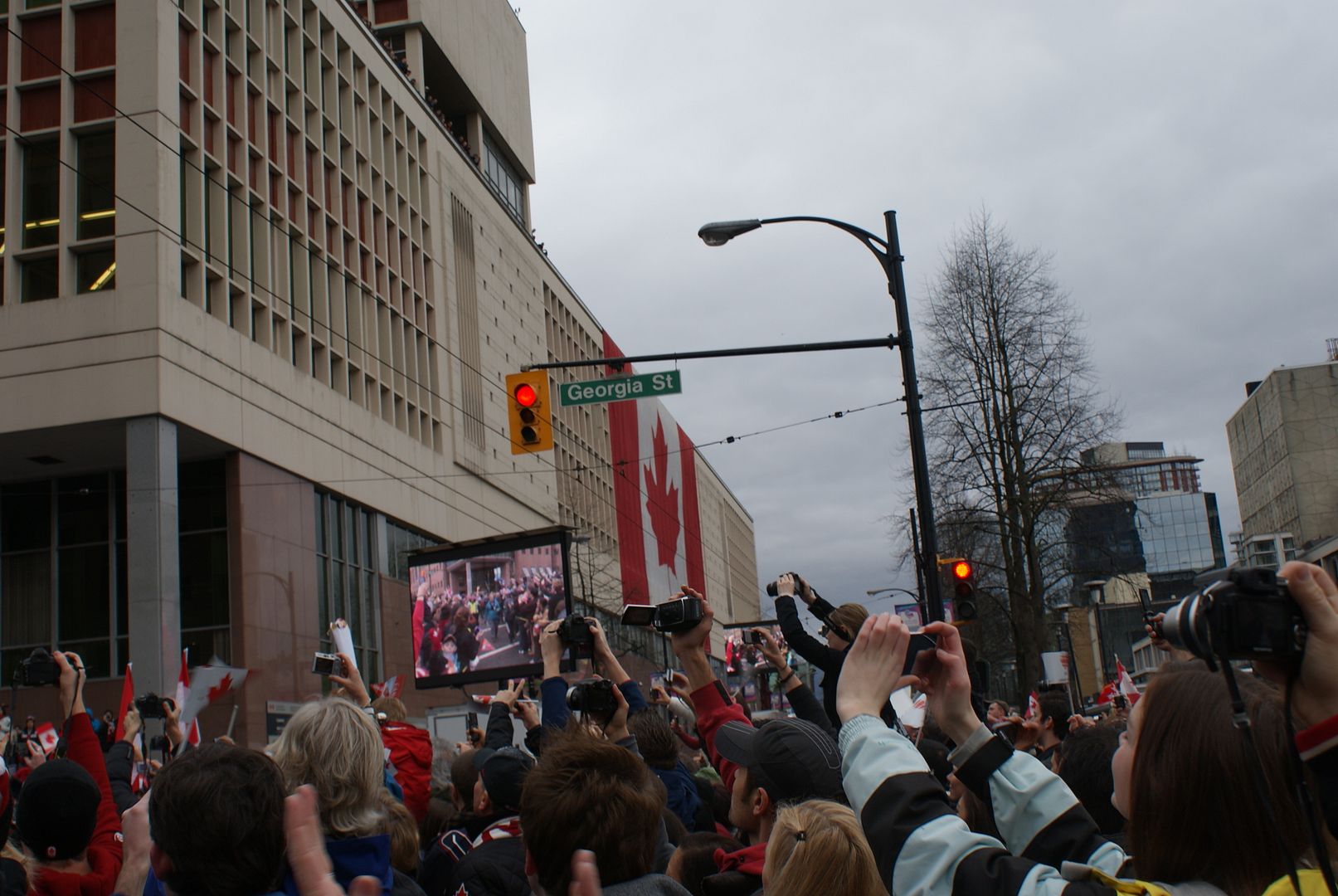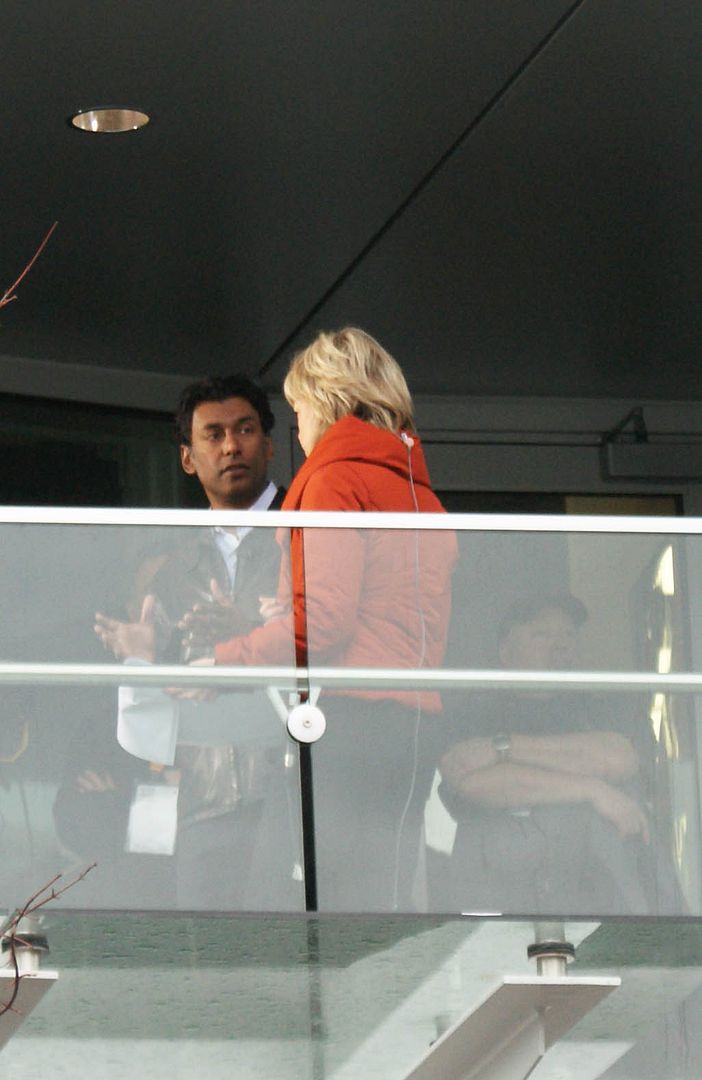 After that, I decided it was FINALLY time to go home. I had been walking/running around since 5AM and my feet were literally stinging. Plus, needed to get back in time to watch the Opening Ceremonies live on TV.
The Ceremonies, btw, were just as great as they were in the rehearsal. For the record it didn't seem like Bryan Adams and Nelly Furtado were lip-synching during the rehearsal, though they obviously did when it was live. And KD Lang NEVER lip-synched. She totally wowed me with her performance.
HOWEVER, the whole malfunctioning cauldron thing at the end COULD have been avoided. They didn't practice it at rehearsal lol! The rehearsals basically ended right after that French guy sung, so we never actually saw what they were going to do with the torch. Oh well...it wouldn't be a Canadian event if we didn't screw up in some way :P
Sidenote A:
of course The Games have gotten off to a sad start with the death of Georgian Luger Nodar Kumaritashvili. Luge is a scary, dangerous sport but I know all this man wanted to do was to compete at the Olympics. I hope the changes they have made to the course make it safer - I have been watching the training on it this morning and everyone seems to be doing well, though I don't know how you could run that course without shitting yourself everytime that turn comes up.
However, I find it entirely disrespectful and sensational that A) the media keeps showing that clip and B) that the US Media has been speculating that Canada built that course in order to kill off all other competitors so that we would win gold. That is very paranoid, sick and insulting. I myself don't know why the course is so fast, but the IOC (which stands for INTERNATIONAL, not Canada) ruled it OK, so I'm pretty sure there is no diabolical conspiracy going on here.
Sidenote B:
Protestors? You fucking suck. And I don't mean the peaceful protestors who DO have a right to be heard and make their point. I'm all for free speech. HOWEVER those peaceful protestors have unfortunately been overshadowed by the violent, hateful and hypocritical protestors who have been running about the city, SMASHING WINDOWS AND SPRAY PAINTING CARS.
How the HELL is this helping your cause? You are only justifying the very thing you are protesting...the money that was spent, particularly the huge security budget. YOU ARE THE VERY REASON WHY WE NEED A HUGE SECURITY BUDGET!
And to do all this to thousands of international tourists who just want to enjoy the games? Shame on you! And shame on you for wearing masks and covering your faces. If you're going to destroy MY city for a directionless "non-cause" than AT LEAST have the balls to show who you are!
I only feel sorry for the peaceful protestors who did have their own valid points to be made - NO ONE is going to listen to them now because of these violent douchebags. When will people learn?
And finally, to end on a funny
sidenote C:
So, my mom is a small, silly Finnish lady. She routinely embarasses me with her lack of shame lol. Last night she met all the dignitaries as they came off the bus and entered the Olympic venue.
She met Nelly Furtado - said she was very pretty and very sweet. She met Bryan Adams whom she had met before on a flight (she used to be a flight attendant for Air Canada) and told him, "We've met before, on a flight. Remember?" haha. Yeah. Bryan was very nice though.
My mom had ALSO met Wayne "The Great One" Gretzky before on a flight and she yelled the same thing at Wayne as he went past with the final torch run "I KNOW YOU!"
To one lady coming off of the bus, my mom shook her hand and greeted her with "Welcome to Canada." The lady was none other than THE GOVERNOR GENERAL OF CANADA. I know Michelle is originally from Haiti, but come on Mom!
Then it came time to meet California Governor/Terminator/Officer John Kimble. She greeted him and he said hello and then as he walked away, my mother, in her Finnish accent, did her best Terminator impression and said, "I'LL BE BACK." To which Arnold could only just laugh. I bet he gets that all the time, but not from tiny old ladies haha.
My mom also met Joe Biden, our PM, the Prime Minister of Senegal whom she said was very, very nice and the Finnish PM who told my mother all the Finns were downstairs getting drunk. Nice.